Kirkwood erupts over vigilante violence
Youths accused of being gangsters take revenge on anti-crime forum members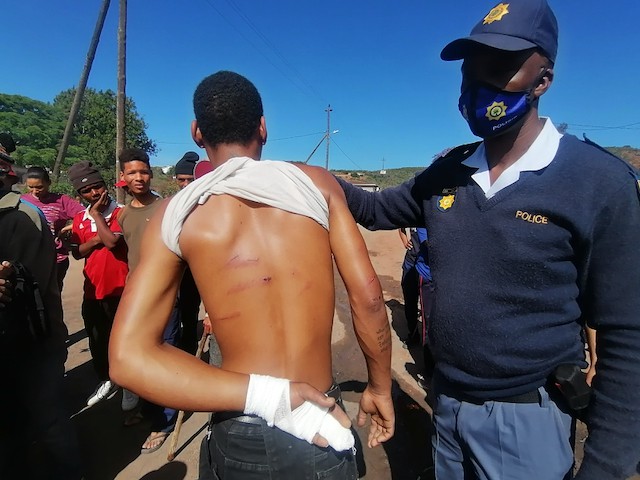 Residents of Bersheba and Enon in Kirkwood protested and blocked roads on Thursday.
Two weeks ago 17 youths in Enon were beaten by anti-crime forum members from both areas.
This week several forum members were stabbed, attacked and threatened.
Anti-crime forum members say the police fail to prevent crime.
Youths beaten by the forum say police fail to protect them against vigilantes.
---
Chaos erupted in Kirkwood, Eastern Cape, in the neighbouring communities of Bersheba and Enon on Thursday morning. Scores of Bersheba residents shut down the area at 5am by blocking the major road to town with burning tyres, rubble and trees. Workers on public and private transport were turned back. Only nurses, teachers and learners were allowed to pass.
The trouble started two weeks ago, when anti-crime forum members from both areas, carried out raids for stolen goods and searched for suspected criminals. Youths in Enon were accused of being gangsters and tik addicts terrorising the community; 17 were severely beaten.
On Tuesday afternoon, youths took revenge. Three forum members were stabbed. Rumours of a hit list circulated.
On Thursday, the communities were in uproar, with Bersheba residents protesting and Enon youths, supported by their parents, blocking roads with burning tyres.
Mzimkhulu Nogampula, an anti-crime forum member from Bersheba, told GroundUp: "On Tuesday afternoon about eight of our members went to Enon location to find out why one of our members was klapped [attacked] by youth from that side. As we walked into the area we were attacked with knives … I was stabbed five times in the head, arm and leg. Two of my colleagues were also stabbed and one is badly injured and is still in hospital."
A forum member who refused to be named said the community had to come and rescue them "from those thugs".
"Two weeks back we raided stolen goods here and we beat the suspects. We did not hand them over to the police because the police don't come when we call them for crime," said Pieter Maarman, chairperson of Enon anti crime forum.
He said, "I was stabbed on Tuesday together with the members from Bersheba. I had to escape and went to hide in Bersheba. But I came back … and these boys came to my house this morning [Thursday] and insulted myself and my wife. They even threatened to burn down my house."
A youth, Martin Tshefu, said, "We are fighting back because this forum is abusing us for crimes we never committed. 17 of our friends were severely assaulted for no good reason. Most of them were severely beaten with sjamboks and knobkerries. They suffered broken arms, legs and head injuries. They pointed at us with guns and then handcuffed us before taking us to Bersheba where they took turns beating us."
"On Monday … they burnt my aunt's ID and beat up her boyfriend with sjamboks and knobkerries." His aunt had been accused of stealing livestock.
Fredlin Klaas said: "My nephew was beaten by a mob of about 250 people. His situation is very bad. His whole body is swollen and he can't even walk due to severe internal injuries."
Enrico Classen said: "Three forum members beat me up with knobkerries and sjamboks. My back is full of the sjamboks mark and my arm is fractured. They just beat us without any proper explanation and police don't stop them."
Police spokesperson Sergeant Majola Nkohli said, "We have not made an arrest because two of the three victims that were stabbed on Tuesday have not opened a case. One has laid a charge. The other one is in hospital and we can't visit him due to Covid-19 regulations. But one case of assault to cause grievous body harm was opened."
Dodgy people are suing us. Please support us by contributing to our legal costs and helping us to publish news that matters.