Better street lights would reduce crime, say Khayelitsha residents
"People are being targeted even going to the toilet"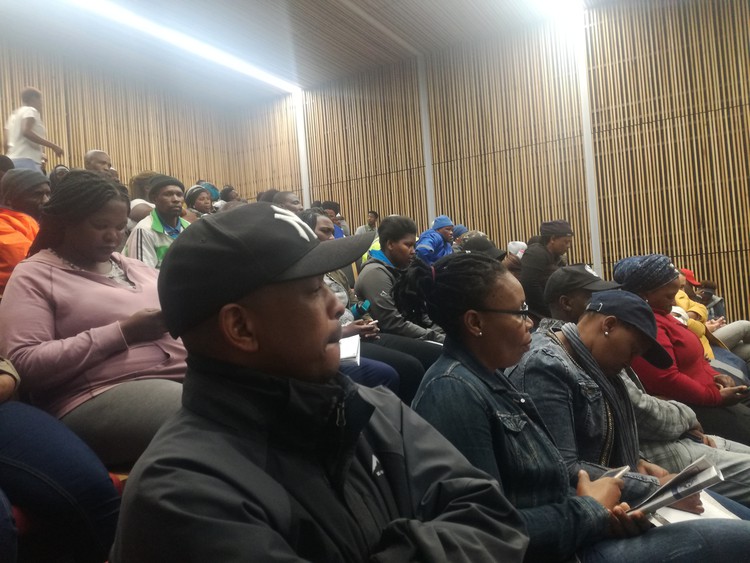 Residents of Khayelitsha, Marikana and Kraaifontein demanded better street lighting in their communities at an imbizo last week. They say the high-mast lights in some places are not enough.
The street light meeting was held by the Social Justice Coalition at the Isivivana Centre on 25 August.
The SJC said that in Khayelitsha the only street lights are in main roads and elsewhere high-mast lights are used but these do do not provide lighting to the area right below them, putting people in danger.
The SJC wrote to mayoral committee member for informal settlements Xanthea Limberg three months ago asking her to address the street light issue.
SJC senior researcher Dalli Weyers said Limberg had responded to them that ward councillors and sub-councillors said residents wanted the high-mast lighting rather than street lights. But residents said otherwise.
Asked for comment by GroundUp, Limberg said, "The City installs either high-mast lighting or conventional street lighting depending on local conditions. The City's policy is to utilise one or the other technology, not both."
She said both types of lights had advantages and disadvantages. "The most significant advantage of high-mast lighting is its large lighting footprint and the most significant disadvantage is the shadowing effect."
"Conventional street lighting has less of a shadowing effect however there is little light spillage into areas beyond the street which can be a significant disadvantage in high crime areas."
Conventional street lighting was more susceptible to vandalism and as a result was not always suitable in high-crime areas, she said.
"Where either type of lighting is practical, the City can engage with the affected community to gauge their preference, however a choice is not always possible. Consensus between community members can also be difficult to reach," said Limberg.
Weyers said that the Khayelitsha Commission of Inquiry had highlighted areas where there should be street lights.
Residents, most from informal settlements in Khayelitsha and Marikana described their problems with street lights.
Community leader Loyiso Nkqintiza from Marikana said there was only one high-mast light in the area and that was in Lower Crossroads, not even in Marikana.
He said people were afraid of crime which often occurred in the dark.
"No one feels safe. People are scared to go to work or to shops because they are being targeted, they are robbed getting out of taxis," said Nkqintiza.
A resident of BM section in Khayelitsha, Nondumiso Phelo, said where she lived there was only one light.
"I understand that street lights take up more space and might not be possible in informal settlements because we do not have roads. But even the high-mast lights are not enough as some areas that are close to them are left in the dark and people are being targeted even when going to the toilets," she told GroundUp.
Dodgy people are suing us. Please support us by contributing to our legal costs and helping us to publish news that matters.
© 2017 GroundUp.

This article is licensed under a Creative Commons Attribution-NoDerivatives 4.0 International License.
You may republish this article, so long as you credit the authors and GroundUp, and do not change the text. Please include a link back to the original article.