Khayelitsha refuse collectors angry at working conditions
|
Mary-Anne Gontsana
News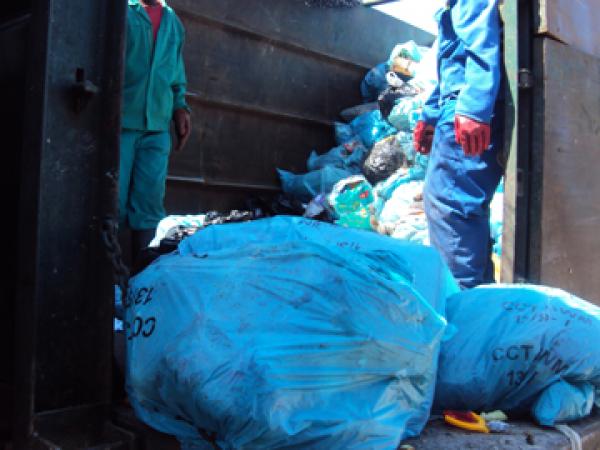 Since starting in November, some Khayelitsha refuse collectors say they still haven't received uniforms or protective gear to wear while doing their jobs. Their employer says it is all lies.
Nondumiso (name changed) is a refuse collector and works in Khayelitsha. She started working as a refuse collector last year December and is on a three-year contract to a company hired by the City of Cape Town. She works without a mask, wearing her own clothing, one glove and a yellow bib she received when she started working.
"If I had another choice, if there was another way, I would find myself another job," she said.
According to Nondumiso, not only do they not have uniforms, but they are treated badly by their senior supervisor. They have been threatened with being fired if they do not stop complaining about their working conditions.
"It's a risk having to work not wearing gloves or anything to protect you from the rubbish that you collect on the streets. The only time we were given gloves was when we started, but they are now worn out. We were told that on Tuesday someone from the city council would come to collect our sizes, but the person never showed up."
"I signed my three year contract last year in December and as it clearly stated I was to work Monday to Friday. But on Tuesday afternoon last week, I was told I would be working Friday to Monday. I was given no explanation as to why my shift had changed."
"We get paid monthly. I get a salary of R2,600 because I am a supervisor and the rest get R2500. We held a protest last year (December) because of not being paid. We were finally paid after we burned tyres and toyi-toyied in the road. It's tough, and our boss Fanyana Mfene does not answer our calls. He only communicates with the senior supervisor and no one else. We only saw him once, when we were hired for this job. When we want to see him we toyi-toyied," said Nondumiso.
Nondumiso's story is similar to that of Monica Gotshana who worked as a janitor for the City of Cape Town in Khayelitsha. She claimed she fell ill while working as a toilet cleaner because she was not provided with protective gear.
After telling GroundUp that the allegations made by Nondumiso were not true, Mfene later said that he was not at liberty to speak to the media and that all queries should be referred to the City of Cape Town.
Ernest Sonnenberg, Mayoral Committee Member Utility Services, said the City had met with its contractors about these allegations. "The only item that the contractor says they are still waiting for in terms of Personal Protective Equipment is the safety boots. This will be rectified. All other items have been provided. The contractor has committed to providing proof of this to the City. The City will monitor the situation."
He said the City needed the assistance of communities and workers to ensure that contractors were providing what the City requires and unfortunately, the City could not be on the ground in all areas all the time and therefore they needed to work together.
Dodgy people are suing us. Please support us by contributing to our legal costs and helping us to publish news that matters.
© 2016 GroundUp.
This article is licensed under a
Creative Commons Attribution-NoDerivatives 4.0 International License
.