Khayelitsha leader murdered
|
Mary-Anne Gontsana
News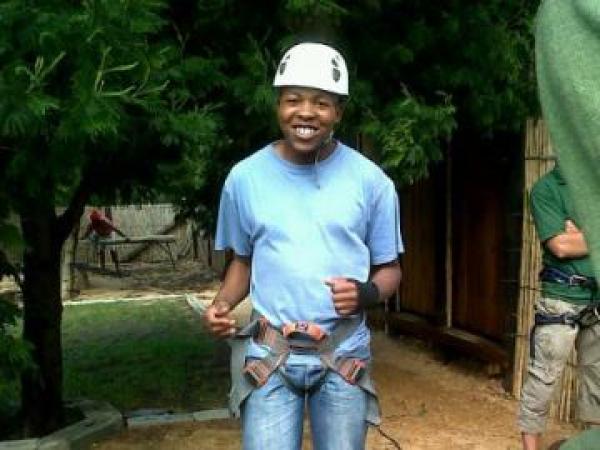 Mnoneleli Ngubo, a leading member of Equal Education in Khayelitsha, was stabbed to death in his Khayelitsha home on Tuesday 3 July.
His older sister, Cecilia Ngubo, said he returned from work at a restaurant in Bellville at about 23:00. A couple of friends were at his house in Kuyasa when he arrived, and they all relaxed together.
"After a while, his friends left. It was not long after they had gone, when thugs barged into his house. We are still not sure what happened when they went in, but the state his room was in showed that a struggle took place," Cecilia said.
"His belongings were all over the place. It was untidy and there were drops of blood on the floor, which shows that he was stabbed while inside. The only things that we noticed were missing were his wallet and cellphone. His neighbour heard his last scream as he fell and died outside his house," explained a sad Cecilia.
Cecilia said when she arrived after hearing the news of her younger brother's death, his body was still lying outside, and a blanket had been used to cover him. He was wearing a vest and boxers.
"My family is not taking this well. I have to be strong for them. He was my caterpillar, my everything. He always smiled. I was the only person he could talk to and he was the only person that I could talk to. He was full of jokes and energy. You would never see him sad or angry. I have really lost," Cecilia said.
This is how 22-year-old Ngubo described himself on his Facebook Page:
"Am kind n dedicated n am a man of ma words n I also lyk to joke nevertheless smiling coz it's wat makes me the person I am."
Harare police station spokesperson Nosiphiwo Mntegwane confirmed Ngubo had been stabbed, but said it was not clear how many suspects were responsible. "A murder case has been opened and an investigation is currently underway," she said.
As of Tuesday 10 July, the police had not made a breakthrough in the case.
Before working in Bellville for the last six months, Ngubo was one of the leading members of Equal Education.
Equal Education coordinator Doron Isaacs describes Ngubo as "a person who loved talking and had a great smile." Isaacs said Ngubo joined Equal Education in 2009 and matriculated from Chris Hani High in 2010.
"In 2011, he joined the community leadership programme. It's a one year post matric programme run by Equal Education. Community leaders receive academic tutoring as well as activist and leadership training. Mnoneleli was very active, hardworking and good at mobilising people. He became an Equal Education facilitator in 2011," Isaacs said.
Social Justice Coalition's junior researcher Axolile Notywala said they were saddened by the news, and were still waiting to find out what the circumstances surrounding Ngubo's murder were.
"In situations like these as the SJC, we follow the court cases and we give as much support as we can to the family and people involved. In the past year, crime has risen in Khayelitsha and with the gang violence it has gotten even worse," Notywala said.
"We, as the community, should work together with the police and report these crimes. This is also where our fight for an establishment of the Commission of Inquiry into the Khayelitsha South African Police Services comes to play," Notywala said.
In regard to the Commission of Inquiry, a statement issued by Premier Helen Zille's office on 2 July says she received correspondence from the National Police Commissioner, Riah Phiyega, requesting she puts a three-week hold on any process toward the establishment of such an inquiry, until an investigation is done by the commissioner's office into the problems at Khayelitsha SAPS.
"In the spirit of co-operative governance, I have agreed to the request. Given that she (Phiyega) was only recently appointed to her post, it is appropriate that I afford her the opportunity to get full clarification on the issues," Zille said.
"This, however, will be the last deadline extension to which I will agree for SAPS. After July 20, the time for 'consideration', 'deliberation' and 'clarification' will be over and I will take whatever action is appropriate, within my powers, to ensure that the state of policing is seriously addressed," Zille said.
By Wednesday morning, news of Ngubo's passing had already reached his friends, with some posting condolence messages on his Facebook page.
Waruna Karabo Gosiame Monatisi wrote, "My friend Mnoneleli Ngubo passed away this morning. I still can't believe you're gone. Without you life is not the same. Its hard not having you here beside me. But because of you my life is forever changed. I can't hold the tears back. It wasn't fair that you're life had to end. I will always keep you in my heart. Rest In Peace My Friend Mnoneleli Ngubo. SAD"
Zanethemba Zee Eleni wrote: "In loving memory of Mnoneleli MyLord Ngubo who passed away this morning. Your character and leadership will always be missed."
The family has planned the funeral for Saturday, 21 July. His body will first be taken to his house in Kuyasa where he lived alone. The funeral will then commence in his family's home in Makhaza.
© 2016 GroundUp.
This article is licensed under a
Creative Commons Attribution-NoDerivatives 4.0 International License
.