"Jacky" and her pop-up pavement shop
Homeless woman's new business venture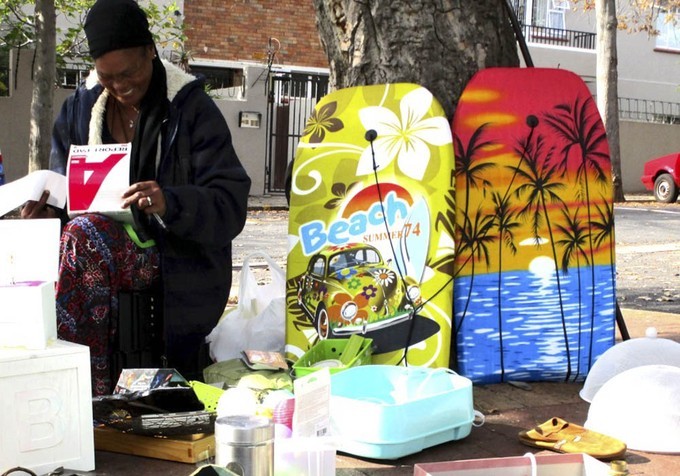 I can't quite remember how we became acquainted but that may have had something to do with a hypomanic episode and large quantities of Castle Milk Stout. My episode and Milk Stout, not hers. Which is quite funny really because I am the "journo" and she is the "bergie'".
In any case, thinking back on it now, what I do remember is her greeting me with sunshine in her voice. Not syrup - if you rely on the kindness of others for food or dop then it's easy enough to put syrup in your voice. Sunshine has to come straight from god.
"Good morning, Mr David," she said.
I have no recollection of telling her my name. But then neither do I remember giving her and her friends my shoes, my hoodie and a largish amount of cash. Irresponsible kindness is one of the symptoms of the manic or hypomanic stages of bipolar disorder. It's my favourite symptom - more people should suffer bouts of irresponsible kindness.
Anyway. My focus and memory are much better now. Not perfect, mind you - but much, much better. Jacky (not her real name) and I have become business partners. It's not business in the capitalist sense of the world - I think of our business in spiritual terms. Jacky, I suspect, thinks of our business in terms of food and dop.
I was doing furniture removals in my bakkie to earn a bit of cash and needed an extra set of hands. David looked sturdy, if not steady, enough and looked like he could use the cash. David, my namesake, lives on the pavement outside my mum's flat with two ladies. I can't get a date and David has two ladies who share his mattress on the pavement. Go figure. He's not sure that it's a blessing though. But I digress. Anyway - we had done the removal job and on the way home he was telling me that when he finds something sellable in the trash he gives it to Jacky to sell.
They find all sorts of things in the trash. An imitation leather jacket - still in good nick. An only slightly broken iron. Toys. Even the occasional computer monitor.
I thought that if I took a picture of Jacky's pop-up pavement store and slapped it on Facebook with a charming and true story of recycling and streetsmart entrepreneurial flair the world would donate tonnes and tonnes of stock. But I soon discovered that people find it far easier to reach for their mouse than to reach into the world. How the bleep do I monetise "likes" or the rest of those bloody emoticons? We're hungry here - for food, not digital recognition. 
But luckily someone out there understood. Explained that she no longer has kids with toys but was sure she'd have some stationery and other odds and ends for us. I picked a big bag of stuff up from her early the next morning. There were clothes and toys and sunglasses and pens and other stuff which I no longer remember. I gave it to Jacky when I got to my mum's at about 10h00. When I saw my business partner again at 11h00 she had already sold R60 worth of stock. You see, she has charm and location - killer qualities in the world of flash selling.
I re-posted a request for trash two days ago. This time I included a link to an article "Over 7000 people live on the streets of Cape Town." That definitely helped to get the message across. And I reminded readers that we had discovered a magic formula for converting their trash into food and shelter. I'm collecting two more boxes from the larnies in Hout Bay today.
I know this sales model is not necessarily sustainable - but then neither are consumerism, government corruption and world wide greed. But little acts of kindness and creativity really do make a difference. They accumulate; they evolve. Most importantly, they inspire. So don't just click "like" - reach out your hand and help your fellows.
Dodgy people are suing us. Please support us by contributing to our legal costs and helping us to publish news that matters.
© 2016 GroundUp.

This article is licensed under a Creative Commons Attribution-NoDerivatives 4.0 International License.
You may republish this article, so long as you credit the authors and GroundUp, and do not change the text. Please include a link back to the original article.