It's our turn to benefit, say residents of Gugulethu informal settlement
Tambo Square families call for police protection amidst protests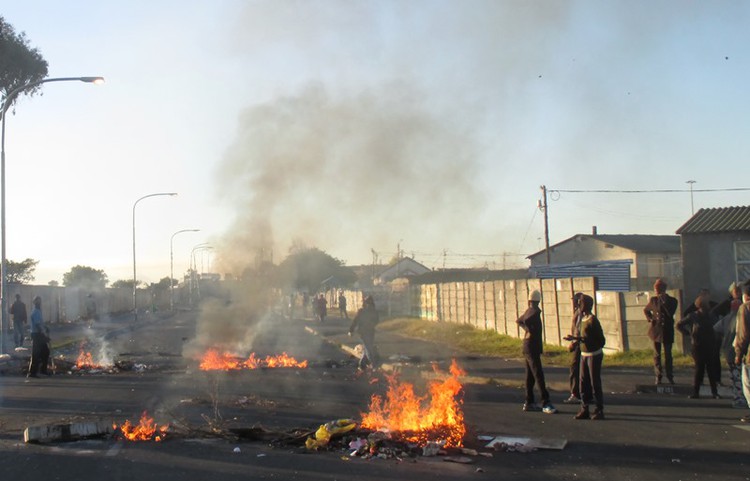 Residents of Tambo Square informal settlement have asked for a 24-hour police patrol to restore calm to their area which has been marked by violent protests by residents of Gugulethu Section Four objecting to the upgrade of the Square.
Residents from Section Four protested last week, burning tyres, blocking streets and closing off the Vukukhanye Primary School for five days. Construction on the site was halted.
On Monday, the school was open, but the area was tense after two Section Four residents were arrested this morning.
The protesting residents want a children's park, a communal facility for elderly people, a crèche and a satellite police station on the land, instead of the upgrade.
They say the original occupants of the site, who had fled violence in KTC in the 1980s, were accommodated elsewhere and new people have arrived.
But Simangele Nteyi, 43, a mother of four, said she and others had remained in the area after their parents were moved to Tambo Village near Manenberg in 1994.
"Now it is our turn to benefit as the children and relatives of those who previously lived here. Those people [from Section Four] must leave us alone," she said.
Nteyi said the upgrade was the fulfilment of a promise of a better life which politicians had made to them during election campaigns.
Zoliswa Fuyani, 35, who has lived in Tambo Square since 1988, said residents were upset by the stalling of the project.
"We had been eagerly awaiting the completion of this venture, so we can also own flush toilets, just like people in surrounding areas. The portable toilets we use here are very unhygienic."
Fuyani said Tambo Square residents had spent sleepless nights sitting around bonfires helping security guards protect the building site from protesters.
"We would like to ensure that calm prevails here. We are peaceful people and do not provoke anyone. The authorities should also deploy a 24-hour police patrol to prevent this chaos," said Fuyani.
Sithembele Jaza, 45, said the authorities should tighten up the security around Tambo Square.
"We had expected that the work would be almost complete by now so that we can soon move into our new serviced plots," said Jaza, a father of two who has lived in the area since 1997.
"The best thing for us is to get rid of the squalid conditions we live in. I just wish the government can strive to sort out the matter by tightening up the security in our area so development can proceed once again," he said.
Michael Mpofu, spokesperson for Western Cape Premier Helen Zille, said Section Four residents had agreed at a meeting with Zille on Wednesday night that the school should re-open.
"We agreed that the children should not have to sacrifice their education to the current dispute. They have missed too much already. We believe it is possible to find a creative solution, and the city and province are in discussions to explore the possibility," said Mpofu.
Councillor Xanthea Limberg, Mayoral Committee Member for Informal Settlements, Water and Waste Services, said the City of Cape Town would apply for an interdict against further disruption of the Tambo Square informal settlement upgrade.
© 2017 GroundUp.

This article is licensed under a Creative Commons Attribution-NoDerivatives 4.0 International License.
You may republish this article, so long as you credit the authors and GroundUp, and do not change the text. Please include a link back to the original article.