Interview with Zimbabwean Olympian who ran against Usain Bolt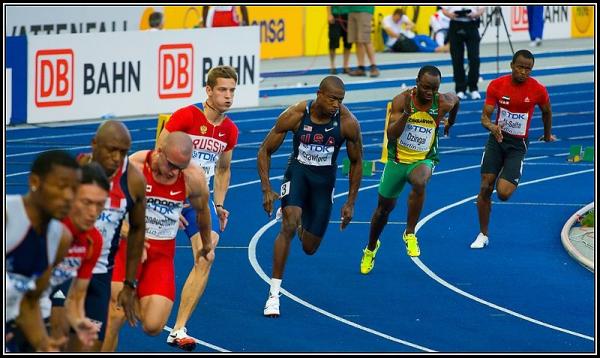 The 2012 Summer Olympic Games opened in London on 27 July 2012. GroundUp interviewed Brian Dzingai who raced against Usain Bolt in the 200 metres at the Beijing Olympics. Dzingai is fom Zimbabwe, but is currently located in Paris.
Dzingai, who did not qualify in what would have been his third Olympics due to injuries, spoke about what he was most excited about in this year's Olympic Games. "My signature event is the 200m dash and I am looking forward to watching who will make the finals of the 100m, 200m, and 400m dashes. Everyone has their favourites, such as Usain and Yohan [Blake], but every year there are always those few people that will surprise you, just like I did four years ago. I am looking forward to watching the Belgian Borlee twins in the 400m and the American Maurice Mitchell in the 200m dash," Dzingai explained.
When asked what the large amount of refugees and asylum seekers in different parts of the world should do to achieve their goals to become professional athletes, having left their own countries, Dzingai responded, "Education is key to opening up doors to professionalism in sport. Without education, opportunities are limited to leave the continent while playing sport. Also the facilities and lack of knowledge among coaches is a major disadvantage for the continent. With education, one can obtain athletic scholarships to American Universities to pursue a degree and at the same time hone one's athletic skills. Unfortunately only a small percentage of athletes ever make it to the professional level, but that being said, at least one can walk away with an education in your hand and that's one thing no one can ever take away from you."
When asked what needs to change in athletics, Dzingai said, "The leaders need to be changed. When you have been in power for over 15 years, your ideas become very stale, which is evident by the withdrawal of sponsors in Zimbabwe and decline in the overall volumes of athletes coming out of Zimbabwe. On a global stage, sports need to get rid of drug cheats. It is disheartening to hear of people getting caught on illegal drugs two to three weeks before the Olympic Games."
We asked Dzingai what was going through the competitors minds. He said, "Can time hurry up so we can start competing please? The time spent waiting is the worst because it moves so slowly."
Dodgy people are suing us. Please support us by contributing to our legal costs and helping us to publish news that matters.
© 2016 GroundUp.
This article is licensed under a
Creative Commons Attribution-NoDerivatives 4.0 International License
.