An interview with the founder of Indhi fashion design studio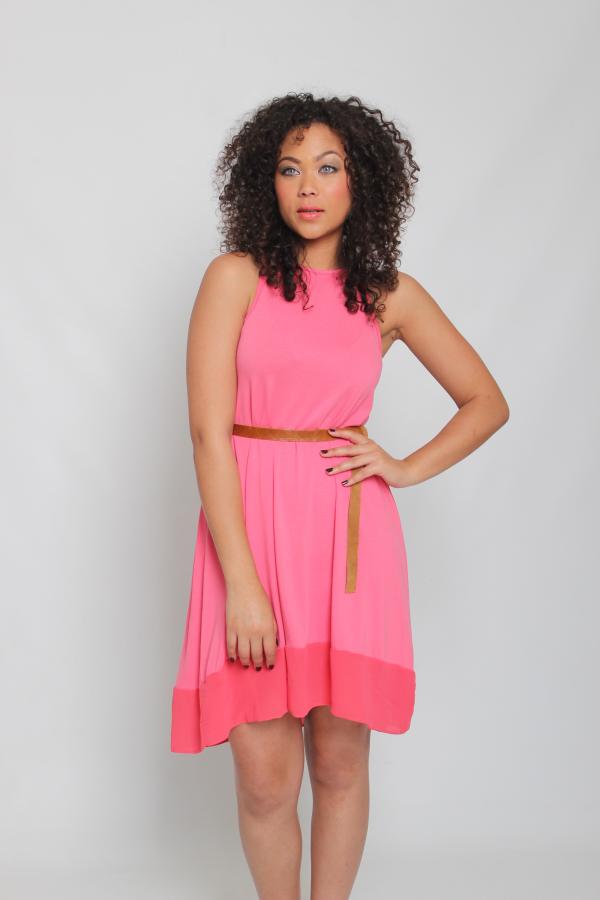 GroundUp interviewed up-and-coming Cape Town fashion designer, Melissa Samuels.
GroundUp: Who are you and where you from?
Samuels: I am Melissa Brookes Samuels, mainly known as Mel. I am a mom of two little boys. I'm from the Cape flats but now reside in the Southern suburbs, Plumstead. I lived abroad in Ireland for five years where I worked in retail and learned about merchandising and buying.
GroundUp: What inspired you to become a fashion designer?
Samuels: Only a few years ago when, I returned from abroad did I decide to go and study. I always struggled to find clothing that fitted my 'curvy' body. I always got frustrated when shopping. I then decided why not design my own clothing because there have to be more women out there that feel the same way. I was passionate about this because when you feel good in your clothes you feel confident and empowered and so my brand was born.
GroundUp: What kind of clothes do you design?
Samuels: I design curve friendly and comfortably chic lifestyle clothing. So basically everyday clothing for ladies who want to feel amazing, but comfortable as well. And to fit the South African silhouette, we celebrate curves.
GroundUp: Where can we get your brand and what is it called?
Samuels: My brand is called Indhi design studio. I sell mainly privately as I have a big following, but recently have just joined the new online store for South African designers called Indiemode. Ironically the name is quite similar.
GroundUp: What challenges you face in the industry?
Samuels: The challenge I face is when putting our stock into a store whether it should be consignment or rental. We lose out quite a lot as we have to drop our prices for it to sell in the shop. A shop puts a mark-up on, which they have to, to sustain themselves. This is why I sell mainly privately.
The other big challenge is competing with the Chinese imports. We cannot make a garment for what they retail their garments. But Cape Town has many people who support local and don't mind paying for a quality garment.
GroundUp: Where do you see yourself in the industry of fashion?
Samuels: I am a small fish in a big sea of designers. I am however happy with where I am in the industry. I have my market that buys from me and I am happy with that.
GroundUp: How do you market yourself or your brand?
Samuels: I am my own marketing tool. I am living the vision of the brand. I always wear my own clothing. Facebook pulls a lot of new clients for me once I've posted the photo shoot pictures. And all my customers get the catalogues. Having said that, I could do more.
GroundUp: What is your current trend?
Samuels: My brand doesn't follow major trends. I kind of design what I feel is missing in my wardrobe and it has worked for me so far. There are some trends I interpret in my own way, like the mullet dress look (short in the front and long at the back). The major trend for Indhi has always been maxi dresses. It's our iconic look and we do them every year and we sell out every year. The key to making our dresses a success is the fit.
GroundUp: What do you think of the current theme, colour blocking?
Samuels: I love the colour blocking trend. I however keep it classic as I want my customers to spend money on garments that don't date.
GroundUp: What did you study at school?
Samuels: I studied fashion design but I did subjects in school like economics and biology. I guess it is helping me today.
GroundUp: What can you say, to motivate those who want join your field?
Samuels: If you love what you do and you design with your heart, and truly believe in what you are doing, then you will make a success of it. It's hard work and weekends are not yours but because I love it so much I've never worked a day since I started doing this. It's part of me, it's who I am. Just keep going - there is nothing better than living your dream.
Dodgy people are suing us. Please support us by contributing to our legal costs and helping us to publish news that matters.
© 2016 GroundUp.
This article is licensed under a
Creative Commons Attribution-NoDerivatives 4.0 International License
.