Inanda residents close off roads in protest at power outage
Problem caused by cable theft, says councillor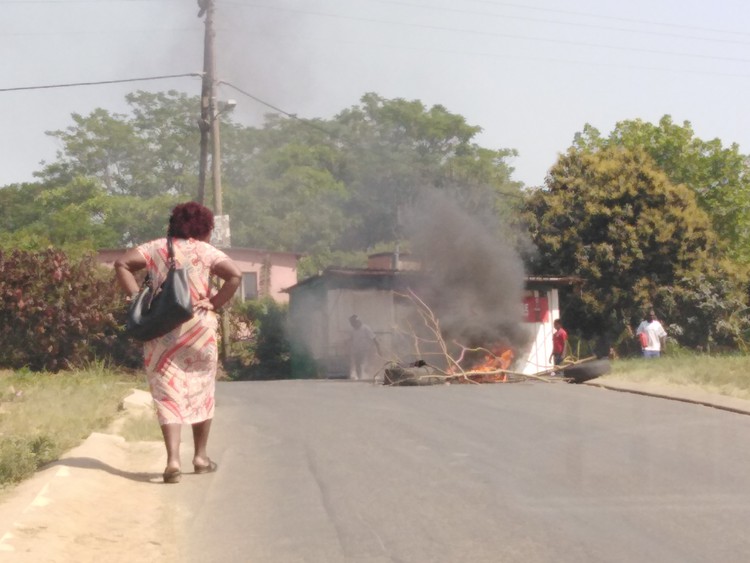 Residents of ward 108 in Inanda, north of Durban, brought the township to a standstill on Monday. They closed off several roads with burning tyres, trees and stones in a protest against a weekend power outage.
They told GroundUp that they had been living in the dark since Friday and were now angry.
Resident Lucky Xulu said without electricity people did not feel safe at night. "When we're left without power, our lives are in danger," said Xulu.
Another resident, Nomagugu Ngcobo said her household had to throw away food. "Some of us try very hard to make ends meet with the little that we have, so when we lose all the refrigerated food we thought would last us the whole month, it becomes a problem," said Ngcobo.
She said they reported the outage to the eThekwini Municipality and their ward councillor, Sduduzo Khuzwayo but they were still without power.
Ward councillor Khuzwayo said when he had looked into the problem on Saturday he had found the power outage had been caused by cable theft. He said he reported it to the municipality and was told that before the end of the day, power will be restored.
EThekwini Municipality spokesperson Msawakhe Mayisela said they were attending to the matter. He apologised for the inconvenience and asked residents to help catch cable thieves and those who set up illegal connections "as this results in power cuts sometimes".
This article has been amended to include comment from eThekwini municipality.