Immigrants in Gqeberha say they live in fear after Cele and Mbalula's remarks
"They came here to fan xenophobia" says informal trader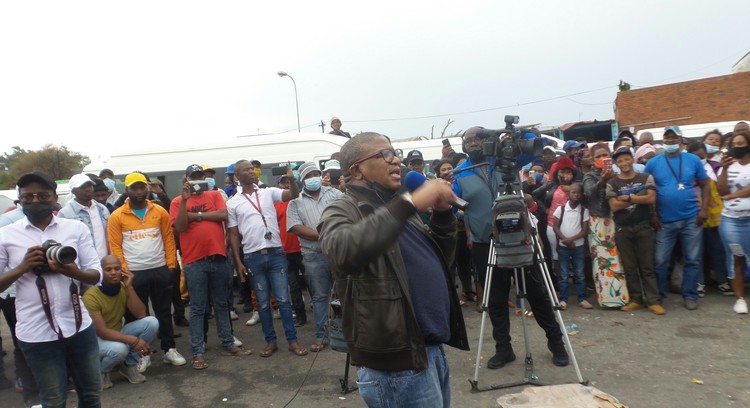 Immigrant shop owners and workers in Gqeberha say they are living in fear, claiming that two senior ministers stoked tensions.
Violence erupted in Korsten last week after a taxi driver and a Somali businessman had an accident in Durban Road.
Other taxi operators and business owners in the area intervened in the scuffle which led to further violence and the torching of several vehicles.
Ministers Bheki Cele and Fikile Mbalula subsequently visited Korsten and spoke about clamping down on undocumented immigrants and criminals.
---
Immigrant shop owners and workers in the informal sector in Gqeberha say they are living in fear after two senior ministers visited the area. They accuse Minister of Police Bheki Cele and Minister of Transport, Fikile Mbalula, of perpetuating statements blaming foreign-owned businesses for causing the recent violence in Korsten.

Last week, violence broke out following a fight between a taxi driver and a Somali national after an accident in Durban Road. At least eight taxis and a car were set alight. Two immigrant-owned spaza shops were also torched following the incident that brought the community to a standstill.
Cele then visited Korsten soon after to try and subdue tensions between shop owners and taxi operators. During the visit, Cele promised that police would deal with any violence targeting foreign-owned businesses, but said he would also enforce a clampdown on illegal immigrants.
When Mbalula visited Korsten on Thursday, he told a large crowd of people: "The conflict that has arisen here, has brought sharply to the fore the challenge of undocumented and illegal businesses which are run by foreigners here in South Africa. People must be properly documented, even those doing business here. Their business must be legal."
He added: "Jobs like barber shops should be reserved for South Africans, not for people from outside the country. We must regulate in this country how to do business because we can't go to other countries and do as we wish."
Mbalula then promised to assist taxi operators whose vehicles were burnt and damaged during the violence. He said the government will soon be regulating small businesses in favour of South Africans.
An informal trader, who asked that his name be withheld, said: "The two ministers have done no good to all traders here because they did not look into the real causes of the squabble. They came here to fan xenophobia because their statements were loaded with hate speech directed at immigrants."
Ashraf Mahmood Limbada of the Korsten Traders Forum said, "Taxi drivers behave like thugs in Korsten. They cause mayhem. They tried to start looting and we stopped them. The business owners of Korsten are passionate about our businesses and we will defend our business till death."
"The area is a no go zone for municipal police because they are scared of Korsten and because of the neglect by authorities, Korsten has become the Wild West of Gqeberha," Limbada said. "No official standing for the upcoming election will say anything against the taxi operators because they fear the repercussions of the vote."
Ayanda Qoko, representing taxi operators, said: "I am happy that people of the metro did not react after what happened. We could have fought but we didn't. Minister Bheki Cele said whoever committed the crime will be arrested. Those who were moving around brandishing guns will be arrested."
© 2021 GroundUp. This article is licensed under a Creative Commons Attribution-NoDerivatives 4.0 International License.
You may republish this article, so long as you credit the authors and GroundUp, and do not change the text. Please include a link back to the original article.
We put an invisible pixel in the article so that we can count traffic to republishers. All analytics tools are solely on our servers. We do not give our logs to any third party. Logs are deleted after two weeks. We do not use any IP address identifying information except to count regional traffic. We are solely interested in counting hits, not tracking users. If you republish, please do not delete the invisible pixel.