I'm worth twice what I earn, says NUMSA member
|
Thembela Ntongana and Zintle Swana
Brief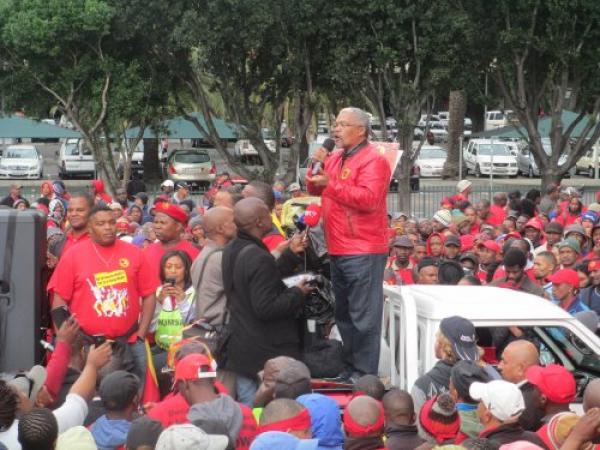 Over 4,000 National Union of Metal Workers of South Africa (NUMSA) workers stopped working and hit the streets of Cape Town city centre to demand a 12% wage increase effective from today.
NUMSA Western Cape regional secretary Vuyo Lufele said that the three year agreement with the employers expired yesterday, and workers were waiting for employers to agree to their demand.
"It was a three year agreement with a number of benefits that we want to improve from now onwards, for example consultation before the employer goes on short time, end of year bonuses and so forth."
Other demands from NUMSA are a ban on labour brokers, a housing allowance of not less than R1,000 per month, no implementation of the Employment Tax Incentive designed to encourage employers to take on young people, and full payment during training.
John Williams, a NUMSA member from Commuter Transport who works on locomotives in Touws River, said: "For the job that I'm doing I deserve twice the R5,000 that I'm earning."
The national deputy secretary general of NUMSA, Karl Cloete, told the crowd the working class was exploited.
"NUMSA as a trade union realises that in society there are only two classes and that is a working class and the capitalist class," he said.
The trade union has not agreed to the employers' offer of a 7% increase for general workers and 8% for management staff.
Collin Booysen of the Steel and Engineering Industries Federation of South Africa (SEIFSA) signed the NUMSA memorandum and promised that he would discuss it with partners.
Late yesterday Reuters reported that NUMSA had returned to its earlier demand of 15% because employers had made no concessions.
Dodgy people are suing us. Please support us by contributing to our legal costs and helping us to publish news that matters.
© 2016 GroundUp.
This article is licensed under a
Creative Commons Attribution-NoDerivatives 4.0 International License
.