Ihron Rensburg commits to keeping University of Johannesburg open
But three academics ask for security guards to be removed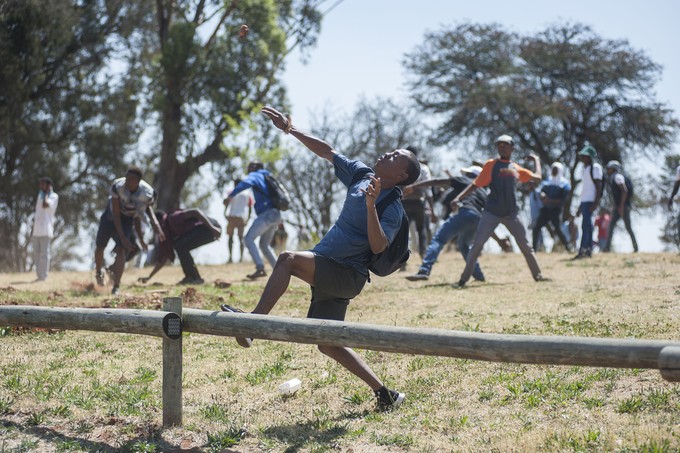 Yesterday the University of Johannesburg stated that a tiny minority of students attempted to "disrupt the university's academic programme and engage in criminal activities at its four campuses, even as the overwhelming majority of students have shown a commendable determination to get on with their studies."
The statement quoted vice-chancellor Ihron Rensburg warning that "all those who were instigating and participating in criminal activities would be dealt with severely and face the full might of the law."
Rensburg said: "We are determined to proceed with our academic programme and allow students to prepare for their end of year examinations. Indeed we note that more than 99% of students do not support the dubious agenda of the less than 1% of students who seem adamant to disrupt the University's activities."
Rensburg has said that "all academic programmes and other activities such as graduation ceremonies would proceed as scheduled."
"To this end, and to ensure the safety of staff, students, visitors and property, UJ had also implemented heightened security measures, and is in the process of taking disciplinary steps against those students who had been identified as being at the heart of the current disturbances," said the statement.
Three lecturers from the University of Johannesburg have called on management to adopt a different approach in handling the current student protests at the institution.
At a press briefing this afternoon, lecturers Rubina Setlhare, Shahid Mathee and Tariq Toffa called on management to remove private security guards and engage with students in a non-threatening manner. The lecturers said that they were speaking independently, and not with a mandate from the University of Johannesburg Progressive Staff and Academics Forum, which they belong to.
Their call comes after students and private security clashed yesterday, at UJ's Doornfontein Campus.
Setlhare claimed that private security cost in the region of R2 million a month.
"Instead of spending that money on bouncers, management should be getting in experts who can better engage with the students," she said.
The academics were joined by UJ's SRC president Onwabile Lubhelwana. He told the media that he was hit and had the skin ripped off two of his fingers.
He lambasted management for what he called unprovoked aggression from the hired security guards.
Mathee said he was pepper sprayed by the security guards, adding that he was witness to the peaceful demonstration students held yesterday.
The lecturers said that the presence of security guards in riot gear and displaying their weapons (pepper spray and batons) caused an atmosphere of unnecessary tension at the facility.
They said they were appalled at the aggression displayed by the guards and called for an immediate end to that behaviour.
Setlhare said the persistence of heavily armed security guards would only deepen the chasm between management and protesters.
© 2016 GroundUp.

This article is licensed under a Creative Commons Attribution-NoDerivatives 4.0 International License.
You may republish this article, so long as you credit the authors and GroundUp, and do not change the text. Please include a link back to the original article.