Hundreds protest against arrest of murder suspects in Philippi
Police use teargas and rubber bullets to disperse protesters who were demanding release of community patrol members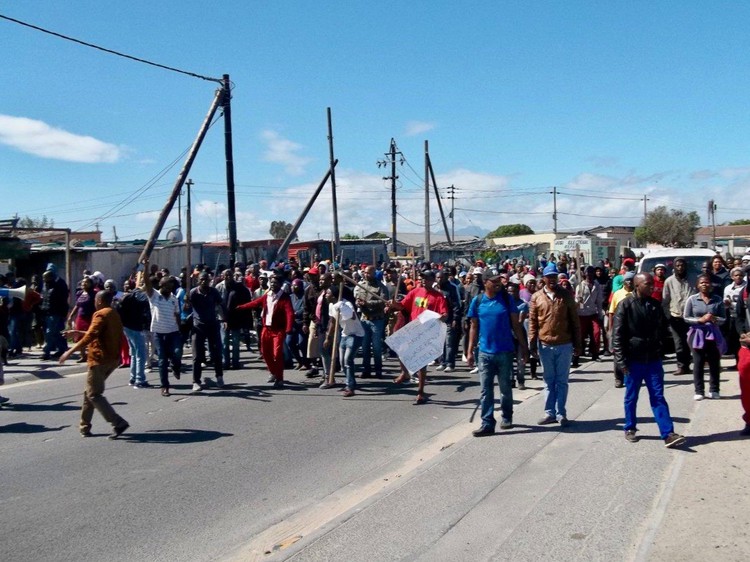 About 600 people protested outside the Philippi East Police Station in Lower Crossroads on Saturday. They were demanding the release of three community patrol members arrested for the murder of four people and suspected of mob justice.
The demonstrators came from ward 35, which includes the informal settlements of Marikana, Thabo Mbeki, Ireland and also Lower Crossroads.
Residents sang, "Bring my machete; the police are dogs." They waved placards that read: "Ward 35 cops don't work. We are fed-up".
When angry protesters began to burn tyres outside the police station, the police dispersed the crowd with rubber bullets and teargas. According to the police, four protesters were arrested on public violence charges. One SAPS member was taken to a nearby hospital with a wound in the head after protesters threw stones.
Community leader Nosakhe Duli told GroundUp: "What has angered us is that the police arrested the residents while they were busy patrolling around Marikana to protect us from thugs."
"Community patrollers know where thugs stay and hide stolen goods and therefore they can fight crime successfully," she said. "They seize thugs and force them to show them where other thugs stay and where they stash away stolen goods."
"Thugs roam around the streets, busting down doors, raping women, stealing TVs and other valuables, and robbing workers on their way to work. But the police never arrest them," said Duli.
Duli said that on Thursday police were informed of the planned march "to draw the attention of Minister [of Police] Fikile Mbalula to our plight". She said the station commander had agreed.
Western Cape Police spokesperson F C Van Wyk said, "Major-General Dyantyi and Brigadier Ncata received a memorandum from a 12-member committee of protesters … Decision was taken not to release the three suspects."
Various members of the community told GroundUp about recent incidents of crime. GroundUp did not verify these reports. Duli said that on Friday a taxi driver and his passengers had been robbed of their money and cellphones. She said, "There used to be three Somali-owned shops in Marikana, but now they have left because of crime."
Community leader Alphas Jokana said, "The police should join the patrol instead of arresting the patrollers."
Resident Anele Galela said three robbers held him at gunpoint and robbed him of his cell phone while he was on his way to work. He is a security guard.
He said, "I thought about the well-being of my kids and quickly gave them my cellphone and went back home because I was traumatised."
Nomaswazi Khethiwe said stray bullets hit her four-months' pregnant sister in both legs when a shop was robbed last Wednesday.
"I phoned the police and asked them to come, but they never arrived," she said.
Ward councillor Mboniswa Chitha said, "Every day and night we hear gunshots and people die, but the police do nothing."
© 2017 GroundUp.

This article is licensed under a Creative Commons Attribution-NoDerivatives 4.0 International License.
You may republish this article, so long as you credit the authors and GroundUp, and do not change the text. Please include a link back to the original article.