Hundreds of public service workers down tools in defiance of court interdict
"We have nothing to lose now because we are earning peanuts anyway" says striking worker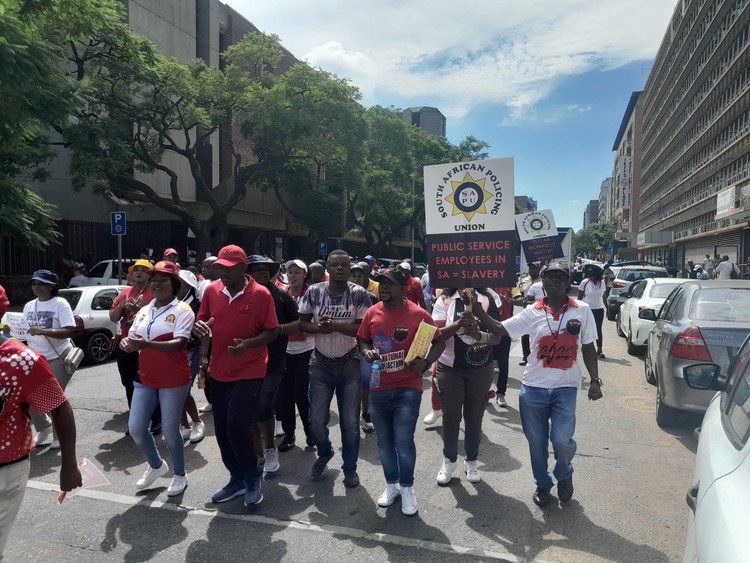 Hundreds of workers affiliated to the National Education Health and Allied Workers Union (NEHAWU) downed tools on Monday across the country over a wage dispute, among other demands.
This is despite the Department of Public Service and Administration obtaining a court interdict to prevent the strike on Saturday. On Monday, the department returned to court to get a final order interdicting the strike.
NEHAWU asked for leave to appeal the government's interdict on Sunday.
Other unions and federations supporting the "indefinite" strike action include the Congress of South African Trade Unions (COSATU), the South African Policing Union (SAPU) and the Police and Prisons Civil Rights Union (POPCRU) and other affiliates.
NEHAWU served the department with a notice to strike on 24 February after wage negotiations deadlocked. The department offered a 4.7% increase while unions demanded between 10% and 12%. Among the demands, is for a R2,500 housing allowance and a bursary scheme for the children of public servants.
In a statement on Saturday, the department confirmed that it had successfully obtained an interdict against the strike. It said that it respects the right of workers to strike and picket peacefully. "It is the commitment of the government to ensure that these hard fought for rights are discharged in a manner that does not disrupt service delivery, especially in relation to essential services such as health," said department spokesperson Moses Mushi.
Mushi said the government urged trade unions to return to the bargaining chamber to negotiate.
On Sunday, NEHAWU's leaders met with their legal team to file an application for leave to appeal the interdict ruling. "By implication Section 18 of the Superior Courts Act 10 of 2013 kicks in, which automatically suspends the court order until the leave to appeal is determined," the union said.
NEHAWU accused the government of being "hell-bent" on collapsing collective bargaining, the rights of workers and to reverse the gains made by workers over the years. "Our strike will demonstrate to government the seriousness with which we take the concerted effort to underplay the role and significance of public servants who are at the coalface of service delivery."
Addressing the media on Monday afternoon acting Public Service Minister Thulas Nxesi said that this strike was illegal and warned participating workers of the "no work, no pay policy" and that they could face prosecution for defying the interdict.
He said that essential service workers striking will result in disciplinary action. He warned that action will be taken against those who engage in unlawful conduct.
Nxesi noted that some striking members blocked entrances to some government buildings. "We will not allow essential services to go on strike as this is reckless and irresponsible … The police will continue to do their urgent work to stop the violence and disturbances of employees who are not involved in the strike," he said.
GroundUp attended protests by workers in Cape Town, Pretoria and Kariega earlier on Monday.
In Cape Town, about 100 protesters disrupted services at the departments of Home Affairs and Justice. Outside Home Affairs in Barrack Street, NEHAWU provincial general secretary Baxolise Mali told GroundUp that they also want the state to fill vacant positions at Home Affairs "They are understaffed and the workers who are temporarily employed by non-profit organisations want to be part of the state employment permanently."
In Pretoria, about 80 protesters marched to the offices of the Departments of High Education and Training, Labour and Justice. We witnessed protesters disrupting services at these offices and warning workers not to report for duty for the rest of the week.
Christine Mahlangu, a finance clerk at the Department of Water and Sanitation, joined strikers. She said her monthly salary of R13,000 is not enough to cover her needs and support her two children.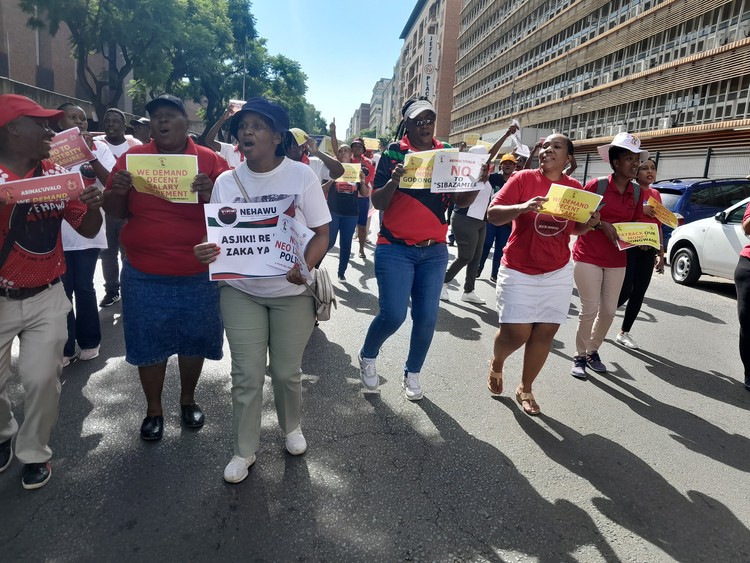 Bathlobogeng Rapelang, who works at the Department of Social Development, said, "In the past we would not join the strikes because we were afraid of our money being deducted by the employer. But now, there is nothing left in our salaries.
"The last major public service strike was in 2007. The only way we'll move forward is if we unite and continue to strike. We have nothing to lose now because we are earning peanuts anyway. We want an increase from last year and this year," said Rapelang.
COSATU Gauteng chairperson, Amos Monyela, said, "We are in a war. The government has refused to engage us and they continue being ignorant. We need the police and nurses to leave their posts and join us in the streets and the government will come to the party. Tomorrow we want more than 300 people here, and on Wednesday we must collapse the public service."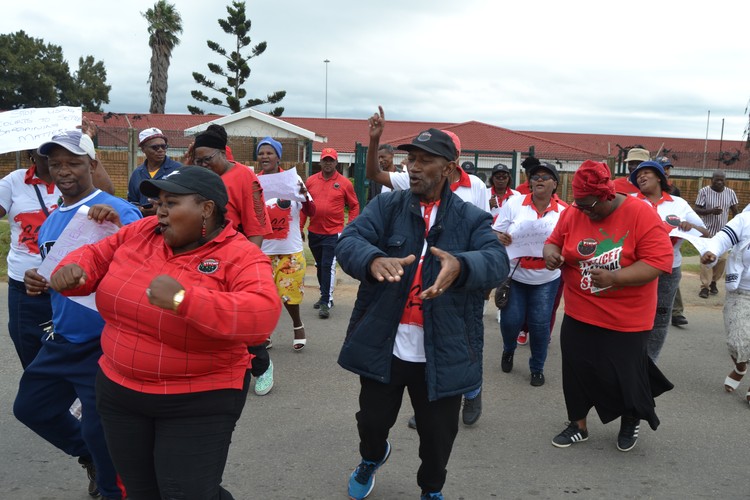 In Kariega, about 50 striking union members protested outside Mzamomhle Special School in KwaNobuhle township.
The school has about 300 learners. Protesting workers, including security guards, laundry workers, clerks, foremen, drivers and cooks. They sang outside in the rain while holding dozens of placards which read: "Stop using courts to settle bargaining matters", "Implement housing scheme now" and "Government must stop undermining bargaining collective".
There was a debate between protesters about whether to protest at the school. As one point a furious parent was seen storming into the school and later seen leaving the premises with her daughter.
The unions have vowed to intensify protest action on Tuesday.
© 2023 GroundUp. This article is licensed under a Creative Commons Attribution-NoDerivatives 4.0 International License.
You may republish this article, so long as you credit the authors and GroundUp, and do not change the text. Please include a link back to the original article.
We put an invisible pixel in the article so that we can count traffic to republishers. All analytics tools are solely on our servers. We do not give our logs to any third party. Logs are deleted after two weeks. We do not use any IP address identifying information except to count regional traffic. We are solely interested in counting hits, not tracking users. If you republish, please do not delete the invisible pixel.