Human Settlements make about turn on "poorly built" RDP foundations
116 cement slabs are to be rebuilt at Despatch housing project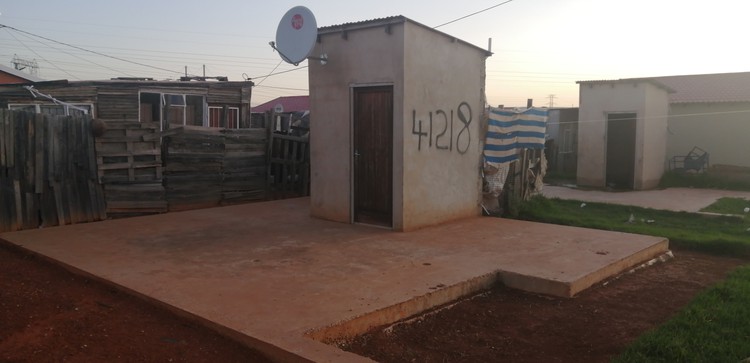 The Eastern Cape Department of Human Settlements has made an about turn by taking up the task of rebuilding more than 100 RDP cement foundations in Despatch.
This comes after the Housing Development Agency (HDA) and the Nelson Mandela Bay Municipality refused to take any responsibility for the poorly built foundations. As a result of fighting between political factions, the project – which expected to create 1,013 homes – was brought to a standstill.
The cement foundations were built in 2013 by the Nelson Mandela Bay Municipality. In 2015, Human Settlements took over the construction of the houses and assigned the HDA to manage the project.
When previously questioned about the project, municipal spokesperson Mthubanzi Mniki directed all questions to HDA, saying it was not responsible for the foundations. The foundations each have a flushing toilet built on them. But most of these toilets were vandalised before the beneficiaries were relocated to the area.
In February, frustrated beneficiaries blocked Old Uitenhage Road with burning tyres and rocks, demanding that the 42m2 foundations be rebuilt.
Khayamnandi Extension community leader Fanisile Mkolweni warned the Department to deliver or face the wrath of the residents. "We staged a big protest on Old Uitenhage Road and said we cannot live under these conditions anymore. My house was completely built, but I could not watch my neighbours suffer alone," said Mkolweni. "The Human Settlements regional director came and addressed us during the protest. He said the project will resume by the end of this month. We warned him that if he fails to deliver we will make this place ungovernable."
Zikhona Peter, a beneficiary of the project, said she had given up hope of owning an RDP house. "When I was relocated from Endulini informal settlement in KwaZakhele in 2015, I was full of joy. I never expected this project would make me a laughing stock of my relatives and friends. It's almost five years now that we've been waiting for our houses," she said.
"We are a family of four and we live in a two-room shack. My furniture broke and some was damaged by rain because my shack is old and leaking," she said.
Spokesperson for Human Settlements MEC, Masiza Mazizi, said, "A total of 255 houses have been completed at this project already. A further 116 slabs failed the assessment tests and a fresh engineering solution had to be redesigned. This has since been done."
He said that they anticipated that HDA would introduce contractors to the site by the end of March.
Dodgy people are suing us. Please support us by contributing to our legal costs and helping us to publish news that matters.