Equal Education made "constitutional alchemy" says lawyer who represented them
Jason Brickhill, director of litigation at SERI, remembers how Equal Education and the Legal Resources Centre built the school infrastructure norms and standards case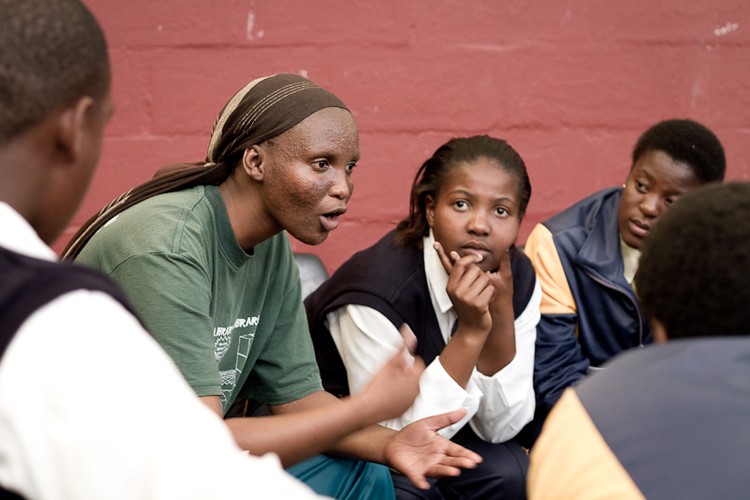 Jason Brickhill, director of litigation at SERI and keynote speaker at the first Yoliswa Dwane Public Lecture, remembered how the case for school infrastructure norms and standards was built.
"It is a profoundly important approach," said Brickhill of Equal Education's distinctive combination of activism and law.
"I am who I am today because of Sis Yoliswa," said Ntsiki Dlulani, head of Equal Education's Western Cape office.
Equal Education's norms and standards case is a prime example of how social movements can use the law in the struggle for social justice, according to advocate Jason Brickhill, the keynote speaker of the first Yoliswa Dwane Public Lecture.
Dwane, a founding member of Equal Education, died of cancer last year.
Brickhill, the director of litigation at Socio-Economic Rights Institute of South Africa, reflected on Dwane's legacy and the relationship between activism, law, and social justice, at the event held at the University of Cape Town on 24 February.
Brickhill talked about his work with Dwane in the early stages of Equal Education's life as a movement, when he worked for the Legal Resources Centre (LRC). Equal Education's flagship campaign at the time was for the introduction of norms and standards for school infrastructure, and the LRC initially represented Equal Education in this matter.
Brickhill said that Equal Education stands out as an exceptionally difficult client - in the best way. "The Equal Education people on the case would engage in every detail, weigh up every strategy and debate. This made the work charged and stimulating, produced carefully crafted court papers, and coherent messaging inside and outside the courtroom."
Brickhill said that Equal Education engaged in many forms of advocacy and protest for the norms and standards campaign, including extensive letters, petitions, and marches, before resorting to litigation. Finally in 2012, Equal Education took the Minister of Education, Angie Motshekga to court.
"Yoliswa played a leading role and she ultimately deposed to the founding affidavit on behalf of Equal Education. I remember her during that norms and standards time being direct, decisive, and straightforward."
Brickhill remembered the "remarkable effort by Equal Education and the LRC" given to build the evidence and prepare the founding papers for the norms and standards litigation. "Teams visited schools across the country to gather evidence of the conditions and for learners at those schools to explain in their words how those conditions affected their learning and lives," he said.
"The founding affidavit painted a stark and detailed picture of the conditions of the schools. It was a devastating and unanswerable account of the conditions in which learning and teaching were taking place. Of mud school structures and missing roofs, unstable walls and classrooms without windows, of schools without water, electricity, toilets, libraries, laboratories, or fences," he said.
Brickhill said that the Minister agreed to everything Equal Education had asked for in their legal papers. "We celebrated the victory. This was constitutional alchemy in action. We had turned may into must. The Minister would now have to make binding regulations to set minimum norms and standards. Our celebrations were premature."
The Minister failed to publish the regulations by the end of May 2013 and Equal Education had to go back to court to launch a further case to compel her to publish the draft regulations. A democratic vote was held, asking whether to give the Minister another extension. The community decided against an extension, but the lawyers and Equal Education staff thought an extension was necessary and that a court would grant one anyway. Brickhill said that this led to tensions within the movement.
"Yoliswa was key to mediating those tensions. She uniquely understood the tensions because of her training as a lawyer and her connections with Equalisers [ school members of Equal Education], who like her, had struggled. This lesson is now used as a teaching aid in Columbia [University]," he said.
On 29 November 2013, the Minister finally promulgated norms and standards. "We now had binding law. Equal Education was still concerned that it fell short of constitutional standards and brought a constitutional challenge."
This eventually succeeded in the Bhisho High Court on 19 July 2018, and was confirmed by the Constitutional Court on 29 October 2018, when it refused the Minister's leave to appeal.
"The challenge removed what we called an escape valve that the Minister had inserted that could have been used to justify non-compliance on the basis of a lack of resources." The court also said the government must make the plans public and eradicate mud schools as a matter of priority.
Equal Education, Brickhill said, developed a distinctive approach to combining activism and law. "Equal Education has prioritised building a movement. A distinctive feature in all these structures was the role of young people. The second feature is that Equal Education has articulated a positive vision for the society it wants to live in. It has allowed itself to imagine but its imagination is informed by extensive research and the experience of members. Equal Education's approach is fundamentally a hopeful one. The third feature is that it relies on developing technical expertise and is evidence-based. Equal Education conducts its own research. It is a profoundly important approach."
Ntsiki Dlulani, head of Equal Education's Western Cape office, said she had fond memories of working with Dwane in the movement. She said that Dwane made Equal Education a political home for many. "I am who I am today because of Sis Yoliswa. We are here today to celebrate Equal Education's 15 years of activism and fighting for quality education. She was a strong, fierce, principled, and honest comrade of Equal Education."
Dlulani said that Dwane understood the struggles of not having proper infrastructure in schools, coming from Dimbaza in the Eastern Cape, and being just one of 12 learners in her year to pass matric. "Yoliswa was very passionate about the transition of leadership because she believed that this social movement should live and breathe with or without us. We have a role to play to build leaders in our communities. We have a role to play to empower communities to stand up for what they believe in. We have a role to play to change the education system of this country."
Dodgy people are suing us. Please support us by contributing to our legal costs and helping us to publish news that matters.
© 2023 GroundUp. This article is licensed under a Creative Commons Attribution-NoDerivatives 4.0 International License.
You may republish this article, so long as you credit the authors and GroundUp, and do not change the text. Please include a link back to the original article.
We put an invisible pixel in the article so that we can count traffic to republishers. All analytics tools are solely on our servers. We do not give our logs to any third party. Logs are deleted after two weeks. We do not use any IP address identifying information except to count regional traffic. We are solely interested in counting hits, not tracking users. If you republish, please do not delete the invisible pixel.