H₂O International's motives not pure
The purifying company's South African franchise has made unproven claims about municipal water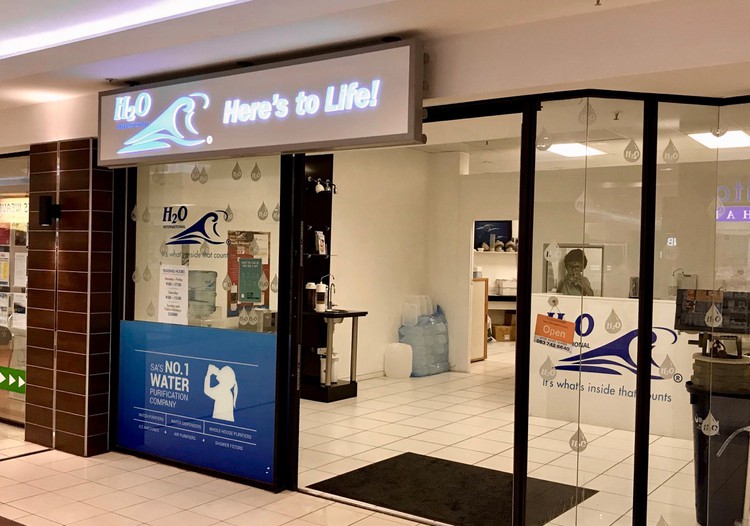 Water purification company H₂O International SA has claimed that the water from our taps is unsafe and that there is "growing concern over the quality of municipal water". But the claims are false.
H₂O International SA sent GroundUp two press releases warning about the dangers of chlorine in municipal tap water in mid-April. "The water is unsafe," H₂O bookkeeper Leigh Armstrong told GroundUp. "There's a lot more chlorine and fluoride in the water now than there ever was before."
"Chlorine and fluoride hit the pituitary gland and calcify the pituitary gland … Alzheimer's, dementia, yada yada … Those things are elevated in time," said Armstrong, speaking to GroundUp at the company's Rondebosch store.
Water experts say H₂O should not be taken seriously. "Municipal water in our cities is treated to standards which are internationally applied and recognised to be safe," said Mike Muller, a professor in water resources management at Wits University.
Muller explained that chlorine makes water safe to drink. It kills disease-causing bacteria and other organisms.
"We've been doing this [adding chlorine] for a hundred years," said Muller. "The world is a lot healthier than it used to be and it's in large measure [due to] safe, clean water and sanitation."
Fluoride occurs naturally in water. The Department of Water and Sanitation (DWS) explains that "flouride decreases the incidence of tooth decay [in children] when [drunk] during the period of enamel calcification". It does warn that excessive fluoride in water can cause children's teeth to discolour, but there is a standard for how much fluoride is allowed in municipal water.
Municipalities regularly test their water to ensure it meets South African National Standards (SANS, better known by its former acronym SABS). These include limits for the amount of chlorine and fluoride.
For example, the City of Cape Town tests over 5,700 water samples a year. It consistently achieves well over 99% compliance with the SANS specification, easily exceeding its 98% target.
Municipal water in every major city — and most municipalities — in South Africa is safe to drink and wash with.
In its publicity, H₂O refers to news articles that are outdated and taken out of context. It quotes a Cape Argus article (16 September 2003), saying that chlorinated water "chips away at your health". The article actually said this is what "anti-chlorine lobbyists say". The article also said that scientists say there are "substantial dangers of not chlorinating drinking water" and "levels of chlorine in your potable (drinking) water comply with international safety regulations".
H₂O's PR firm said in an email to GroundUp, "Parents need to be more aware of the dangers of chlorine and hard water from our taps when it comes to the health of their babies and children." Below this is a statement titled, "A new study proves that water hardness causes infant eczema and suggests that the chlorine used to treat water is a contributing factor."
But the study's findings deal with water in parts of the UK with elevated levels of calcium carbonate and chlorine. In any case, although it found elevated calcium carbonate was associated with infant eczema, it did not make the finding for elevated chlorine levels.
H₂O's marketing correctly states: "We need to eliminate the real nasties like cholera, typhoid and other frightening waterborne illnesses, and keep the water safe all the way from the municipal reservoirs to our homes." Then it says, "But once you are ready to use it, it is absolutely essential that you remove the chemicals." But H₂O offers no evidence to support this claim, and there is none.
H₂O sells water purification systems for tap water ranging from R1,350 to R3,400. It also sells shower head filters, claiming that "purifying your drinking water is not enough … you are inhaling chlorine-toxic vapours" [in the shower]. Again, H₂O offers no evidence to support this, and it is almost certainly false.
"The absorption of chemicals and contaminants through the skin is just as bad as via consumption," Tony Marchesini, managing director and franchisor of H₂O International SA, claims on the website.
Muller said the company "is trying to create a health scare". He added that "there are far cheaper ways of keeping water safe than buying a patented and commercial product".
In fact there is no need to clean water in most municipalities in South Africa that you shower with; it's already clean.
"If they go around trying to scare people, they should be called out for scaring without scientific basis," said Muller.
Dodgy people are suing us. Please support us by contributing to our legal costs and helping us to publish news that matters.