Health care workers fight for recognition by department
"When I die, my children get nothing after so many years of working. I get nothing even when I retire; not even UIF"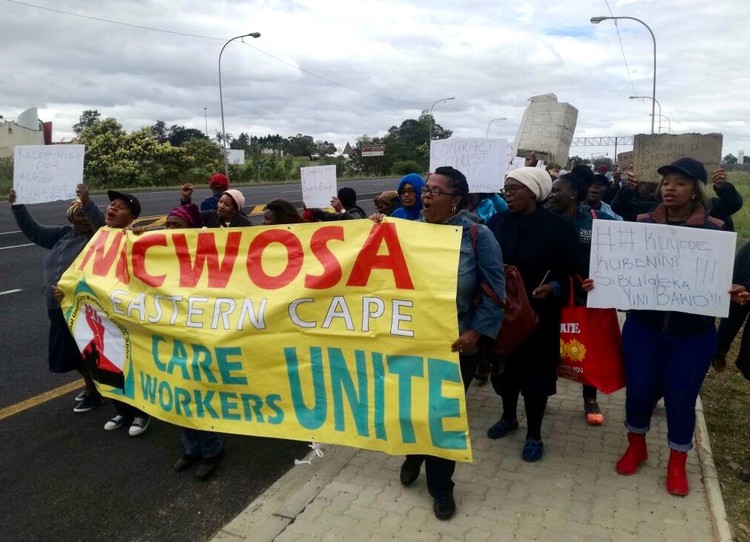 On Thursday, more than 50 health care workers from different areas of the Eastern Cape marched from Bhisho stadium to the offices of the Department of Health to demand that their union, the National Union of Care Workers of South Africa (NUCWOSA), be recognised.
The workers also want permanent contracts, improvements to their working conditions, and benefits such as Unemployment Insurance (UIF).
How to remunerate community health care workers across the country has been a vexing problem for the Department of Health. These workers are primarily responsible for home visits to make sure that vulnerable people are getting adequate health-care, that they do not slip through the health system's cracks. The workers are currently paid stipends by the Department (sometimes via NGOs). There is widespread agreement that formalising their employment is the way to go, and there are ongoing discussions towards achieving this. For years community healthcare workers have been demanding a better deal. The question is how will it be funded.
Workers filled the department's offices and sang while their representatives met officials for two hours.
Shop steward Thobeka Faltein said the department had failed to respond to letters they sent in September and October asking for a meeting to introduce the union. "We decided to do this march because they [the health department] were not taking us seriously," said Faltein.
The workers staff clinics and some do house visits, taking medicine to patients.
Nozuko Nelani has been working in Amalinda in East London since 1998 as a health care worker. "I started when we just earned R250 a month. We moved to R500 and now, 18 years later, we are at R3,000," said Nelani.
"Per day you must do 15 patients, and some of the patients do not stay close to each other. Rainy or sunny you have to walk or use your own money to get from one place to another. There is no transport provided," said Nelani.
Mbambeni Sonjinca from Duncan Village has to support seven children on his meagre income. He started as a health care volunteer in 1998.
"When we go to these houses we sometimes have to provide bread for the people that we visit just so they can take their pills. Some we have to wash because they do not have people looking after them," said Sonjinca.
"We work hard, but have nothing to show for it. When I die, my children get nothing after so many years of working. I get nothing even when I retire; not even UIF," he said.
Buyiswa Joloza from Piltini outside Bisho said they had to buy their own uniforms. "They give us shirts every three years not caring what size you wear; you must deal with it yourself. You get a size 50 even if you wear a size 32. No rain suits, shoes and jerseys – that we buy ourselves but they tell us we must wear uniform," said Joloza.
Joloza said they signed contracts on an annual basis and that the department had cut their working days from five to three, stating that they can't afford to pay for the full five days.
Director of Labour Relations at the Department of Health Bongani Lose said, "I apologise on behalf of the department for the fact that your meeting request was not honoured since September. I assure you that if I can have all NUCWOSA membership documents by Tuesday next week, I will fast track the process and make sure everything is finalised by 5 December."
Dodgy people are suing us. Please support us by contributing to our legal costs and helping us to publish news that matters.
© 2017 GroundUp.

This article is licensed under a Creative Commons Attribution-NoDerivatives 4.0 International License.
You may republish this article, so long as you credit the authors and GroundUp, and do not change the text. Please include a link back to the original article.