Has the City's janitorial service been flushed?
|
Mary-Anne Gontsana
News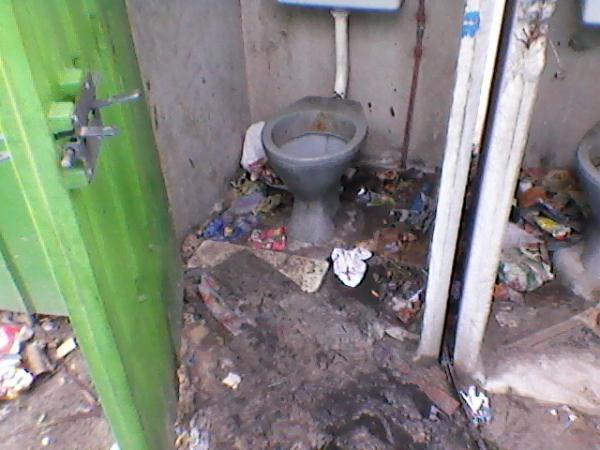 "I have seen no one fixing any toilet. They are blocked right now as we speak." These are the words of 29-year-old Zoliswa Mampofu, a Khayelitsha resident and mother of two.
Mampofu lives in BT Section, Site C. She has heard about the janitorial service, but has seen no evidence of its existence.
Three months ago, about 200 Social Justice Coalition (SJC) representatives went to Cape Town's Civic Centre to listen to the long awaited announcement of the launch of the janitorial service. The service was proposed to the City of Cape Town by the SJC with the aim of improving sanitation services in Cape Town's informal settlements. Mayor Patricia de Lille said that the program would be implemented by 30 June this year. It would include daily cleaning of flushing toilets, standpipes and surrounding areas, minor repairs of flushing toilets as well as reporting of instances where more extensive repairs were needed.
But Khayelitsha residents and the SJC claim that the service never fully functioned and that it has now stopped operating.
"I started living in BT Section in February. I moved from the middle of Site C after receiving a house here. Ever since I came to this side, the biggest problem has been the toilets. There are about six toilets here and all of them are dirty, stinky and blocked. Sometimes you find that other residents take ownership of the toilets and end up locking them so other people will not use them," explains Mampofu.
She said the toilets are a long walk away from where she lives and as a result both her children and herself do not go anywhere near them at night. This means that they have to settle on using a chamber pot inside the house, which they empty in the morning. She adds that "Even during the day, you think twice about going to use those toilets because they are too filthy. What is worse is our taps are attached outside these toilets and you are forced to endure the smell. I have seen no one working on the toilets. Yes, sometimes I might come and find them unblocked and clean, but that rarely happens and it does not stay in that clean condition for too long."
The Cape Times has also run a story by Health-e exposing the breakdown of the service. The newspaper then ran a follow-up article in which Mayoral Committee Member for Utility Services, Shehaam Sims, disputed the Health-e report and labelled its conclusions misleading. However, GroundUp's findings are consistent with the Health-e article.
The SJC's Phumeza Mlungwana said that that the toilets had gone back to the same poor state they were in before the janitorial service. The social movement is demanding that the City release an official policy document and an operational plan indicating how the janitorial service will function. "We have been liaising with the City, but so far nothing has changed. The SJC is meeting to figure out what steps to take next," said Mlungwana.
Heinrich Heymann, a spokesperson for Sims, wrote to GroundUp that there was no policy document that could be released. "The introduction of the janitorial service for waterborne toilets in the informal settlements was made possible when funds were made available through the Extended Public Works Program (EPWP) to employ people from the community on fixed term contracts. There is an evident need for the service and when the availability of funds made it possible to introduce the janitorial service, contract appointments were made and the appointees were deployed to the various informal settlements. This was done in line with the prescripts of the EPWP and established operational practices, and not in terms of a previously developed policy document on janitorial services in informal settlements. Thus, there is no policy document that can be released."
According to Heymann, the project has not come to a halt. He said that 205 people are currently employed in the janitorial service in the city's informal settlements. On 1 October, 282 workers were starting training to be their replacements. "There was an administrative requirement to terminate contracts, but these are replaced by the 282 starting on 1 October," said Heymann.
Thobile Funani is a Site B resident and a former janitor. He said that the project started in April and they were told that it would end in August, so they signed three-month contracts. "We only worked two months, June and July. In August we were told by the City that there was a possibility that the project might or might not continue because of lack of money for it. But we continued working in the hope that things would be alright. In the middle of August they told us that contracts might be brought for us to sign again so we could continue working, but on 31 August we were told to stop working. We kept our uniforms. We just had to return the chemicals that we used for cleaning. We took the chemicals back to the ablution block but they gave us hope by telling us that we would be called to come back to work. But until now none of us have been contacted."
Currently unemployed, the former janitor said he was chosen to work as a janitor from the City's database which has his name. According to him, no training was given before they started working. Their duties were sweeping, cleaning and writing reports on the problems which needed fixing in the township, like broken taps, blockages or burst pipes. He worked from 8am to 4.30pm, Monday to Friday.
"We were even told that we would receive certificates which would show the qualifications we have obtained during this project, but nothing. Right now taps are leaking and residents usually come to me to report them. Then I would take their complaints and put them in my report, but now, there is not much I can do. I have asked the City where things are, but I was not given any direction or straight answer," he said.
Heymann responded, "Councillor Sims has no knowledge of such a promise. It is standard practice for the Council, if requested at termination of service, to give a letter stating that the person has been employed by the Council, the nature of the job and the length of service. Maybe this has been construed as 'promised certificates for their qualifications for working on the project.' All temporary staff received rudimentary instructions of what they were required to do."
Asemahle Masumpa, who was also a janitor, says that he is owed R1,100 for his work on the service. "I started as a janitor in April, but had to stop when I enrolled in school. I stopped working for the service on 14 July but until now I have not been paid for the last week I worked. We were paid fortnightly. I have been to the City's Bellville offices countless times to ask about my money, and the last time I was there, I was told that my money should be in last week, which was the end of the month," he said.
Heymann said he would supply the information regarding Masumpa as soon as he received it from the EPWP office. For now, the response he had received from the office was: "Thank you for submitting the pay query to the EPWP Office. We will follow up on the matter and advise you by Thursday of the outcome and pay date should the query be verified."
SJC's coordinator Gavin Silber said that in a meeting on Monday between the SJC and the City, Mayor Patricia de Lille admitted that the city had made serious mistakes largely due to the lack of a policy document and plan and that the Mayor's office was intervening to rectify the situation. However, when GroundUp requested comment from the Mayor's office, we were referred to Shehaam Sims' office.
Silber said the SJC wanted a formal announcement from the Mayor's office on why things went wrong, and how the City planned to fix it.
© 2016 GroundUp.
This article is licensed under a
Creative Commons Attribution-NoDerivatives 4.0 International License
.