Gay Congolese man's harrowing journey to reach asylum in South Africa
But Saadi Ali Tokiti says he feels unsafe and unwanted in Cape Town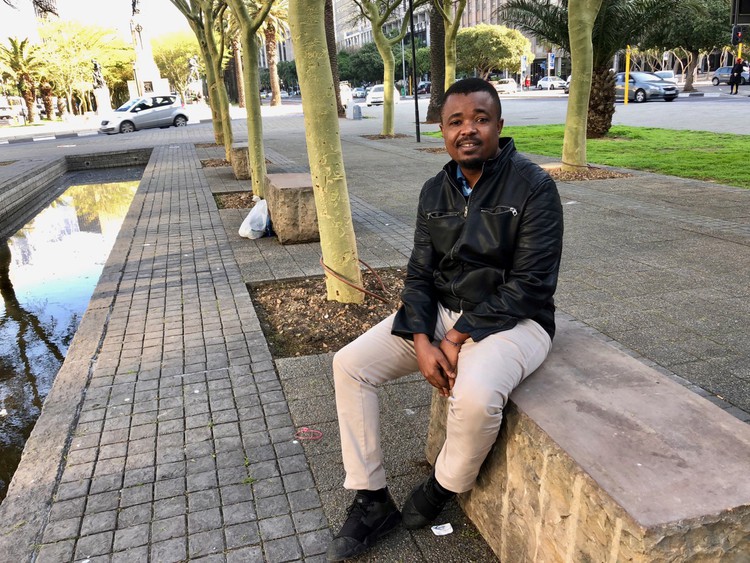 Saadi Ali Tokiti, a 32-year-old gay Congolese man, says that when he tried to report a homophobic assault in June, Manenberg police refused to open a case. He says he was assaulted and his life was threatened by three men on his way to Thembalethu shelter, Cape Town. They made insulting remarks about him being a "weird" person who sleeps with other men.
Tokiti arrived in Cape Town on 22 May 2018. OutRight Action International had put him in touch with PASSOP (People against Suffering, Oppression and Poverty), who helped him with a bus ticket. He is seeking asylum in South Africa, but he says he feels "unsafe and unwanted".
One of the attackers in June was Congolese and spoke Swahili. He says the man said, "You should stop talking about the Mayi-Mayi [community-based militia groups in the DRC]."
Tokiti says some Mayi-Mayi groups persecuted gay people in his home country. He says the attacker told him: "You should know that as you were not free in DRC and in Mozambique, even here [Cape Town] you are not free."
Tokiti says the female officer on duty at Manenberg police station denied that he was attacked because he was gay. According to Tokiti, she told him to "stop tarnishing South Africa's name with your claims because it is one of the peaceful countries".
Journey to South Africa
It took Tokiti three months to travel from the DRC through Zambia and Zimbabwe to reach the South African Beitbridge border in July 2017. He had no documentation. He declared that he was seeking asylum because of persecution for his sexual orientation. He says an immigration officer told him: "We don't want gay men in South Africa. Go back to where you came from."
Tokiti went to Mozambique to the Maratane Refugee Camp in Nampula. In his fourth month in the camp, he says he was attacked twice, he believes for being gay.
Fearing for his life, he sought help at the National Institute for Refugee Support in Maputo, but the institute could not help him while he was living outside the camp.
He started to live on the streets of Maputo, where he says he was harassed by police and criminals.
Then he made contact with OutRight. Paul Jansen, a senior advisor for global advocacy at OutRight Action International, confirmed that they linked Tokiti with PASSOP. "The only thing we did after receiving his desperate mail was to make the connection with PASSOP, as we knew they are specialised in refugee issues. All handling of the case was done by PASSOP," Jansen said.
Tokiti obtained a refugee passport and a bus ticket to Johannesburg. At the South African border at Lebombo he was given 30 days on 22 May 2018 to proceed to a refugee reception centre to apply for asylum.
Fleeing the DRC
Tokiti says he grew up in Gulu, Northern Uganda, and studied for a Bachelor of Commerce. His father left the DRC to take refuge in Uganda in 1985. His father died in 2002.
Tokiti says that in 2007 the Ugandan government started to crack down on homosexuals and gay rights activists. Tokiti was running LGBTI awareness workshops. He says he started to receive calls threatening him and telling him "to do your sexual activities in your country, not here in Uganda".
He fled back to DRC and lived there for 10 years. He says he formed an underground organisation, Wandu Pamoja (brothers together), for gay men in Uvira on Lake Tanganyika.
In 2017 he was warned that Mayi-Mayi militia were going to kill him. He sought help at a United Nations camp. He stayed for three days. Officials advised him to seek asylum in another country and he started his long journey to South Africa and Cape Town.
The Cape Town Temporary Refugee Facility on the Foreshore is still not accepting new applications despite a court order. Tokiti's transit paper has expired.
"[Thembalethu] shelter only keeps one for a maximum of three months. I am worried I might find myself living on the streets again, because without a document, I am unable to seek work. My future is uncertain. I feel unsafe and unwanted here," says Tokiti.
Regarding Tokiti's complaint about the failure of the police to open a case in Manenberg, Captain FC van Wyk of the police in the Western Cape said Tokiti should report the matter to management. If the allegations are true, action will be taken, he said.