Protesters close municipal offices in Gugulethu
Protest was unrelated to the torching of the Gugulethu fire station and municipal building on Thursday morning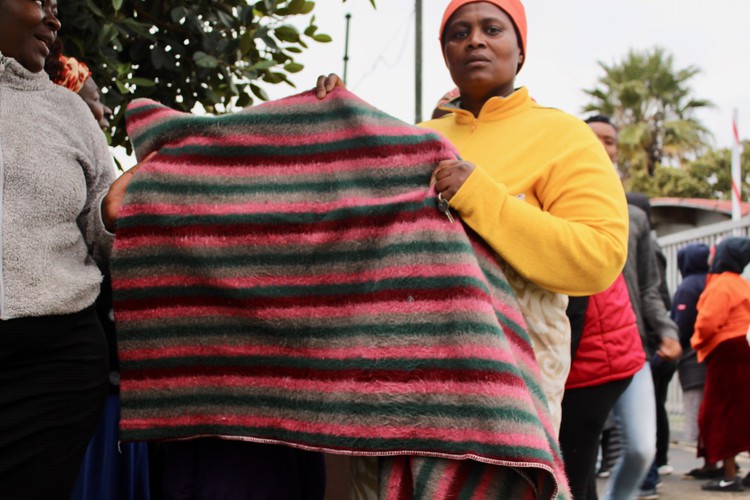 About 50 people braved the rainy weather on Thursday morning to protest outside the municipal in Fezeka, Gugulethu.
The protestors from Waterfront and Lotus informal settlements said they were protesting over a range of issues, including housing, evictions by law enforcement, sanitation, corruption in the municipality, and "inadequate" assistance from Cape Town Disaster Risk Management when their shacks were flooded three weeks ago.
The protesters blocked people from accessing the municipal offices. A young mother carrying a baby on her back told GroundUp she desperately wanted to report a blocked drain in her street in KTC, and an elderly woman wanted to check her name on the housing waiting list.
But protester Nozuko Mendela said, "If you are here for the city council service today, I am sorry there is none. If we can't get service and assistance from the city, then no one else should."
In an apparently unrelated protest also at Fezeka municipality, vehicles and the Gugulethu fire station were torched at 4am on Thursday. This protest was led by people from Ramaphosa informal settlement over housing and electricity according Captain FC van Wyk of the South African police. As a result the Gugulethu fire station is now closed.
"What this means is that the actions of a few have put the lives of thousands of residents at risk, as there will now be a delay in the response times to any fire callouts in the Gugulethu area," said JP Smith, Mayoral Committee Member for Safety and Security, in a press statement.
When GroundUp visited the area, Govan Mbeki Road was still blocked and metro police could be seen controlling traffic. Debris from burnt tyres was strewn across the road and pavements. Traffic lights at Govan Mbeki were also broken.
Mendela, who lives in the Waterfront informal settlement, said she is not working and had lost her possessions after heavy rains three weeks ago. Mendela said Cape Town Disaster Risk Management provided them with one plate of pap per family, without considering how big each family was, a small blanket, and one plastic sheet and bitumen to protect the shack from the rain. She said Disaster Management had promised to return but had not.
Last week Friday the flood victims went to Fezeka municipal offices and were told that disaster management had done everything it could to help them.
Also protesting was Nompembelelo Mdudu from Lotus. She said that in 2003 previous mayor Nomaindiya Mfeketho moved them from Kiki hostels to Lotus emergency housing to allow for renovations. "We were supposed to move back after renovations but till now we are still living in temporary housing … We have never known peace since the time we moved to temporary housing, because now and again law enforcement come and destroy our shacks."
Ward 42 councillor Sonwabo Ngxumza, who lives in a shack in Lotus, said it was unfortunate that the Cape Town Disaster Risk Management did not consult him. He claimed services supposed to be given to the people of Waterfront were diverted by Lindile Sonyoka, who he accused of "causing anarchy".
Sonyoka, who lives in Kiki hostels, denied this, saying, "I am an activist. My only concern is the people of the community and I will continue representing the people."
Sonyoka said they were protesting because their complaints about nepotism and corruption by ward councillors in the municipality were ignored.
"Kiki hostels, where I am staying for 30 years, are in bad shape; the roofs leak, no windows, doors, in the streets drains and sewerage systems are blocked … We are going to continue to make sure that we get responses from the Fezeka. Public meetings must happen. When is development going to come to our people?" asked Sonyoka.
Mayoral Committee Member for Social Services JP Smith said the City's Disaster Risk Management Centre had on Monday 2 July conducted assessments in Phola Park, Ladies Park, Kiki and Lotus Park in Gugulethu, and requested humanitarian relief from SASSA for the residents of 66 informal dwellings in Kiki informal settlement. "SASSA would need to provide further details on whether this relief was activated," said Smith.
Also plastic sheeting and sand for 1,200 structures had been requested from the City's Informal Settlements Department said Smith.
Mayoral Committee Member for Informal Settlements Councillor Xanthea Limberg said, "Due to the unrest in the area, the plastic sheeting and sand have not been delivered yet. We are currently in the process of securing a safe venue with protection for staff, so that the goods can be delivered and distributed."