Gugulethu man dies in shack fire
Brother says cooking oil over-heated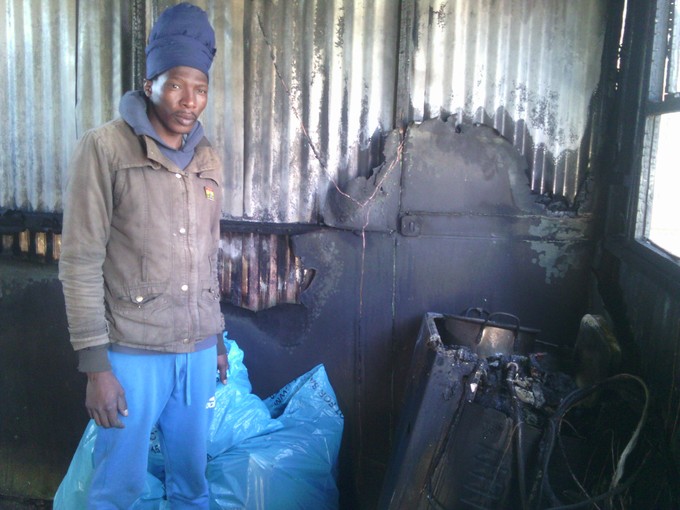 Novumile Pani was asleep in her Gugulethu house when she was woken by screams from her son's shack next door. She jumped out of bed but by the time she and other family members reached the shack, it was too late for Maxwell Mawethu Pani.
Pani, 31, died early in the morning of Sunday 29 May when his shack in NY 3A caught fire.
His brother, Rasta Levi Pani, said Maxwell had spent Saturday with friends at a nearby shebeen. He had come home at about 8h00 in the evening and gone to bed.
Rasta Pani said he thought his brother had woken up early in the morning and lit his small two plate stove which was on top of a refrigerator, to prepare himself a meal. He must have gone to bed waiting for cooking oil to warm, and fallen asleep again, said Rasta, who lives in the main house next to Maxwell's wood and zinc shack.
Lieutenant Colonel Andre Traut, Corporate Communication SAPS Western Cape, said a 31 year old man had died yesterday around 02h50 died when his shack caught fire. A death inquest case docket had been registered.
Nyanga police, ambulance and fire services responded within 30 minutes.
Rasta Pani said when he heard cries from the shack he and neighbours ran to try to put out the fire.
Some neighbours tried to force their way in through the back but could not get through. Another family member, Abongile Pani braved his way into the shack in a desperate rescue effort, but it was too late - Maxwell had already inhaled smoke.
Abongile sustained burns on his back and is in Groote Schuur hospital.
When GroundUp visited on Sunday, the remains of burnt blankets and clothes in blue plastic bags, a refrigerator, and a washing machine were packed in a corner in the burnt shack.
The front part of the bakkie parked next to the shack was also burnt.
Novumile Pani, 53, has lived in her house since 1978. Some of her children live with her in the main house but Maxwell decided to build his own shack next to the house. He had lived there for 12 years. He was not married but has two children who live with their mothers.
© 2016 GroundUp.

This article is licensed under a Creative Commons Attribution-NoDerivatives 4.0 International License.
You may republish this article, so long as you credit the authors and GroundUp, and do not change the text. Please include a link back to the original article.