The grant that changed my life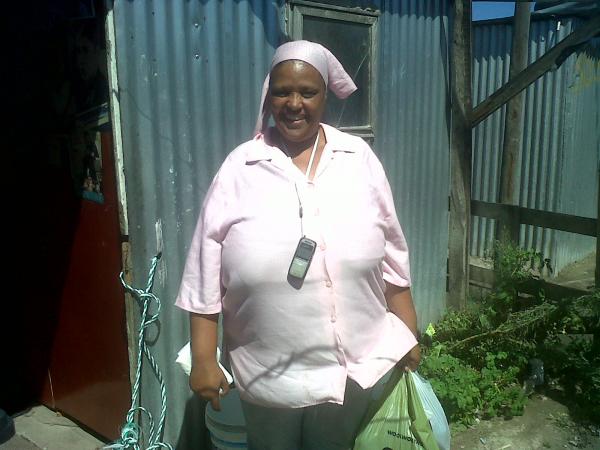 South Africa's social grant system is sometimes criticised as financially unsustainable and fueling dependency, but people such as Maureen Philander from Delft provide an example of how social assistance can transform lives. She shares her story with us.
"A quiet revolution is taking place based on the realisation that you cannot pull yourself up by your bootstraps if you have no boots. And giving "boots" to people does not make them reluctant to work; rather, just the opposite happens. A small guaranteed income provides a foundation that enables people to transform their own lives".1
My name is Maureen Philander, I am 46 years old and I am a single mother with three beautiful children aged 11, 13 and 25. I stay in Blikkiesdorp, a temporary relocation area in Delft. Blikkiesdorp is very difficult area to live in and there is a lot of crime and drug abuse. We live in small tin structures and you share an outside toilet and tap with 6-7 people, both of which are often broken for months.
I was diagnosed with HIV/AIDS in 2008, which was very difficult for me to accept and because I am unemployed with no stable income. It was difficult for me to eat the right food and stay healthy. I became depressed and tried to kill myself three times by overdosing on pills. After my third suicide attempt I woke up in Tygerberg hospital and was looked after by a doctor who gave me a letter to give to the Delft social worker. She referred me to the Delft clinic and the doctor there read my file and saw that my CD4 count was only 64, which is very low for a patient with HIV/AIDS. He gave me a slip for the disability grant and the social worker helped me to get a structure in Blikkiesdorp because we were sleeping in shelters every night.
When I learnt that I would get the temporary disability grant for 6 months I was overwhelmed and full of joy that I would have an income to push me forward and that could help with my children's needs such as clothing, bedding, school shoes, food and school accessories. You do not get a lot of money each month and a lot of people were depending on me, including my boyfriend who was also very sick but could not get the disability grant. My eldest daughter, who was not living with me, would wait outside the SASSA offices each month and force me to give her some of my grant. Although I did not have a lot of money for myself, together with my two daughters' child support grants at least there was something for the family to live on.
As time passed and the end of my grant drew nearer I became very worried about what I was going to do when this money stopped. I became depressed and angry that my money was ending and I wished I would stay sick because I was supporting my whole family and my boyfriend with the grant. I was stressed about how I was going to buy food and pay my debts at the money lender with no income.
Things changed for me when I was given the opportunity to participate in a micro-enterprise programme run by the University of the Western Cape in 2012. I learnt to start saving some of my disability grant money and I was able to set aside R100 - R150 a month for three months. Before I became sick I worked as a baker at the Spar. I decided to use these skills to start making donuts and selling them door to door, using some of my grant money and selling clothes to buy ingredients. Some people have donated equipment and ingredients for my baking and I now also sell rotis, toffee apples and koeksisters. Although I no longer get money from SASSA, my children now have clothes and everything they need to go to school and they are much happier.
Through my door-to-door sales I have met people from many cultures. I try to motivate and pray for some of these people, telling them about my story and struggle with HIV and how to cope with your grant and how to succeed in life as a single parent, no matter how dark it seems.
I met one mother Josephine (not her real name), who received the child support grant for her two children, but was spending all of the money on drugs. I spoke to her about what I was doing with my money and how well it was working. She listened to me and bought chicken and sold it in the community. She was so successful that she was able to pay cash for a TV with some of her profits.
Through my work in the community I was invited to speak on Lorrein Katzke's show on Tygerberg Radio to motivate people and tell them my story. I am now also volunteering with Magnificent Mothers, a programme at Hindle High School that supports pupils and the principal in running the school.
I am very happy that SASSA gave me help in my darkest time and I want people to know that if you use your money wisely it can change your life.
Footnotes
---
Hanlon, J., Barrientos, A., Hulme, D. 2010. Just give money to the poor: The development revolution from the Global South. United States: Kumarian Press. ↩
© 2016 GroundUp.
This article is licensed under a
Creative Commons Attribution-NoDerivatives 4.0 International License
.