Gqeberha community blame high water bills on the municipality's failure to fix faulty pipes
"If the municipality had fixed the problem earlier my water bill wouldn't have accumulated"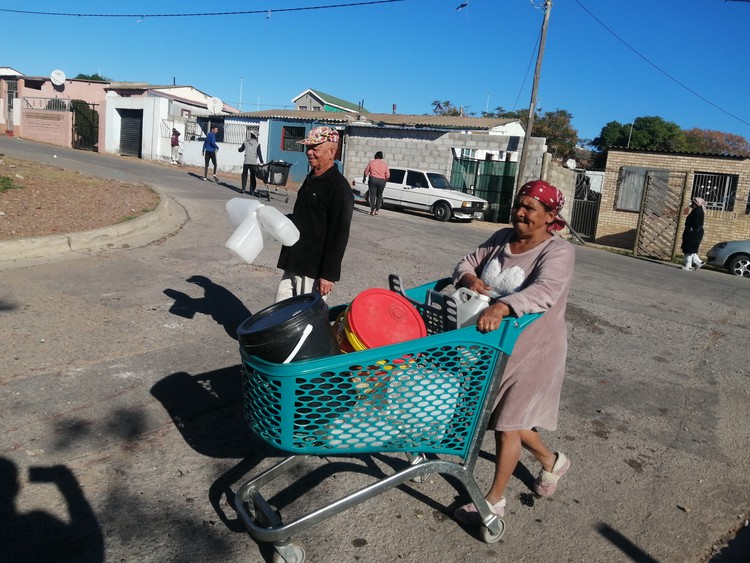 The community of Helenvale in Gqeberha say they have had intermittent water supply since 2015.
Many of them have very high water bills due to assisting neighbours who didn't get any water at all.
The Nelson Mandela Bay Municipality says the problem is the decaying infrastructure. They have also battled to access pipes due to the number of backyard shacks built over the main water pipes.
The City acknowledged that there have been delays but expected the project to be done in September.
---
About 50 households in Helenvale, Gqeberha have been left without running water and forced to rely on neighbours, after upgrades to municipal water pipes stalled over five years ago. Since then, those with water supply have been left accumulating high water bills as their share their supply with affected households.

Marta Damons, 59, says she has been blocked from purchasing electricity for the last 17 months as she owes the municipality an outstanding water bill of R31,000. Her water flow has also been reduced.
"It takes about 45 minutes to fill up a 20 litre bucket. The municipality wants me to pay R1,500 upfront to unblock my electric box. But I am unemployed. I depend on my daughter who survives on child support grants," she said.
The community say their trouble started in August 2015 when the municipality began upgrading water system infrastructure to prevent further water outages in the area. Crumbling infrastructure meant that some households would only get water between 10pm and 5am. The municipality then began replacing the pipes in the area, but this process stalled, leaving 50 households without any water supply.
Nelson Mandela Bay Municipality spokesperson Mthubanzi Mniki told GroundUp that the municipality had "completed a substantial portion of the project" about four years ago, but said that "remaining areas were hampered with the delay in appointing a contractor during the last two years because of the Covid-19 pandemic."
Meanwhile, Damons says she has had to remove a tap in her garden that neighbours used to access water.
"I am sick with MDR TB. I can't even cook and I use a candle light. If the municipality had fixed the problem earlier my water bill wouldn't have accumulated," she said.
Her neighbour Joyce Damons, 72 (no relation) said she spends about R300 a month to hire young people to collect water for her in containers. "I use the bath and washing water to flush the toilet. But it leaves my toilet with stains. Every month I still have to pay between R500 and R600 for water even though my tap has been dry for over five years. My water account is in arrears and I owe municipality R5,600."
Pensioner Belinda Alexander said, "We are a family of 10. Three times a day I fetch water with my 11x5 litres and 2x20 litre buckets with this shopping trolley. The washing at home is piling up and is causing a stink. I keep my dish water for a whole day. I also use the bath and laundry water to flush our toilet. I also used to supply the community who didn't have water. But since January I have had no water either."
Mniki said that Helenvale is a "very old development" with decaying infrastructure, and the number of backyard shacks built over the main water pipes had complicated maintenance.
Mniki said the project is expected to commence again in September.
When asked about the outstanding water bills, Mniki advised those who owe municipality to visit their offices and each case will be "dealt with according to its merits".
Dodgy people are suing us. Please support us by contributing to our legal costs and helping us to publish news that matters.
© 2021 GroundUp. This article is licensed under a Creative Commons Attribution-NoDerivatives 4.0 International License.
You may republish this article, so long as you credit the authors and GroundUp, and do not change the text. Please include a link back to the original article.
We put an invisible pixel in the article so that we can count traffic to republishers. All analytics tools are solely on our servers. We do not give our logs to any third party. Logs are deleted after two weeks. We do not use any IP address identifying information except to count regional traffic. We are solely interested in counting hits, not tracking users. If you republish, please do not delete the invisible pixel.