Gogos get a health kick out of soccer
Bafana Bafana better watch out says team of 60 to 80-year-olds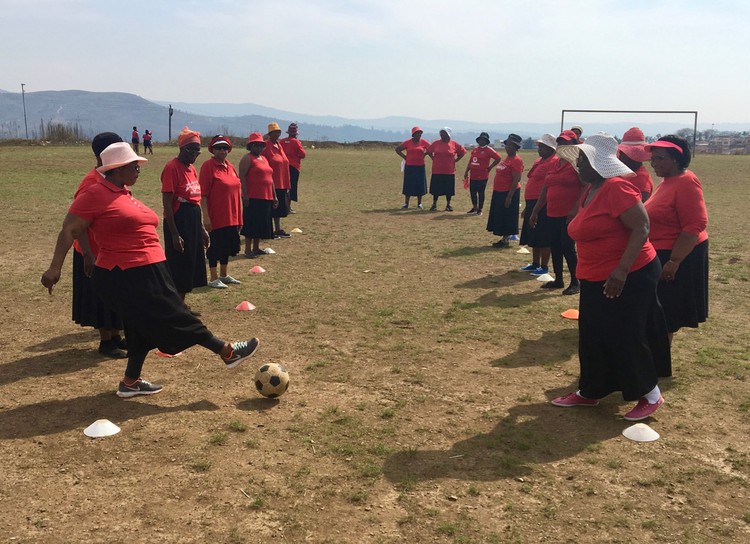 In a battle to stay fit and beat the effects of diabetes, arthritis and high blood pressure, pensioners aged between 60 to 80 in Imbali, Pietermaritzburg, have taken to soccer and athletics.
The 78-strong group gather three times a week at a local school playground for training.
Sbongile Bhengu, founder of Sinamuva Senior Citizens Club, said the motive behind the formation of the team is to promote healthy living.
"Most of the time they stay at home and mourn about their illnesses which can be avoided through a healthy lifestyle. In March, I spread the word by recruiting them … Surprisingly there was a huge unexpected interest," said Bhengu.
"The pensioners are checked thoroughly by the health practitioners to see if they are fit enough to be on the field. That is done to ensure that none of them is at risk of overworking themselves," said Bhengu.
"We have gogos aged 60 to 80 years old who are part of the team. They work very hard and it is so interesting to see them chasing the ball if not running. We have a whole soccer team – with strikers, defenders and goalkeepers. We have coaches from the township who are part of the team," she said.
Martha Cele, 78, from Imbali Unit 4, says she feels fitter than a 16-year-old. "I am now able to move my body without any pain and I hardly take my medication. I feel younger and I didn't know that I had such super skills in soccer and running in the field."
"The national team Bafana Bafana must look over their shoulder, because we are on fire," said Cele.
"The workout helps us both physically and mentally. As pensioners we were used to staying at home and only going out to collect our pension money from the pension sites, which was tiring. When I wake up now, I feel different and healthy. At my age it is unbelievable," said Cele.
The team is still raising funds to buy their full soccer kit.
They train on Monday, Wednesday and Friday. "We don't miss it even if it raining and that is the passion we have developed for this," said Zipho Xhakaza, 75. "We would love to see men joining in. The team only have two men and the rest are women."
The team also wishes that one day they can go to the beach. Some said they have never been to the beach.
Nonkululeko Biyase, 63, said, "I feel sorry for my doctor because he will not see me any time soon. I'm healthy and intend to stay that way for a long time."
© 2017 GroundUp.

This article is licensed under a Creative Commons Attribution-NoDerivatives 4.0 International License.
You may republish this article, so long as you credit the authors and GroundUp, and do not change the text. Please include a link back to the original article.