Giving birth where there are no clinics
Women in rural areas struggle to access midwife care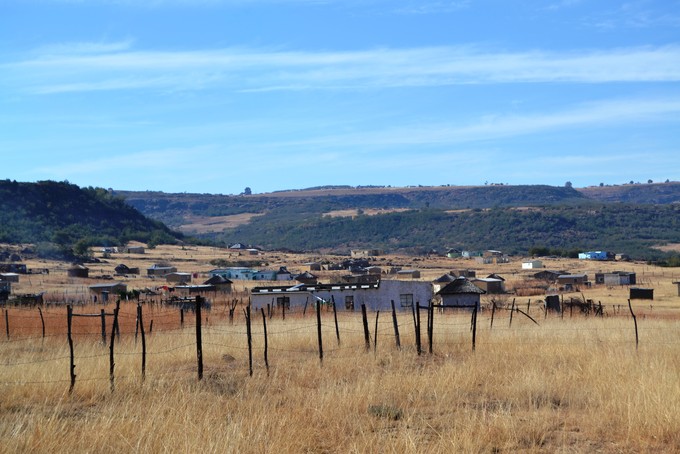 Nokwanele Sesiwe never thought she'd have to deliver a baby. But a year ago when a young woman from her village went into labour in the bushes on the way to the clinic, she had no choice.
Sesiwe, 61, was doing her chores when a neighbour came running to her house in Thyusha. "She asked me to accompany her to take a woman to the clinic, because she had birth pains," says Sesiwe. "There was no transport to hire."
"She was a young makoti [a newly-wed]. Her husband was at work … I never thought that in my life I would help deliver a baby."
"We had to walk from here to the clinic. Makoti was in serious pain. We tried everything to calm her, but when we were in the middle of the bushes, we saw that she was struggling and she was not going to make it to the clinic."
"We took a bag with child's clothes. We laid her down. We had no choice other than to assist her to deliver the baby there," says Sesiwe.
"I was so scared. I had so many things on my mind, thinking if the baby is going to be okay … Also thinking about snakes in those bushes … I didn't know how we were going to … Remember, we are not trained as midwives."
The women safely delivered a baby girl, who is now a year old. The mother took a moment to recover and then, assisted by the two older women, walked the rest of the way to the clinic, from where she and her daughter were taken to Frere Hospital.
Thyusha is one of six villages which depend on Zikhova clinic, a 30 minute walk from the taxi rank in Thyusha. The clinic is open from 8am to 4pm on weekdays. There is a mobile clinic, but there can be months between visits. There is no tarred road and public transport to the clinic is scarce. To hire a car to the clinic costs R200.
Ambulances can take hours to arrive or not turn up at all. Nurses at the clinic say for seriously sick patients they call an ambulance from Frere Hospital in East London but are often told there are none available.  Hiring a car to go to the hospital from the villages costs R800, double that if it is at night.
Elderly women in Thyusha say they can go for months without getting their treatment for diabetes and high blood pressure, because they can no longer walk long distances.
With clinics and hospitals hard to access, many women in rural areas like Thyusha give birth at home. Hospitals are only found in towns and cities, and often one clinic serves six to ten villages. 
Some villages have mobile clinic services, but these only visit once a month, and not when it rains and roads are bad.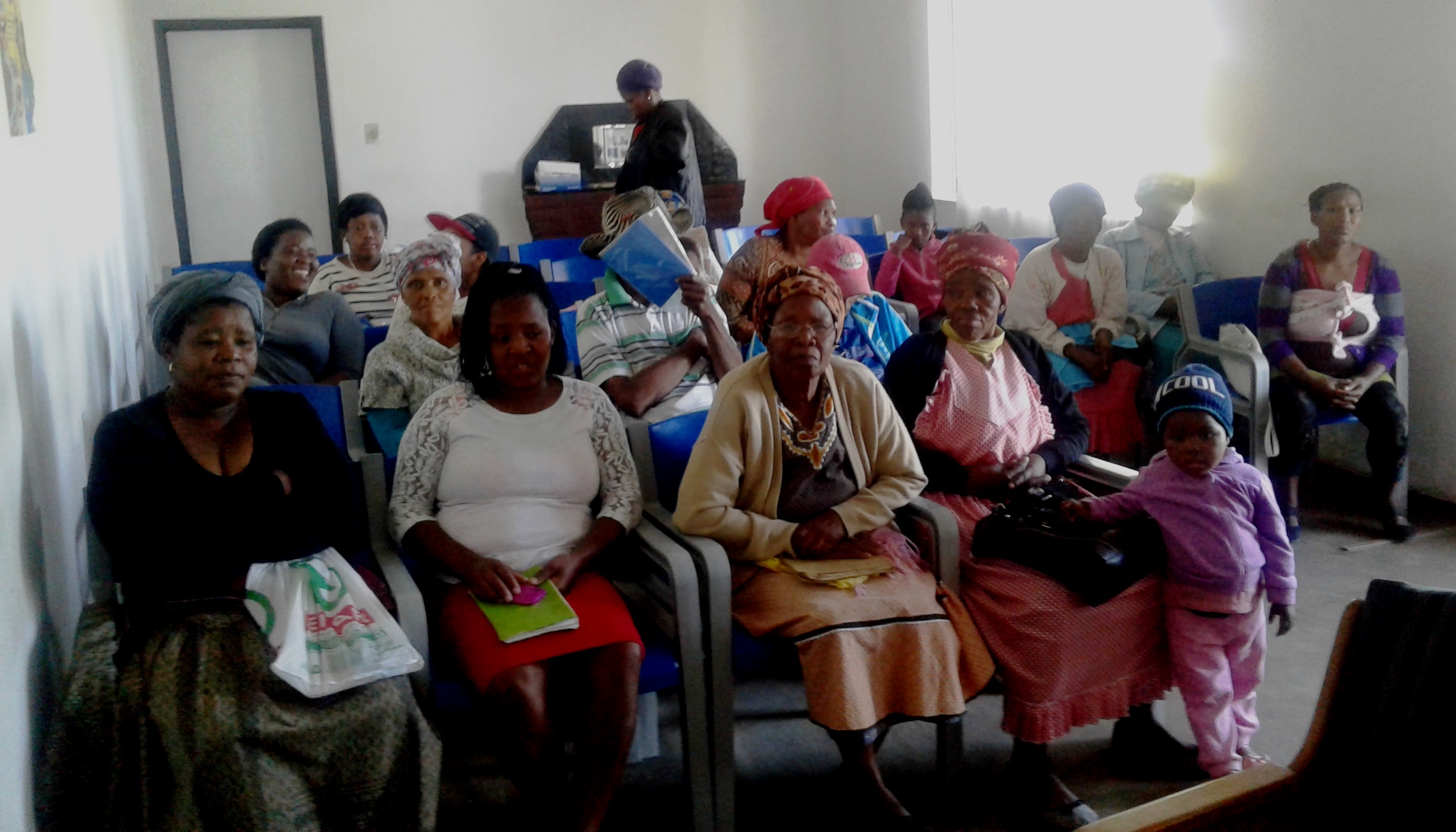 Ncome Spring village
Women living in Ncome Spring village, Mount Frere, said they gave birth at home because they could not afford to hire transport to the hospital. Ambulances were nowhere to be found, and the clinic in Roma village was only open during the day. 
The nearest hospital, Madzikane Ka Zulu Memorial, is 60km away. Women who want to give birth in hospital go to the hospital two weeks before they give birth and spend days on hospital benches and chairs waiting for beds.
Zukiswa, who at first gave permission to use her real name but then changed her mind, saying she did not want her child to be teased at school, says she gave birth to both of her children at home. Her first-born is now ten years old and her second only 18 months.
To take her child to the clinic in Roma village she must wake up at 5am to catch the first bus at 6:30am. The bus stop is 35 minutes away and the bus ride is 40 to 45 minutes. She spends at least two to three hours at the clinic. Then, if she has no money, she has to walk home. If she has money, she waits for the bus which heads back at 3:30pm.
"It's been like this for years," she says. "That is why you find our kids leaving this place to go to the suburbs. We are forgotten here, and you will never hear us complain."
Her neighbour is a midwife, though not registered, and helped Zukiswa to deliver her children. The hospital is too far, says the midwife, there are few buses and the ambulance takes three to four hours to come to the village, "if it comes". 
She learnt midwifery from her mother, she says.
The midwife says she does not charge people, but people always give her gifts, sometimes chickens.
Another woman in the village says she gave birth at home in 1995. She worries that something went wrong, since she's struggled to conceive again and has had several miscarriages.
"Living in rural areas, as much as it is nice, but when it comes to service delivery, it's a nightmare. We don't have roads when it rains. There are no cars or buses going to town, meaning if you are sick you are forced to stay at home.
"When we go to the clinic, we pass bushes; then, there's an open field. People have been killed on that field. When we go to the clinic, we have to organise — at least if we are five, we can fight for ourselves," she said.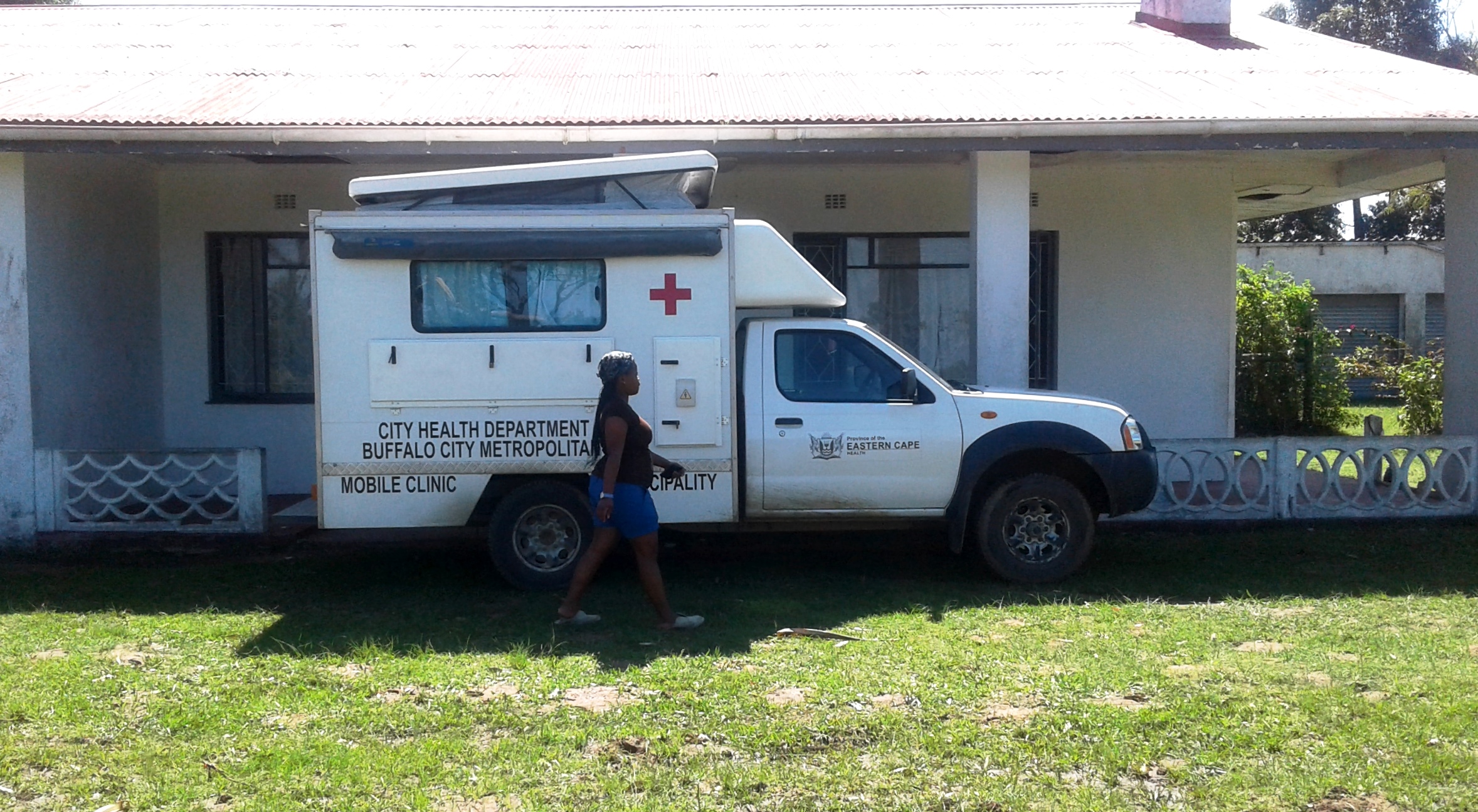 Ncerha Village
Six villages depend on a mobile clinic that stops at Ncerha Village on Wednesdays and Thursdays. For the rest of the week, the sick have to take a taxi for R50 return, or hire a bakkie to Zikhova clinic in Chalumna at a cost of R500. It takes an hour to get there.
Patients wait inside the community hall and two nurses call them one by one. Here, GroundUp met Sizeka [not her real name]. She is five months pregnant. She walks an hour from home to clinic.
Another woman sitting nearby laughs that they only get paracetamol from the clinic.
"Do not take my laughing seriously," says Sizeka. "This is bad. As you can see, there's only two boxes with medication. Not a single person here is going to get an injection because there's no privacy."
A nurse is shouting at a patient, "Uyitya kakubi i-treatment wena (you do not take your treatment)."
"Exactly, what I just told you, there is no privacy here," says Sizeka. "There are people who come here to take tuberculosis treatment and HIV and Aids, and they do not want everyone to know, but here they cannot hide it."
Sizeka says she arrived at 7am and the mobile clinic came at 8:30am.
"When we get here, we wait for registration. They first register 50 people. Others will wait until the nurses decide if they want to add to that number or not. We are not all going to be assisted today."
She missed a treatment last week because it was raining and cold. "I decided to skip it because I was going to sit here for hours, and ended up getting sick," she says.
Another patient, who came to collect her antiretrovirals, said it took her four hours to walk to the clinic. When the mobile clinic does not pitch up, she has to borrow money for a taxi to go to Zikhova Village clinic in Chalumna.
Letters
Dear Editor
It comes as some surprise that GroundUp should publish such a flawed representation of the clinic at Ncera, without proper investigation. The three journalists perhaps looking for a story.
This clinic rose from the ashes of an old farmhouse, and was painstakingly refurbished by responsible members of the Ncera Village 3 community, who raised the funds for the materials and did the work themselves. These people did so without any reward or payment.
Prior to this facility, there was the mobile only, which came but fortnightly for one day. The "Health Service" has recently cut the days from three a week to two. The clinic was seeing over one hundred clients a day at that time. (Proof is available...should you look for it!) Since, the staff has been cut by one professional nurse from two.
I know the sisters well who run it. Sister Gxaba in particular. They are dedicated, hard working and fully aware of the difficulties the "Health Service" has imposed upon them. They go the extra mile. Had the visitors taken the time to look, there are four private consulting rooms, a strongroom housing all the necessary drugs, a dispensary, two flushing toilets and a consultation room for the social worker who hasn't been for two years. A number of babies have been born here. This all run by those stalwarts who created it!
The clinic committee has been working hard to get the government to take over. Seven years now. All the necessary documentation has been delivered to Bisho. Not doubt it has been lost, binned or added to the toilet. Meetings x100 with the "Health Service" go nowhere. A good clinic with all the facilities is at Village 1, where the chief lives. It is also almost impossible to get to. No sane taxi driver would use the roads.
This small island of health access services Villages 2, 3, 4, 5, 6, Amaxhazine, Village 2 extention, 4 large informal settlements, Kayser's Beach, Christmas Rock, Cosy Corner, Kidd
© 2016 GroundUp.

This article is licensed under a Creative Commons Attribution-NoDerivatives 4.0 International License.
You may republish this article, so long as you credit the authors and GroundUp, and do not change the text. Please include a link back to the original article.