Giant puppet's 8,000 km journey started in Muizenberg
"Little Amal" will walk on stilts across Europe to highlight the plight of young refugees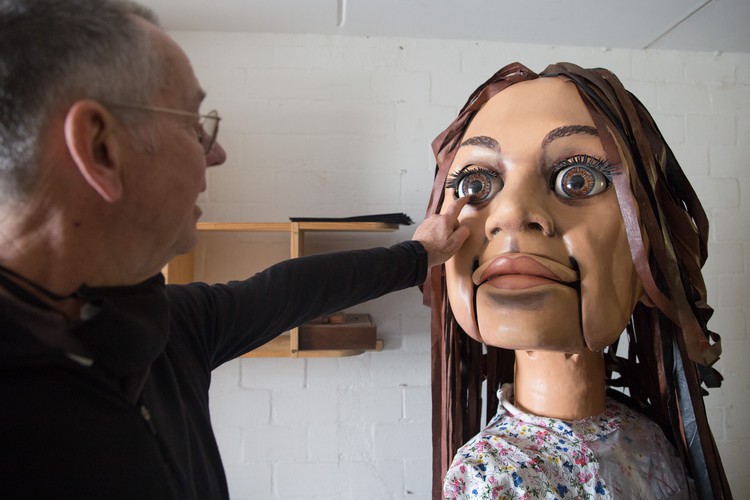 "Little Amal", a 3.5-metre tall giant puppet representing an eight-year-old Syrian refugee, will embark on an epic 8,000km journey across Europe next year to highlight the plight of young refugees. Although her travels are a continent away, her journey started in South Africa with the Handspring Puppet Company, in Muizenberg, Cape Town.
As part of The Walk international arts festival, Little Amal will start at the Turkey-Syrian border, and make her way through eight countries, stopping at cultural events in cities, towns and villages along the way. Her walk will end in Manchester in the United Kingdom.
For the Handspring Puppet Company, this puppet was a first. The company has made many large puppets, including the world-famous War Horse, but this vertical puppet was different, says Adrian Kohler, art director and co-founder of the company with Basil Jones.
"We didn't know what we were building," says Kohler. Large walking puppets are usually supported by cranes, he says, but this time, a puppeteer will be inside the puppet, on stilts, carrying most of the weight.
The puppet, built by a team of six at the Muizenberg workshop, weighs around 30kg and is made of carbon fibre. The hair is made out of Tyvek, a durable and flexible artificial paper that can catch the air and blow in the wind. There is a small computer in the eye mechanism, controlled by a joystick.
Video by Alide Dasnois
"The hardest part was working with light materials," says Kohler. "Carbon fibre is the lightest available, but it's very unpleasant to work with. The dust gets into your skin and it's really horrible."
Four puppeteers will operate Amal at a time, says Kohler: one person on stilts inside the puppet who will control walking, head movements and facial expressions; two people who will stand alongside Amal controlling the arms and hands; and a fourth person who will act as back support.
He says controlling Amal will be "exhausting", as she will not only need to walk, but also dance, interact with people and "watch" other performances.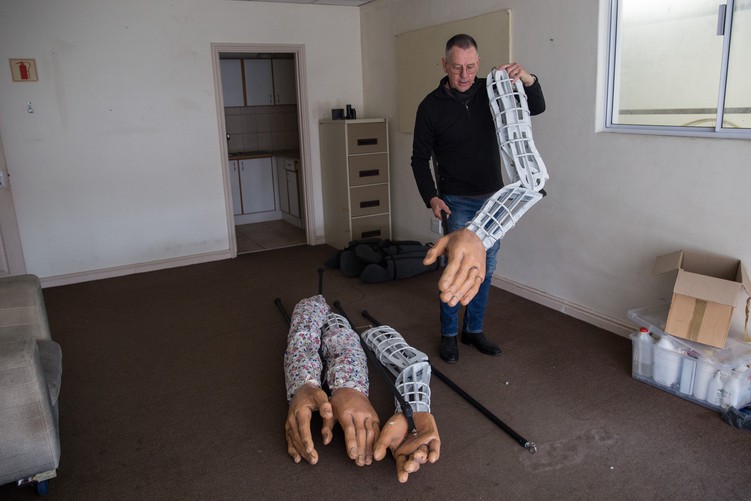 The core puppeteer team is made up of three groups of three people from all around the world who will be interchangeable. "A motley crew from all over", says puppetry director Craig Leo. He has been training them from Cape Town using Zoom and videos. The biggest challenge, he says, is not learning to walk on stilts; it's having to move almost immediately into the body of Amal. Suddenly the puppeteer has restricted vision, numerous controls and cannot see the face of the puppet. "So you have to imagine her expressions," says Leo. "The complexity is enormous."
"You also have to be aware of your arm puppeteers on your left and right", he says. Being on the road, on unfamiliar terrain, will be an added challenge.
The stilt puppeteer will operate Amal for 40 minutes at most, says Leo. "That's when fatigue sets in. And we are dealing with safety."
Three copies of the puppet were made at the factory in Muizenberg, in case of accidents, says Kohler. And if by any chance the refugee puppet is "locked up" , another version can "simply appear somewhere else" he says.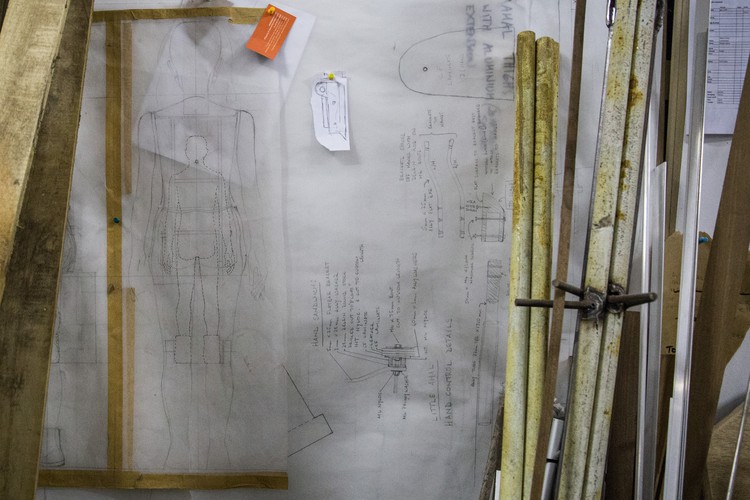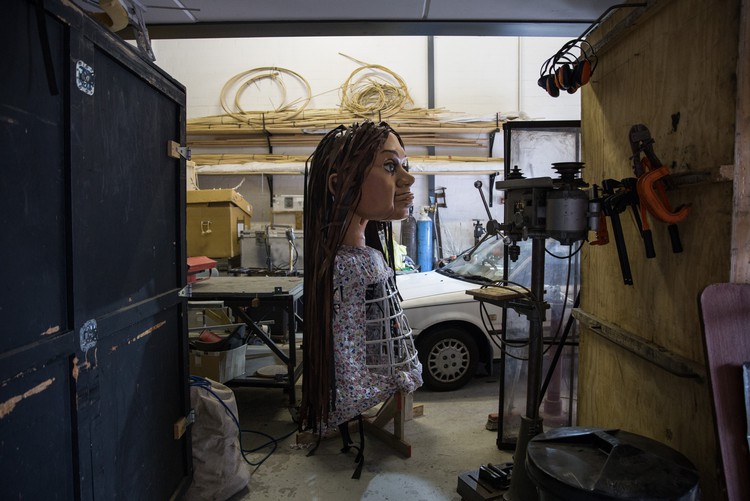 Handspring do not generally use electronics in their puppets, because hand movements allow finer controls and more reliability. "The reason for this whole electronic departure was just that we don't have enough hands," says Simon Dunckley, who designed the controls and eyes for Amal. He says the most complicated thing is the controls as they need to be intuitive and functional for puppeteers on stilts. "You must remember, they can't see the face from the inside," says Dunckley.
Using a series of levers, the puppeteer inside can make Amal turn her head, blink, move her eyes and move her mouth.
James Dee, who designed the moulds in which the carbon fibre was cast, says the boots that connect to the stilts were really challenging to make. "The whole puppet is being carried on those and if there is any malfunction, the puppeteer is going to fall."
If the Covid-19 pandemic allows, Dee expects to join the Europe team as a technician. The puppet can be repaired and the electronics can be replaced, he says, but "it's pretty crucial to have someone who actually knows how they're put together".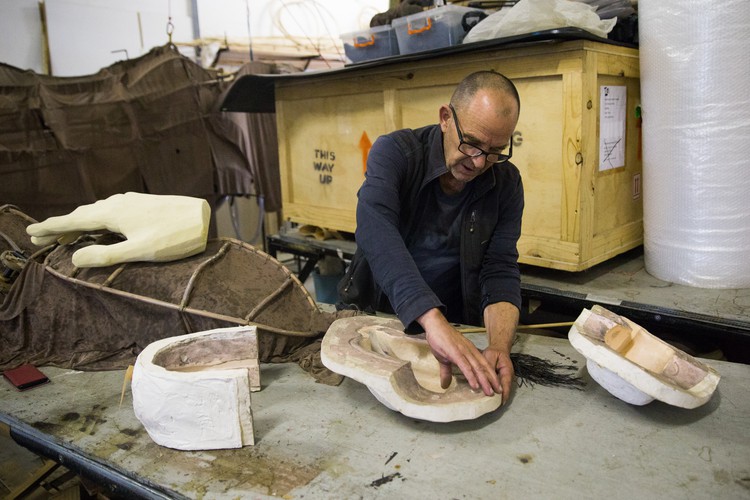 Little Amal was created in collaboration with Good Chance, a UK-based organisation working on upliftment through theatre and art.
Her walk will start at Gaziantep near the Turkey-Syrian border and take her across Turkey, Greece, Italy, France, Switzerland, Germany, Belgium and the UK, mirroring the journey many refugees take. She will start her journey in April 2021 and end it at the Manchester International Festival.