For some, this soup is the only meal of the day
Soup kitchen in Mfuleni in Cape Town feeds hundreds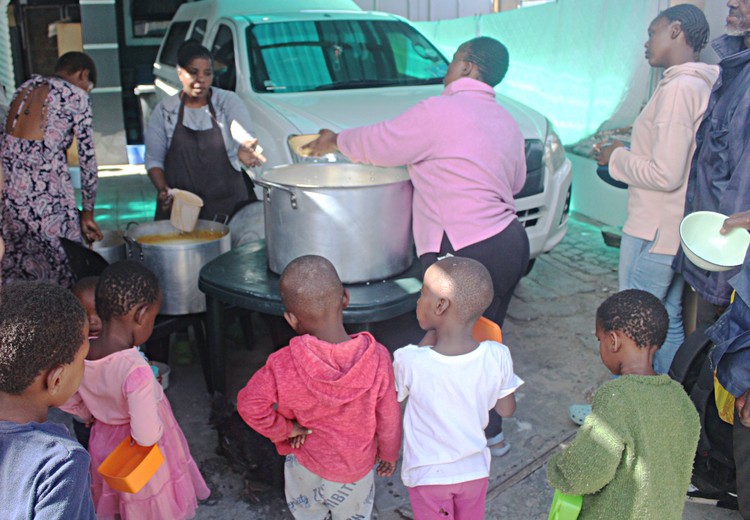 Hundreds of people are fed twice weekly at Mavuso Gqola's soup kitchen in Mfuleni, Cape Town.
People of all ages come from Mfuleni and surrounding townships to queue, sometimes for hours. For some, it is the only meal of the day.
The provincial Department of Social Development says this is one of 68 Community Nutrition and Development Centres supported by the department in the Western Cape.
It's 11am on Wednesday morning and people of all ages are gathering at the soup kitchen in Naledi Crescent, Mfuleni, in Cape Town. Children sit on the ground with their food containers and elderly people sit on buckets, tyres or on the pavement. For some, this will be the only meal of the day.
The soup kitchen is run by traditional healer and community leader Mavuso Gqola at his home, on the border with Covid and Burundi informal settlements. Food is served on Wednesday and Fridays.
As they wait for the food to be served at 1pm, children form an organised queue, while adults keep shoving at each other and some late-comers refuse to go to the back of the queue. A register is passed around and one of the soup kitchen workers, Pathiswa Madyongolo, insists that they all record their names. Then, at last, Madyongolo and a volunteer start serving food. They alternate between the children and the elderly people's queues, filling five containers at a time from each.
While GroundUp watched, about 70 children and 100 adults were served from two huge pots cooked on a big three-plate gas stove inside. Young men helped to carry the pots to the entrance where the food was served. People were served vegetable soup with carrots, green beans, potatoes, rice and pumpkin.
When everyone had been served, at about 3pm, people were called to queue again for a second serving from what was left.
"There is too much poverty in Mfuleni. Many people are not employed. This is their only meal of the day," says Madyongolo.
She has been working there for three months, standing in for her daughter who is on maternity leave. "I love my job. We also eat the same food. Sometimes we serve spaghetti or samp.
"We don't stress here. Dr Gqola provides us with all we need for cooking and cleaning. When we run out of fish oil and spices he provides willingly. People who eat here are grateful."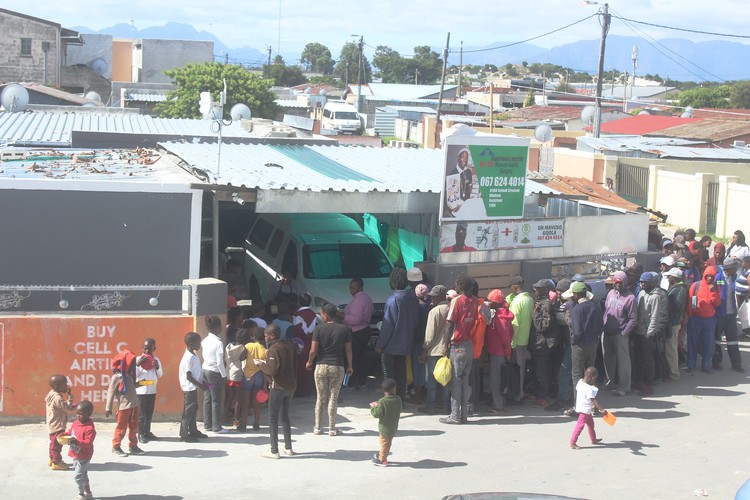 A young woman in the queue said she had walked 15 minutes from Covid settlement for the food.
There is no soup kitchen in her area and she had nothing to cook.
"This soup kitchen is helping us a lot. They cook delicious food and if there are leftovers they call us for a second serving. This food I will share with my mother and two children. I am not working and the children's social grant is too little because I pay rent for the shack. I have done a certificate in home-based care and I am looking for a job," she said.
Sixty-six-year old Khanyile Ngozi said he had six grandchildren and only one of his four children was working. "The social grant is not enough. I don't have a decent place to stay. We would be grateful if we and our children get jobs. The food we get here is not enough."
Busisiwe Joni, who had a child strapped on her back said she and other women had come from Bosasa settlement. She had lost her job as a casual worker in a shopping centre and was living on her children's social grants. "I wish the soup was served every day but it is only twice a week."
Mavuso said he had started the soup kitchen six years ago "to give back to the community" .
"I started feeding children only, as an after-school programme. I then included the elderly and currently we serve all ages and the biggest number we now serve per day is 300. When I started, I used my own money, but two years ago the Department of Social Development came on board."
"A lot of the people are coming from informal settlements. Some young people come from as far as Site C Khayelitsha. Without employment it is difficult to get by. That is the major reason I started the soup kitchen. It also helps with lessening violence - when people are hungry they become angry and start fighting."
He said donations are welcome since there is a great need in the area including ingredients to make soup. "We also have child-headed households who may need clothes, food parcels and toiletries," he said.
The Department of Social Development spokesperson Esther Lewis said the department supported "68 Community Nutrition and Development Centres, and 512 Community-Based Organisations, which feed vulnerable individuals across the province."
She said apart from Mavuso's soup kitchen, there was a Community Nutrition and Development Centre, as well as four kitchens, operating in the Mfuleni area.
Dodgy people are suing us. Please support us by contributing to our legal costs and helping us to publish news that matters.
© 2023 GroundUp. This article is licensed under a Creative Commons Attribution-NoDerivatives 4.0 International License.
You may republish this article, so long as you credit the authors and GroundUp, and do not change the text. Please include a link back to the original article.
We put an invisible pixel in the article so that we can count traffic to republishers. All analytics tools are solely on our servers. We do not give our logs to any third party. Logs are deleted after two weeks. We do not use any IP address identifying information except to count regional traffic. We are solely interested in counting hits, not tracking users. If you republish, please do not delete the invisible pixel.