Shacks destroyed as fire services arrive late
Residents say cooking accident started blaze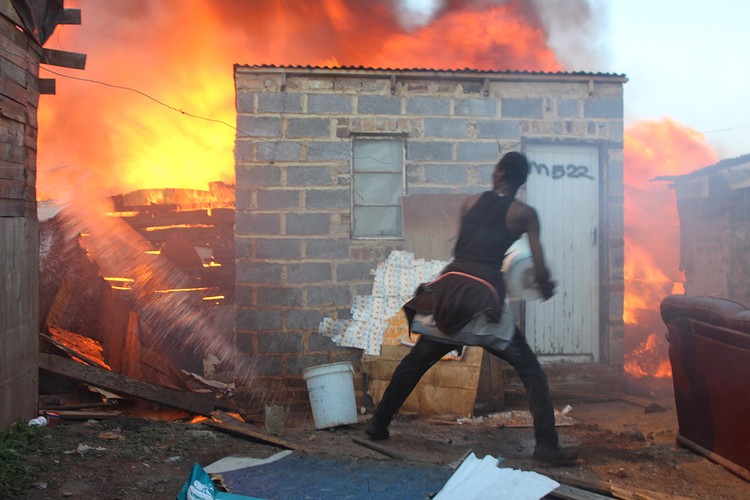 On Wednesday just after 11:30am in the morning about ten shacks were destroyed by a fire at the Mangolongolo shack settlement outside Johannesburg.
"This fire was started by a man who is blind. He was cooking on a paraffin stove," said 56-year-old December Thabethe who's been living at Mangolongolo for over a decade. "He is old and he lives alone."
Thabethe said that the man was unable to go back home to Zimbabwe because he had apparently lost all cellphone numbers of his relatives back home. She said that he had accidentally set his house on fire two weeks previously but his neighbours were able to put it out.
We searched for the man but could not find him.
Maria Mthimkhulu, a community leader, said she was unaware of the man's disability. "I will speak to the social workers to help him … I will request people from a sanctuary home [a shelter primarily used to help older people] to help him."
Mthimkhulu was angry that Emergency Medical Services (EMS) arrived two hours late.
Robert Mulaudzi, spokesperson for EMS, said that fire trucks were dispatched late because of another incident in the inner city of Johannesburg that had to be attended to.
"However, what made me excited is that most of the community members there were trained by EMS with basic firefighting skills. The community was able to deal with the fire and we acknowledge their skills … [else] the fire could have stretched to the other area," Mulaudzi said
Phumzile Sibeko, who lost the house she lived in with two young children, said, "We are tired of fire. I am emotionally broken. I do not even know where I will sleep with my children."
She was only able to save a mattress, blankets and her children's clinic cards, birth certificates and her identity document.
This is the second time her house has burnt down. Sibeko said when her shack burnt down last year, it took her about four months to rebuild.
It was after noon when Dlamini Sinikelo was informed of the fire. At that time, he was at work and there was nothing he could do to save his shack. Everything he had was destroyed. "I have nothing left now. I do not even have a towel," he said.
The only possessions which survived the fire were the clothes he wore to work and his small lunch box.
He said it would take about three months to get another house.
Asked where he would sleep, he sighed. "Nowhere. I really don't know what I will do now."