Fees Must Fall protesters disrupt UCT exam
A few hundred students attempt to shut down university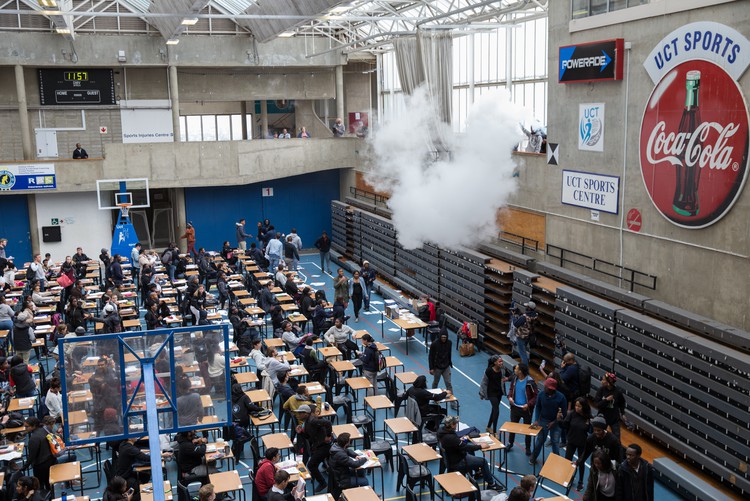 A few hundred Fees Must Fall protesters attempted to shut down the University of Cape Town (UCT) on Wednesday. They marched from building to building, disrupting classes on both the main campus and the law campus. The protesters sprayed fire extinguishers and set off alarms.
The protesters also disrupted a post-graduate accounting examination. The video below shows the protesters entering an exam in the UCT Sports Centre at about 11:55am, and preventing the continuation of the Taxation III exam. They had pushed through a locked door in order to enter the centre. The exam, which began at 8am, had about ten minutes to go according to a student. One student who wrote the exam was overheard saying "All those sleepless nights for nothing." In another video published on Twitter, a protester is seen throwing exam papers in the air, while a student writing the exam attempts to grab him.
Earlier a Fees Must Fall leader addressed protesters, saying that UCT's management was considering an 8 to 10% fee increase. Referring to the much awaited report of the Fees Commission he said, "We are long past the conversation about feasibility [of free education]." He said the Ministers of Education and Finance should announce that education would be free.
Kylie Hatton, a UCT spokesperson, told GroundUp: "UCT is deeply distressed that protesters are disrupting and trampling on the rights of others, and condemns these actions. All students who were affected by disruptions on campus, writing a test or exam, will be assisted to ensure there is no negative impact on them. Course conveners will determine whether to rewrite, or what action should be taken. The UCT executive is doing everything in its power to try to prevent the disruptions. We have Campus Protection Services officers deployed, and are engaging with student leadership to stop the disruptions."
On Tuesday a meeting was held in UCT's Jameson Hall, called by the outgoing Student Representatives' Council (SRC). The speakers at that meeting called for a zero percent fee increase for next year. After the meeting they disrupted classes. The outgoing SRC's term ends on 31 October.
Nine of the 15 people elected to the new SRC, which has not yet taken power, are Democratic Alliance Students Organisation (DASO) members, including the five candidates who got the most votes. DASO-UCT released a statement on Tuesday condemning the call for the shutdown. "DASO supports a march to Parliament and the Union Buildings for the Fees Commission report to be released. We must fight to hold government accountable for the lack of funding, without disrupting students' education and destroying our own resources and assets," the statement read.
UCT has deployed a small private security contingent to guard laboratories that house dangerous materials.
As this article was being published, protesters began marching down Main Road Rondebosch, blocking traffic.
Correction: Image changed. The original image used for this article showed a student who was there to write the exam but who could have been mistaken as a protester disrupting the exam.
Dodgy people are suing us. Please support us by contributing to our legal costs and helping us to publish news that matters.
© 2017 GroundUp.

This article is licensed under a Creative Commons Attribution-NoDerivatives 4.0 International License.
You may republish this article, so long as you credit the authors and GroundUp, and do not change the text. Please include a link back to the original article.