Explosive email read at Judge Makhubele's tribunal
Advocate Elaine Zungu led evidence showing that the judge ordered payment to Siyaya when she chaired the PRASA board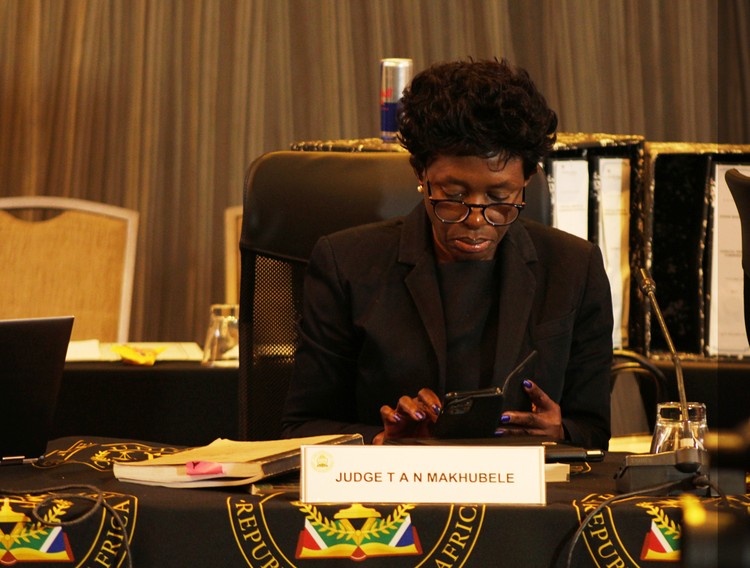 The instruction to "finalise" the payment of the Siyaya settlement came from an email sent by Judge Tintswalo Annah Nana Makhubele.
The email was presented by evidence leader and advocate Elaine Zungu during her re-examination of Martha Ngoye at the Judicial Conduct Tribunal against Judge Makhubele.
Advocate Vincent Maleka, acting for Judge Makhubele, had previously argued during cross-examination that Makhubele did not give instruction for PRASA to pay a settlement to Siyaya.
Judge Tintswalo Annah Nana Makhubele instructed Lindikhaya Zide, former acting CEO of the Passenger Rail Agency of South Africa (PRASA) to "finalise" the payment of the settlement to corruption-accused company Siyaya. This came to light on Wednesday during advocate Elaine Zungu's re-examination of whistleblower Martha Ngoye, the suspended head of legal, risk and compliance at the rail agency.
Zungu is the evidence leader at the Judicial Conduct Tribunal in Rosebank, Johannesburg. The tribunal, in its second sitting, was recommended three years ago by the Judicial Conduct Committee (JCC) after activist group #UniteBehind lodged a complaint against Makhubele with the Judicial Service Commission (JSC) in 2019.
#UniteBehind accuses Makhubele of breaching the separation of powers principle, and of improper conduct while she was interim board chairperson of PRASA. The organisation claims she entered into a confidential settlement agreement with Siyaya.
The settlement in question was a payment of about R56-million, which PRASA was set to make to Siyaya following summonses the rail agency had received from Siyaya. Led by Ngoye, PRASA's legal department had taken a decision to defend the summonses. But Ngoye told the tribunal that they were "sidelined and excluded" from the Siyaya matters by Makhubele.
A public outcry prompted the Minister of Transport to permit a rescission of the settlement, leading Ngoye to successfully apply for an urgent interdict to stop the payment.
Advocate Vincent Maleka, acting on behalf of Makhubele, previously told the tribunal that documents before the tribunal showed no mention of an instruction from Makhubele to PRASA, "directly or through attorneys", to pay the settlement. Maleka concluded his cross-examination on Wednesday.
Zungu cited an email with the subject "arbitration for Siyaya/PRASA" from Makhubele on 21 December 2017 addressed to Diale Mogashoa Attorneys, the law firm appointed to act on behalf of PRASA in the matter. Also included in the email was then PRASA group CEO Lindikhaya Zide. The email stated: "…. Mr Zide please attend to finalise the matter wrt to payment …".
Ngoye, who has stood firm under cross-examination by Maleka, said this email confirms her testimony that Makhubele was insistent that the matter with Siyaya be settled and not opposed by PRASA.
Since calling out corruption at PRASA, Ngoye has been suspended from her position and has been in a protracted legal battle with the PRASA board. She won an arbitration ruling against her dismissal, but PRASA has appealed the ruling.
Maleka attempted to discredit Ngoye's testimony by questioning her affiliation with #UniteBehind. In her response to Maleka's question regarding her relationship with the activist group, she denied being a member of #UniteBehind and said it was among the civil society organisations she had engaged with regarding issues of corruption at PRASA.
In his cross-examination, Maleka also argued that Ngoye and her department were in contravention of the Public Finance Management Act and the Public Audit Act by continuing to enlist the services of a legal panel against which the Auditor General (AG) made findings in March 2017. Maleka told the tribunal that PRASA's interim board during Makhubele's tenure resolved to suspend the rail agency's legal panel in December 2017, because PRASA's management – of which Ngoye formed a part – failed to implement remedies to address the AG's findings.
Ngoye told the Tribunal that PRASA's legal department did attempt to appoint a legal panel that was compliant, but faced numerous challenges with the rail agency's supply chain management function. They communicated this to the AG but received no response.
Maleka and Ngoye debated the validity and implementation of the December 2017 resolution to suspend the legal panel, which Ngoye said her department could not adopt because it was not signed by the interim board at the time. She said there was also no direction regarding what would happen to ongoing matters for which the services of law firms on the panel had been sought.
Maleka said the interim board had made contingency plans by instructing PRASA's legal department to make use of the South African Civil Aviation Authority's panel. But Ngoye said this contravened section 16A of the National Treasury Regulations, which did not make provisions for PRASA to use the legal panels of other public entities.
Maleka rebutted Ngoye's testimony, saying a 2003 amendment to the act made provision for PRASA to use the legal panels of other public entities. Ngoye said she was not aware of this.
Before adjournment, tribunal leaders retired former Judge President of the KwaZulu-Natal High Court Achmat Jappie, retired Judge Seun Moshidi, and attorney Noxolo Maduba-Silevu sought clarity regarding the validity of the interim board's decisions and resolutions, given that it was not quorate.
The tribunal resumes at 10am on Thursday.
© 2023 GroundUp. This article is licensed under a Creative Commons Attribution-NoDerivatives 4.0 International License.
You may republish this article, so long as you credit the authors and GroundUp, and do not change the text. Please include a link back to the original article.
We put an invisible pixel in the article so that we can count traffic to republishers. All analytics tools are solely on our servers. We do not give our logs to any third party. Logs are deleted after two weeks. We do not use any IP address identifying information except to count regional traffic. We are solely interested in counting hits, not tracking users. If you republish, please do not delete the invisible pixel.