Families living in tents outside complex they were evicted from
But some tenants of Steenvilla are angry with rent-defaulters and want them gone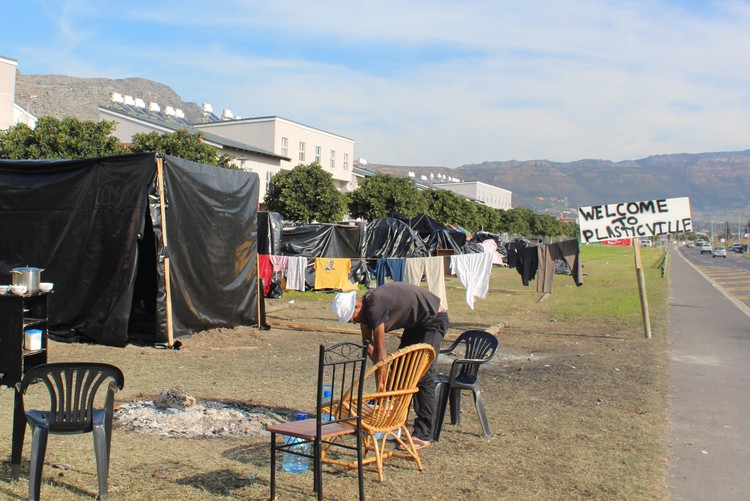 "Welcome to plasticville" reads a sign written on a whiteboard in Military Road, Steenberg, outside Steenvilla, the largest social housing complex in Cape Town.
More than 15 families live in makeshift tents made out of black plastic bags outside the complex. They were evicted from Steenvilla on 6 June for not paying rent.
Armed security guards patrol the complex. Some of the residents help the evictees by bringing them soup and coffee.
Some of the "Plasticville" residents sit around a fire. They take turns at night to watch their belongings, which are covered in black plastic to protect them from the rain.
Mandisa Ndzila, 42, carries her one-year-old baby Daniel on her back. Ndzila, who lived in Steenvilla for eight years, works as a domestic worker two days a week in good months and sometimes only one day a week. She makes R1,940 in good months. The rent for her one-bedroom apartment was R1,258 per month.
Steenvilla's rentals are subsidised by the state. The complex, which is managed by a non-profit property company called SOHCO, consists of about 700 units. About 30 households were evicted this month, after several failed attempts to evict them over the past year or so.
Hanging up the bed linen her family had used the previous night, Ndzila complained that the plastic ground covering doesn't stop the blankets from getting wet.
Ndzila's tent is divided in two. In one section is a double mattress that she sleeps on with her son and daughter. In another are some of her belongings. Little space is left to fit a single mattress that sleeps two other relatives.
She had not paid her full rent for more than eight months, she said. "My grandchildren died in a fire in Vrygrond, and I have been busy with that. When I heard that there was a possibility of an eviction I meant to go to the [SOHCO] office to discuss ways in which I can pay, but just never go to it."
"I am mourning my grandchildren. They would have been looking forward to coming to me during the school holidays," said Ndzila
Shamiela Abrahams was also evicted. She lives with her husband, three children and grandson in a one room tent. She had been living in Steenvilla for two years. Abrahams said she had been unable to work due to health issues.
"I have always worked and been able to pay things for myself. I didn't ask to get a stroke and a heart attack," said Abrahams.
Her tent has a double bed, two couches and cupboards where she has a gas stove and pots for cooking. The clothing is packed in buckets and plastic bags and stacked in one corner of the tent, the rest of her things are outside under cover. There is an opening in the tent, where Abrahams is sitting, that is used as a window.
"If my bank can understand my situation, why can't they? And they are supposed to be the people working with the poor.."
Her 50-year-old husband works odd jobs for a construction company and her son works at Pick 'n Pay. She was paying R3,500 a month in rent, but says that in the last year she had only been able to pay R1,000 for some months, and sometimes only R500.
"My husband can't even go to pray at the mosque any more because he feels dirty. This is how we will spend our Eid."
"I know I have not been paying the full amount and I am in arrears, but I do not do it on purpose. I have no choice. I would pay if I could," said Abrahams.
"You can not live in a place and expect not to pay rent."
But two residents, who asked not to be named, are not sympathetic to the evictees.
Anna (not her real name) has been staying at Steenvilla for five years. She lives in a two-bedroom flat with her husband and daughter. When she arrived at Steenvilla her rent was R2,200. She now pays R3,350 a month. She is up-to-date with her rent.
"It is traumatising to see people walking around with guns. Our children have to see this," she said. "It is unfair that we have to live like this, because of people who do not want to pay their rent. You can not live in a place and expect not to pay rent. They read the contracts and signed them."
Anna says she had also been in a position where she could not pay the rent. "It happens sometimes but they [SOHCO] have called me and set up a payment arrangement that is suitable for me."
"They [the evictees] also had the opportunity to do that but they did not," Anna said
Confusion about what social housing is
Another tenant, Lydia (not her real name), said that some people in the complex had told others to stop paying rent, and were spreading false information. She has been living in Steenvilla since 2010.
"I think there is confusion about what social housing is. You cannot expect to have landscaping and 24 hour security which we have here, and not want to pay rent. SOHCO has to make a profit to provide those things."
"I am angry that they want to live for free. It is unfair on us who have to pay our rent and water. They are causing havoc, disturbing us legal paying tenants," she said.
She said she has called law enforcement a number of times to remove the people.
"I understand most people were backyarders before moving here, and they came for a better life but are now turning this place into a shanty town," said Lydia.
"The are hundreds of people desperately looking for affordable places to stay, who are willing to pay rent."
SOHCO's CEO Heather Maxwell said evictions are completed by the sheriff as an officer of the court.
"We are aware of court-issued eviction orders for occupants from seven more units in the complex, with the order valid from July if the tenant has not vacated the unit before then," said Maxwell.
She said SOHCO had "retained private security to protect tenants and the complex from a small number of people who are threatening people's safety."
Asked if there would be further negotiations with the evictees, Maxwell said, "There is no longer any sort of contract in place between SOHCO and the evictees, so no basis for a negotiation."