End to seven-month strike by Port St Johns municipal workers
Garbage piled up in town, turning away tourists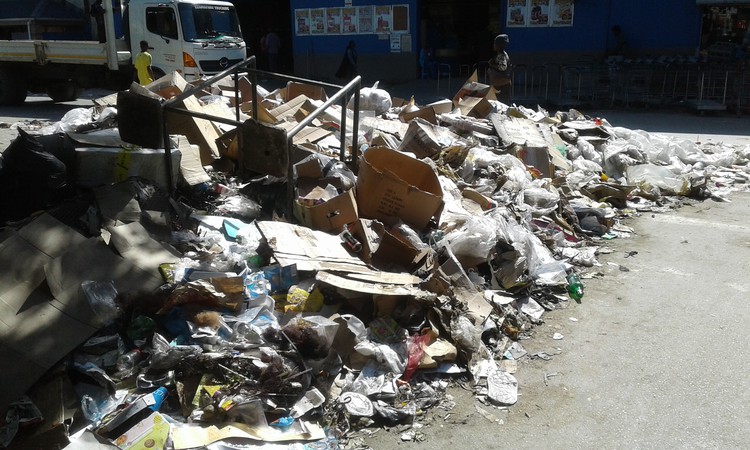 Municipal workers returned to work in Port St Johns on Monday after an on-off strike which has lasted seven months, leaving the town strewn with garbage.
Municipal workers had been on an intermittent strike since last year, demanding the dismissal of the municipal manager and the implementation of wage promises they say were not kept. According to South African Municipal Workers' Union (SAMWU) spokesperson Andile Bara the problems started in 2013 when seven SAMWU shop stewards were fired after a strike over wages.
The strike had left the scenic coastal tourist town looking like a rubbish dump.
The workers returned to work on 23 April after a meeting between SAMWU, representatives of the Department of Cooperative Governance, the municipality and the tourism industry. The workers were promised that their grievances would be investigated.
Businesses in the town had complained about the condition of the streets. Barbara Radford, owner of Purple Indigo guest house, says the town was filthy. "Tourists just drive through and you cannot blame them. Who wants to stay in this filthy town?"
Khanyiso Nogwina manager at the popular Jungle Monkey backpackers' lodge says it will take the town a long time to recover. "Tourists are telling us straight that they will never come back to Port St Johns. This matter has affected all business owners."
Nolufefe Mtiki, who runs a food stall at the Port St Johns taxi rank, said she had lost customers because of a bad smell next to her business. "The municipality has to fix this issue."
Spokesperson for Port St Johns Forum for Tourism and owner of Outspan Restaurant Katharyn Costello, said unemployment was high in the town and most jobs depended on tourism. But, she said, the municipal workers had no other option but to fight for their rights.
Costello said the appointment of a new mayor, Nomvuzo Mlombile-Cingo, was "the best thing to have happened in Port St Johns for a long time. Things are changing for the better". An acting municipal manager, Basil Mase, has also been appointed.
Mlombile-Cingo, who met the leadership of SAMWU earlier this month, said there was agreement that the crisis had to end. "Workers need to come back to work and they need to be paid their salaries".
Mlombile-Cingo would not comment further, saying she would say more when things were "back to normal".
During the winter months of June and July Port St Johns attracts thousands of tourists from around the world for the annual sardine run. Dolphins, whales and sharks as well as birds chase the fish. The phenomenon brings millions of rands to the town. Everyone hopes by then the problems of Port St Johns will be solved. "For us the people of Mpondoland, tourism is our livelihood", said Costello.
Dodgy people are suing us. Please support us by contributing to our legal costs and helping us to publish news that matters.
© 2018 GroundUp.


This article is licensed under a Creative Commons Attribution-NoDerivatives 4.0 International License.
You may republish this article, so long as you credit the authors and GroundUp, and do not change the text. Please include a link back to the original article.