Elderly getting Covid vaccine have message for young people
"The youth should stop spreading lies on social media about the vaccine. It has not killed me. Instead, I feel safe"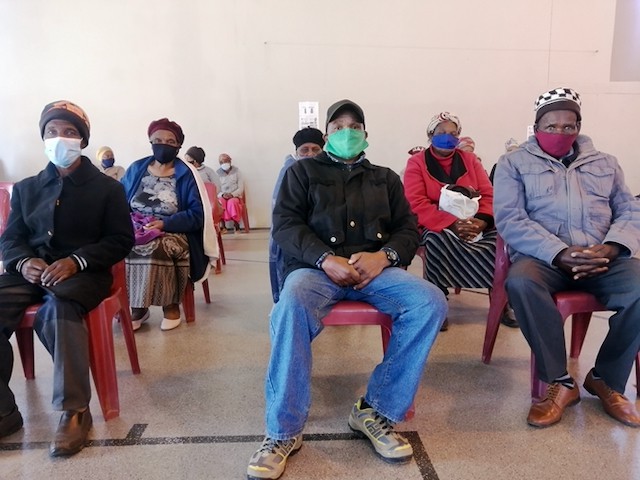 Dozens of people over 60 years old went to the Govan Mbeki Community Hall in Gqeberha on Tuesday for their second dose of the Pfizer vaccine against Covid-19.
Hubert Qaba, 78, said, "We have three grandchildren who don't adhere to Covid-19 regulations by going to crowded areas and parties. Their behaviour puts us at huge risk of getting infected."
"Vaccine is my protection, not a killer. It has brought a huge relief to me and my wife," he said.
"Since I received my first dose in June I feel safer. I did not even get side effects. But I keep on wearing my mask, wash my hands with soap, and avoid large gatherings," said Qaba.
"The youth should stop spreading lies on social media about the vaccine. It has not killed me. Instead, I feel safe and energetic," said Dora Sontshi, 81.
"All the people who received the first dose with me have come for the second dose and no one is complaining."
"I suffer from hypertension and we are regarded as being at huge risk. I received my first dose in June. I did not even feel the injection. I thought that the nurse did not inject me! And I never experienced any side effects," said Sontshi.
Nombeko Mkhitha, 74, said, "The vaccine is number one. I have not been sick since I took it in June. Initially I was scared of the side effects because I suffer from asthma and hypertension."
Nomalizo Tswele, 66, said, "I wish everyone can get vaccinated to save our country from this deadly virus."
"When I go to the clinic for my check-ups and social grant pay points, I feel safer than before," said Zwelandile Badi, also 66. "My first dose was painful. For two days my arm was heavy and painful. But this vaccine makes me feel safe and protected."
Edward Ndamse, 63, said, "Ever since I took it [the vaccine] I feel like a young man. I walk with confidence because I feel much safer.
"I encourage my neighbours and relatives to get vaccinated in order to protect one another from this deadly virus."
Dodgy people are suing us. Please support us by contributing to our legal costs and helping us to publish news that matters.
© 2021 GroundUp. This article is licensed under a Creative Commons Attribution-NoDerivatives 4.0 International License.
You may republish this article, so long as you credit the authors and GroundUp, and do not change the text. Please include a link back to the original article.
We put an invisible pixel in the article so that we can count traffic to republishers. All analytics tools are solely on our servers. We do not give our logs to any third party. Logs are deleted after two weeks. We do not use any IP address identifying information except to count regional traffic. We are solely interested in counting hits, not tracking users. If you republish, please do not delete the invisible pixel.