Eight dirty toilets for 1,000 people in Tshwane settlement
Residents of Baghdad settlement in Salvokop go to the church for water and to the tavern to use the toilet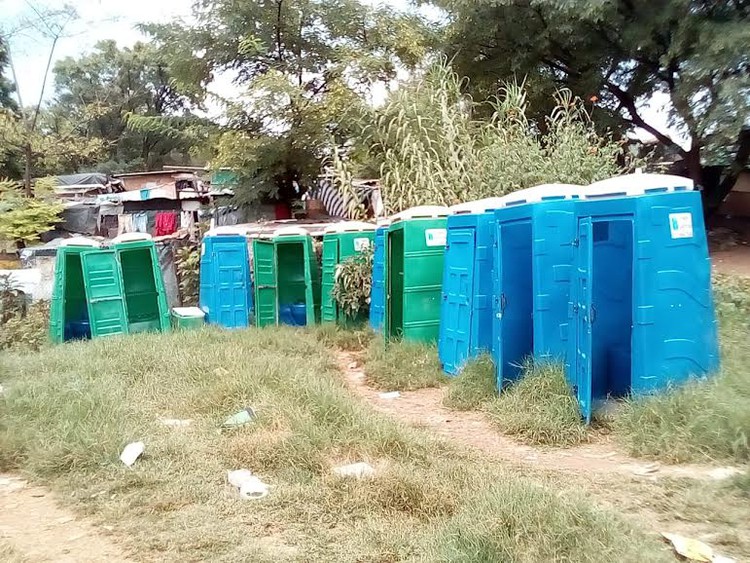 The informal settlement of Baghdad in Tshwane has 1,000 residents and just eight toilets.
Residents say the toilets are seldom cleaned.
The settlement, a stone's throw from the headquarters of StatsSA in Salvokop, was named Baghdad because of high levels of crime.
There are just eight toilets for 1,000 people in the informal settlement of Baghdad near Tshwane - and they are seldom cleaned, residents say.
"People are suffering here, there are no jobs, no roads and we all need help," says John Khoza who was among the first people to move onto land in Salvokop about 15 years ago. Salvokop also houses the headquarters of StatsSA.
According to the City of Tshwane, most of the settlement's 1,000 residents are from Zimbabwe and Lesotho, with a few South Africans.
Khoza said he was forced to move onto the land with his wife, who is from Lesotho, and their children in 2005 because there were no housing opportunities available for them.
When GroundUp visited, the community's water tank was empty. Next to the tank was a row of portable toilets that had not been cleaned. The area stank of excrement and urine. Residents we spoke to said they walk about a kilometre away to collect water from a church for drinking and cooking.
According to the residents some of the toilets have not been cleaned for weeks. GroundUp sent questions about this to Sello Chipu, head of the Tshwane human settlements department, on 16 March. We have not received a reply.
Resident Zimvo Dada said, "I normally walk to a neighbouring tavern in Salvokop to use their toilets because these mobile toilets are stinky and not in a good place."
Residents say the settlement was named Baghdad due to the high level of criminal activity in the area, particularly over weekends. "Every weekend there's someone being killed in this place," Khoza said. They say women who work in restaurants and shops in the city centre fear crossing the bridge which connects Salvokop to the city centre, right in front of StatsSa. They say drug sellers gather under the bridge, adding to their fears, though the police station is nearby.
In its budget documents the City said it had set aside over R72-million to formalise informal settlements across Tshwane, and Baghdad would benefit from this. Chipu said a study of the community had been completed and the City would work with the Department of Home Affairs to select residents who qualify for houses in the mixed income development to be built in the area soon.
But he would not say when construction would start, saying only that the development would take place "in different stages and it might take ten years".
© 2022 GroundUp. This article is licensed under a Creative Commons Attribution-NoDerivatives 4.0 International License.
You may republish this article, so long as you credit the authors and GroundUp, and do not change the text. Please include a link back to the original article.
We put an invisible pixel in the article so that we can count traffic to republishers. All analytics tools are solely on our servers. We do not give our logs to any third party. Logs are deleted after two weeks. We do not use any IP address identifying information except to count regional traffic. We are solely interested in counting hits, not tracking users. If you republish, please do not delete the invisible pixel.