Drought: the silence of the city councillors
Only seven out of 20 replied to our questions on the water crisis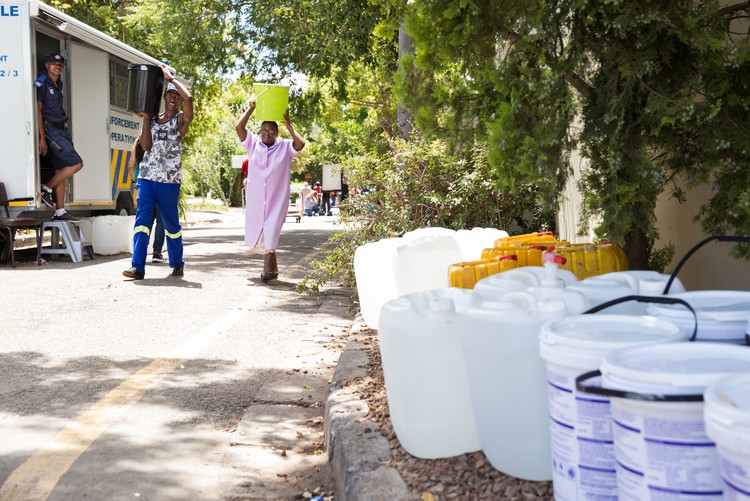 What are city councillors doing to help solve Cape Town's water crisis? GroundUp randomly selected 20 councillors across the city and sent them questions on 31 January. By today, most had not bothered to reply.
The questions we asked:
Have you held community meetings in your ward to highlight the water crisis? Can you please list those meetings, the venues they were held in, the dates they took place on, and approximately how many residents attended?
How are you trying to reduce water usage in your ward, and what are you doing to assist with Day Zero preparations?
Do you have any further comments related to the water crisis?
The replies we got:
Councillor Helen Carstens, Ward 5 (Bothasig, Edgemead area)
Since the City of Cape Town started its awareness campaigns around saving water and the build up to Day Zero, water has been a priority topic on various meeting agendas. These meetings include the Ratepayers' Association, CPF (Community Policing Forum) meetings, ward committee meetings, the health committee I serve on, and also our road shows. My ward is relatively small, so attendance varies. In addition, City of Cape Town social media alerts have also been posted on various Facebook groups within my ward.
As a councillor, my role is to give feedback on our water crisis based on the information provided by the City and to be the interface with my residents, particularly when it comes to issues that may arise during this crisis and if Day Zero occurs. During the water crisis, I will continue to emphasise that residents adhere to the City's Level 6B restrictions to reduce water usage to under 50 litres per day.
I encourage everyone to be conscious about saving, so we can avoid Day Zero. Residents are encouraged to immediately report any leaks or pipe bursts where they see them to the City. Service request pamphlets with all the contact details have been distributed.
Councillor Jerome Fitz, Ward 16 (Eersterivier, Mfuleni area)
We had public meetings in December where we highlighted the water crisis.
I've got about 6 developments within the ward. There were problems with people misusing drinking water and we had engagements with contractors.
We've been busy. There are campaigns and we are giving out leaflets. We also plan to target the schools with the help of the churches.
Councillor Gregory Peck, Ward 15 (Somerset West area)
Four public meetings in my ward over the next three weeks to give residents the information on water saving and the forward planning by the City of Cape Town.
I send out a bi-weekly newsletter to over a thousand residents which contains many details on water saving and also directs them to the City website to get up to date info on water matters.
Councillor Shayne Ramsay, Ward 54 (Sea Point, Camps Bay area)
We held a meeting for ward residents at the Sea Point High School on 23 October where a presentation on water was made to 99 people.
At each ratepayer meeting and ward committee meeting for the last several months, water has been the main topic of conversation. I have given feedback from the City about the crisis in terms of what we are doing and what residents should be doing. I also meet residents on the promenade daily and at info tables at The Point shopping mall where the topic of conversation is invariably about the drought.
I regularly update residents in my ward on my Facebook page with the weekly media releases from the City on the drought and more recently, the City's emergency response in case we reach Day Zero. Earlier this week I suggested on both Facebook and Twitter that coffee bars like Bootleggers and Vida e Caffe use paper cups to save on washing during the 150 days of using 50 litres or less. This has been favourably received by both coffee houses as well as residents.
Sheval Arendse, Ward 82 (Tafelsig area)
On 1 February 2018, a meeting was held with the sports codes explaining the sports fields and the non-use of water. 40 communities of sports attended. It was then arranged to bring a truck to provide non-drinkable water to see if it will solve the crisis. On Saturday 3 February 2018, an open air meeting was arranged and only 20 residents attended and the collection points were discussed.
The community does save water and it's only the officials that take long to repair water meter leakage. Some are two to three weeks outstanding.
Fabian Ah-Sing, Ward 55 (Century City, Milnerton area)
I have had community meetings at which we have discussed matters relating to the water crises. I also provided feedback at ratepayers' association meetings.
At the community meeting I hosted in September last year, I invited officials to provide residents with information about the drought and the desalination initiatives which the City is now implementing.
We continue to provide information regarding the crisis and I urge residents to adhere to the restrictions. Water wasters are reported and leaks are reported urgently and residents are requested to be the eyes and ears of Law Enforcement and to assist where possible. I am in the process of planning a campaign which will further enforce awareness of the drought and the restrictions which are in place. I hope to kick off the campaign in the next few days.
Andile Lili, Ward 95 (Khayelitsha area)
We are doing as much as we can to make sure that the community saves water. So far we have shut down many carwash business and during some of my walkabouts of the area, I come across of a lot of water wastage which I stop. Like people using hose pipes or leaving a tap running. We also held a ward meeting recently, on Sunday in Nkanini, with the community, where we spoke about the Day Zero issues and how we can continue saving water.
The councillors who didn't reply
Emails were sent to all 20 councillors on 31 January. On 7 February we followed up with phone calls to those who had not replied to our emails. Here's what happened:
Elizabeth Brunette, Ward 62 (Wynberg, Constantia area): No answer on her business and cell numbers.
Antonio van der Rheede, Ward 47 (Hanover Park): No answer.
Penelope East, Ward 71 (Tokai, Constantia area): "Swamped. Tomorrow".
Brandon Golding, Ward 77 (Vredehoek, Gardens area): No answer on cell phone.
Anele Gabuza, Ward 98 (Harare area): Cell phone number and landline not working.
Roelof Mare, Ward 14 (Eersterivier area): "Busy, will answer this evening."
Gabriel Twigg, Ward 7 (Bonteheuwel and Protea Village area): No answer on phone.
Nomtha Dilima, Ward 51 (Langa area): No answer, call kept being cancelled.
Marita Petersen, Ward 68 (Lavender Hill and Steenberg area): Busy with the Mayor, "will respond once she is free".
Angus McKenzie, Ward 50 (Bonteheuwel area): Dealing with two office break-ins, promised to look at email when he has time "but it won't be today".
Gerhard Fourie, Ward 103 (Pinehurst, Kraaifontein area): PA replied to email, promising that the councillor would reply before deadline. Follow-up phone call was not answered.
Christopher Jordaan, Ward 28 (Elsies River area): Referred us to Xanthea Limberg.
Mogamat Cassiem, Ward 46 (Manenberg area): No answer on phone.
Dodgy people are suing us. Please support us by contributing to our legal costs and helping us to publish news that matters.
Letters
Dear Editor
As a result of this article I contacted my Ward 62 Councillor, Liz Brunette, asking why she did not respond to you and what she has achieved.
She ignored all my three emails and eventually I contacted Councillor Ian Iversen. Her response was to tell him that she had responded to me, which was not true. Finally, I received answers. She simply listed pamphlet distribution and a meeting with the residents of the high-end suburbs of our Ward - it doesn't even seem to be a meeting with the water crisis as the main agenda.
Most telling is that her activities started only two weeks ago!
© 2018 GroundUp.


This article is licensed under a Creative Commons Attribution-NoDerivatives 4.0 International License.
You may republish this article, so long as you credit the authors and GroundUp, and do not change the text. Please include a link back to the original article.