Drought: Cape Town may ban swimming pool top-ups
City's water use still not down to target levels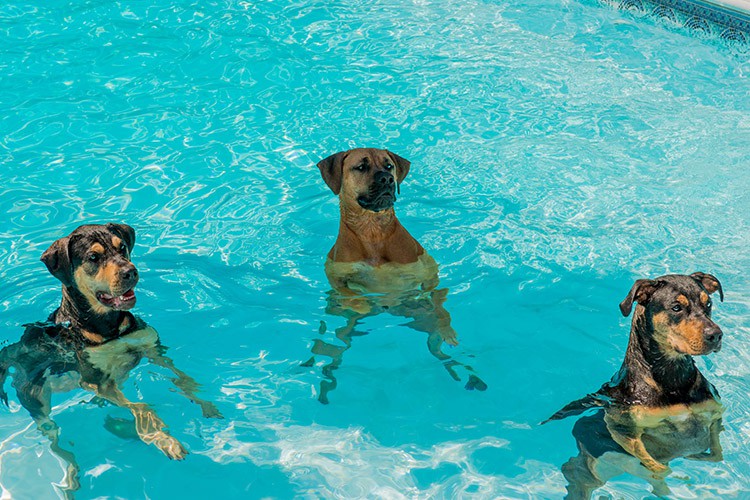 The City of Cape Town may ban the topping up of swimming pools.
Although hoses have been outlawed for watering gardens and washing cars, residents are still allowed to use hoses to fill up their swimming pools, provided they have pool covers. But with the dams which supply Cape Town three-quarters empty, that may change.
Xanthea Limberg, mayoral committee member for informal settlements, water and waste services, told GroundUp the city was considering banning the topping up of swimming pools.
"This is being considered, given that swimming pools represent non-essential water use. There are, however, certain risks to this requirement, as unintended structural damage could result," Limberg said.
Capetonians have still not managed to get their water consumption down to the target the City set to keep the taps running.
Although restrictions have led to a drop in consumption from 1.2 billion litres a day in early 2016 to 742 million litres a day this week, this is still 42 million litres above the drought target of 700 million litres a day.
Formal households are the biggest users of water, accounting for 55% of Cape Town's consumption, followed by shops and offices (11%), flats and townhouses (9.2%), the city council's departments (5.2%), informal settlements (4.7%), industries (3.9%) and government departments (2.5%). Another 8% is labeled as "other" usage.
UCT's Future Water Institute, an inter-disciplinary initiative launched in September, acknowledged what the City had done so far, but said it needed to get water consumption down to 100 litres a person a day – and to control the use of borehole water.
Dr Kirsty Carden, a research officer at UCT's department of engineering and part of Future Water, said the City should consider banning the use of hoses for watering gardens entirely, even for those residents who used borehole water. This was because groundwater might be needed as a reserve if the city ran out of potable water.
"The City must take groundwater more seriously," Carden said. Other measures the City could adopt included doing more to access the Cape Flats Aquifer and refurbishing the Atlantis groundwater scheme.
It also needed to repair leaks and reduce pipe bursts and other water loss. The global average of water lost this way was around 15%.
"There is only so much that can be done with pressure management. Many pipes in the older suburbs need replacing as they are well over the design life of 40 years," Carden said.
On Monday the City cut water pressure to a wide area, including Kuils River, Macassar, Somerset West and Gordon's Bay, in an attempt to curtail the amount of water lost through leaks in the underground pipes.
Future Water urged the City to reconsider the way it priced water, to change attitudes about the value of water. The City should also use the urban area for water catchment, and promote rainwater harvesting.
The City of Cape Town provides water to 600,000 domestic, 13,000 commercial and 4,500 industrial users.
© 2017 GroundUp.

This article is licensed under a Creative Commons Attribution-NoDerivatives 4.0 International License.
You may republish this article, so long as you credit the authors and GroundUp, and do not change the text. Please include a link back to the original article.