Cape Town taxi rank overcome with passengers after drivers' strike
Hundreds of MyCiTi regulars flocked to taxis in Cape Town leading to congestion and delays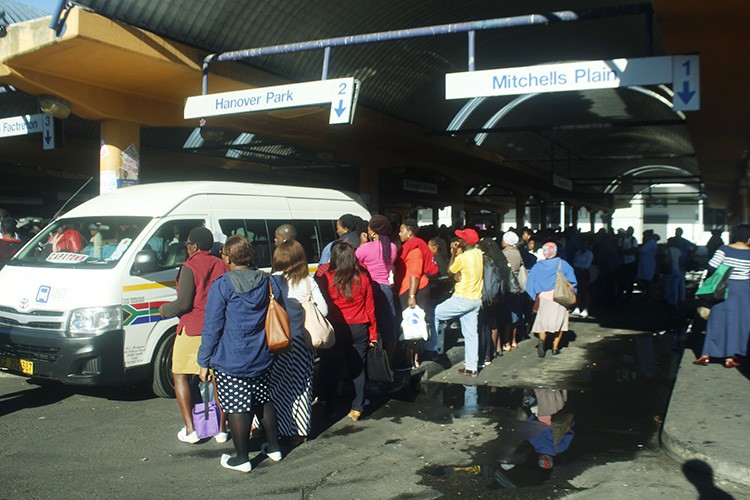 Cape Town's taxi rank had long queues and significant delays on Wednesday afternoon following the nationwide bus drivers' strike. Hundreds of commuters waited for upwards of an hour to catch their rides home.
"The queue has been terrible," said Fezera Mzaca, a 26-year-old Khayelitsha-bound taxi regular, who arrived at work two hours late Wednesday morning. "This is what we are going to be doing, standing in the queue for a long time and waking up earlier."
Robert Sakihle, a 42-year-old taxi driver, said long-term congestion of the taxi routes was unlikely. "It won't be a problem because it's only bus strikers," he said. "People are taking the train because it's cheaper."
Mzaca had waited over an hour for her taxi home to Site B, and was just under half-way through the queue which had doubled upon itself. It wrapped from the loading side of the rank, to the rear of the structure and back again. She said she usually waited 15 minutes before getting in a taxi home.
More than just an inconvenience, she said she also feared for her own safety on the trip into town Thursday morning. Mzaca planned to leave Khayelitsha at 4am instead of 05:30am as usual, and was worried about carrying valuables, like her phone and wallet, with her. "Waking up earlier also means putting your life in danger because there's thugs everywhere," Mzaca said.
By 5:30pm there were lengthy queues at all of the loading areas on the rank with taxis arriving sporadically to pick up commuters. The most popular routes, depositing passengers in Khayelitsha, Harare, Milnerton, Macassar and Delft, had doubled upon themselves.
Mpho Phosa, a 31-year-old man from Brooklyn, who said he prefers taking MyCiTi buses into the city because they are "quicker, more comfortable and reliable", received news of the strike on Tuesday evening. He planned accordingly by leaving an hour early Wednesday morning, but was still late to work. "My schedule is going to have to change," he said.
Other travelers, though, like 30-year-old Wendy Motlhanke from Macassar, were doubtful any additional preparation could solve the congestion as long as the busses were down. Motlhanke said: "I woke up at 5am to be early and from my house it is a five minute walk to the taxi. It didn't make any difference. I still came late for work."
Dodgy people are suing us. Please support us by contributing to our legal costs and helping us to publish news that matters.
© 2017 GroundUp.

This article is licensed under a Creative Commons Attribution-NoDerivatives 4.0 International License.
You may republish this article, so long as you credit the authors and GroundUp, and do not change the text. Please include a link back to the original article.