Doctors say commission ruling on sex work is bad for HIV prevention
Many organisations condemn SALRC report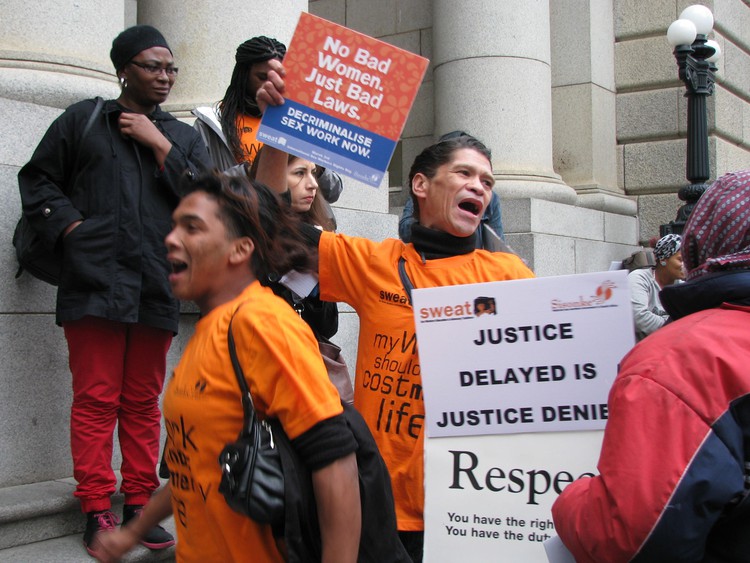 Numerous sex work, public health and gender advocacy organisations have expressed dismay at the recommendations of the long awaited report on sex work compiled by the South African Law Reform Commission.
The report recommends that consensual adult sex work continue to be criminalised or alternatively, that partial criminalisation is implemented. Partial criminalisation would mean that the sex worker is not criminalised.
The report was compiled by Judge Mandisa Maya, Judge Jody Kollapen, Professor Vinodh Jaichand, Irvin Lawrence, Advocate Mahlape Sello and Namhla Siwendu.
Sex Workers Education and Advocacy Taskforce (SWEAT) questioned whether the release of the report now, after having delayed its release for many years, was simply a "smoke screen or a PR stunt on the part of the Department of Justice who are scrambling to defend themselves in light of reports of increased femicide and violence against women".
The report states: "Prostitution in South Africa can also be viewed as an aspect of male violence against women and children. South Africa is grappling with high levels of violence against women, with sexual assault and intimate partner violence contributing to increased risks for HIV infection. Changing the legislative framework could create an extremely dangerous cultural shift juxtaposed against the high numbers of sexual crimes already committed against women. Women would be considered even more expendable than at present."
The report also says that exploitation "seems inherent in prostitution and depends on the external factors of gender violence, inequality and poverty". The Commission believes that changing the current legislative framework would "not significantly alter" sex workers being exposed to violence and exploitation. Instead, they state that a shift away from criminalisation would cause an increase in child prostitution and would increase the demand for sex workers.
"The Commission is aware that criminalising demand will not end prostitution, but believes this step would significantly reduce prostitution because it would target the demand which drives the selling of sexual services," it states.
"Diversion" programmes are recommended for sex workers as an alternative to punitive measures such as imprisonment or fines. These punitive measures would be considered if the sex worker "refuses to co-operate regarding rehabilitation, training and reintegration".
"Too little, too late"
For years, sex workers and their supporters have been campaigning for the decriminalisation of sex work. Activists hoped that the report would recommend the decriminalisation of sex work as in 2011 this appeared to be the direction the report was taking.
After waiting for almost a decade for the report to be released SWEAT has said that the report is now "too little, too late".
"It was obvious to us some time ago that SALRC was both biased and disorganised, the Project being driven essentially by one person's opinion with none of the original commissioners and researchers which began compiling the report, remaining at the Commission. In fact the institution was left without commissioners for almost two years and has failed in its mandate," said SWEAT Director, Sally Shackleton
Parliament's Multi-party Women's Caucus (MPWC) has said that it is "deeply disappointed" with the recommendations made in the report. It said that while the report noted the fact that sex work is linked to exploitation and gender-based violence "it is oblivious to the fact that the legalisation of sex work would allow sex workers to access the criminal justice system".
"The report's recommendations turn a deaf ear to the vociferous voice of sex workers in this regard and is thus not linked to evidence," said MPWC in a statement.
Sonke Gender Justice strongly rejects the Commission's recommendations. It says that criminalisation of sex work has been shown to drive sex workers underground and away from services, increase stigma and create obstacles to accessing programmes; and reduce sex workers' power, rendering them vulnerable to violence, human rights violations and corruption.
The organisation states that the commission's recommendation is "not based on evidence or South African realities and "does not respect the human rights of sex workers".
Public health research supports decriminalisation
A number of public health organisations focussed on HIV, have said that the Commission's report flies in the face of established research.
NACOSA, a network of civil society organisations that campaigns on HIV/Aids and TB issues, expressed concern that continued criminalisation of sex work will adversely affect rates of HIV, Aids and TB.
"Public health research has shown that criminalisation of sex work has a direct link to the transmission of HIV and TB in the country and we are not likely to solve the very high disease burden in South Africa unless we address this critical issue," NACOSA states.
The AIDS Healthcare Foundation (AHF) of South Africa said that it was disappointed at the report. The Sexual and Reproductive Justice Coalition (SRJC) also said it was "disappointed and concerned".
"There is no evidence to suggest that criminalisation nor partial criminalisation works. What is known is that it endangers women further by driving sex work underground, enables violence against women and girls and decreased access to health care. This is an immoral opinion which will be to the detriment of our society."
The Southern African HIV Clinicians Society has said that it is is "dismayed" that the commission "has ignored the far-reaching impact of ongoing criminalisation on South Africa's public health".
It states that the "evidence for consensual adult sex work to be decriminalised has become increasingly convincing … Mathematical modelling and current evidence indicates that if sex work was decriminalised, 33-46% of HIV infections could be averted among female sex workers and clients within a decade, opening the door to more effective preventative strategies."
© 2017 GroundUp.

This article is licensed under a Creative Commons Attribution-NoDerivatives 4.0 International License.
You may republish this article, so long as you credit the authors and GroundUp, and do not change the text. Please include a link back to the original article.