Dispute over City's confiscation of traders' goods
Government wouldn't do this to Pick 'n Pay, says activist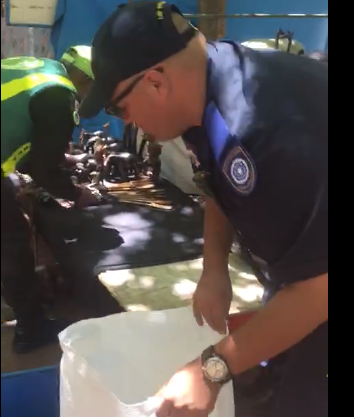 Last week, a number of informal traders in St George's Mall, Cape Town, had their goods confiscated during a raid by the City's law enforcement. The City alleges that they were trading "illegally". Riedewaan Charles, Chairperson of the Western Cape Informal Traders Coalition, says the City is busy "clamping down" on informal traders. He also said that law enforcement didn't always follow the City's by-laws.
Videos of the raid by well-known activist Zackie Achmat shows a City law enforcement officer and a member of the Central City Improvement District (CCID) removing wooden carvings from an informal trader, while two other traders look on. (See videos at bottom of article.)
Achmat described the traders as "totally dejected and resigned to this [treatment]".
"I kept on asking [the law enforcement officers] would you rather they [traders] act illegally? Especially in the context of vulnerable people trying to make a living, many of whom are immigrants and asylum seekers," said Achmat.
Permits obtained from the City allow traders to sell a particular type of good within a demarcated bay. According the the Cape Town Informal Traders By-Law, a trader who contravenes the by-law is supposed to be issued with a warning first, before their goods can be confiscated. The only exception to this is when the trader is selling illegal goods.
Achmat said that a number of the traders who had their goods confiscated said that they had not received warnings. He said that the confiscation of traders' goods without a warrant needed to be tested in court. But Mayoral Committee Member for Safety and Security JP Smith says no warrant is needed.
Achmat argues that goods are private even if in a public space. He also argues that by leasing space in the city, the trading bay becomes the trader's private space and a warrant with the trader's name on it should be needed to confiscate goods.
"If the City of Cape Town knew there was illegal trading at Pick 'n Pay, they would get a warrant," said Achmat. "[It is] terrible that there is no intervention. It is a question of spatial justice and the right to trade in the city."
Smith said trading plans were put in place in order to "minimise any possible negative impact on formal businesses and the wider public".
Charles dubs the requirement that traders always carry their permits a "dompas system".
"If you don't have your permit because you haven't paid [for it] because business has been bad for that month, your goods will be confiscated," he says.
Charles says the cost of a permit ranges from R76 to R300 per month. Fines and impoundment fees range from R500 to R2,000.
If impounded goods are not collected within a month, the City may sell the goods. If the trader comes to collect goods after they have been sold, he or she will receive the proceeds of the sale, less the impoundment costs. After three months, any proceeds from the sale of the goods "will be forfeited to the City".
In the case of perishable goods, the by-law states that the City is allowed to sell these "at any time after the impoundment" or dispose of them if their condition "renders them unfit for human consumption".
"Most people are so scared that they don't go back to get their stuff," said Charles.
The Western Cape Informal Traders Coalition has asked the Department of Economic Development to arrange a meeting between law enforcement and informal traders. "So that the one hand can know what the other hand does," said Charles.
© 2016 GroundUp.

This article is licensed under a Creative Commons Attribution-NoDerivatives 4.0 International License.
You may republish this article, so long as you credit the authors and GroundUp, and do not change the text. Please include a link back to the original article.