Department of Coffee burgled
|
Mary-Anne Gontsana
News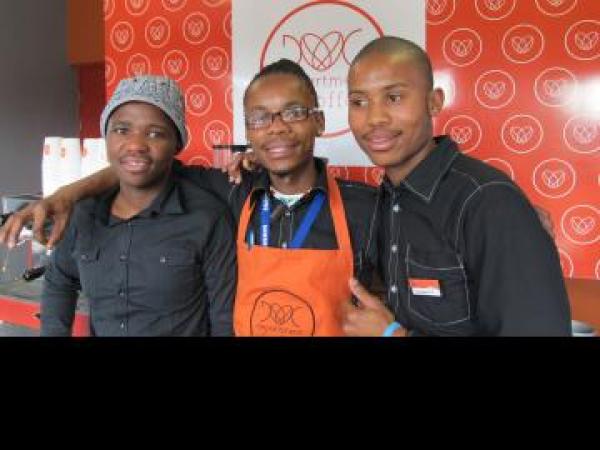 Khayelitsha's popular coffee shop, the Department of Coffee (DOC), was burgled in the early hours of Saturday morning.
The incident happened at about 2am.
One of the shop's barista's, Vuyile Msaku, said they found out that the coffee shop was broken into when they opened for business on Saturday morning. "They gained entry through the window close to the till. A crowbar must have been used to cut the locks and bend the burglar bars. They tried to break-in through the side door that we used but they couldn't which is why they entered through the window. Our locks had an alarm but because of battery power, they didn't go off. When we spoke to the man and woman who live nearby, they told us that they heard the commotion but were too scared to go out and look.
"They stole two tills and our computer. None of our coffee equipment (machines) was stolen, I'm guessing they were too big to fit through the window. The damage will cost us more or less R10 000," said Msaku.
The shop is situated at the Violence Prevention through Urban Upgrading (VPUU) building. The City of Cape Town's VPUU is a R120 million five year programme which aims to reduce crime and increase safety levels in Khayelitsha. But Wongama Baleni, also from the DOC, says crime is not unusual there.
"It's the first time that something like this has happened at the coffee shop, but crime is nothing new around here, it has been happening for a while. It was a shock when we discovered the break-in, we didn't operate on Saturday as police were busy dusting for fingerprints, and we only opened the shop on Monday. I didn't enjoy my weekend at all. We have opened a case though," said Baleni.
Colonel Richard Koopman from the Lingelethu-West police station confirmed that a burglary case had been opened, but no arrests had yet been made.
Department of Coffee hosting public event to promote small businesses in Khayelitsha
Department of Coffee was opened in July. It was the first coffee shop in Khayelitsha and has received much press coverage, including recently on CNN, which described their coffee, as "definitely the best bargain in town".
They will be having their next open day on Saturday 20 April from 9am to 3pm. This is where small businesses are invited to showcase their work. There will be live entertainment, including DJs. Any one is welcome to attend and encouraged to come and support small businesses in Khayelitsha.
© 2016 GroundUp.
This article is licensed under a
Creative Commons Attribution-NoDerivatives 4.0 International License
.