Andile Mngxitama threatens violence against activist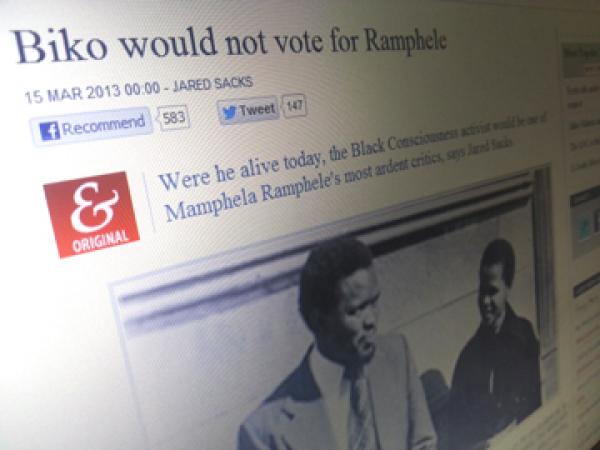 "[W]henever we see that little white bastard called Jared Sacks we must beat the shit out of him … " This was written by well-known journalist and black-consciousness writer, Andile Mngxitama, on his Facebook page.
These comments were in response to an article Jared Sacks wrote in the Mail & Guardian on 15 March titled, "Biko would not vote for Ramphele."
Later, in the same Facebook correspondence, Mngxitama wrote:
I know this white boy. He goes to the township, fuck up community organisations and now he is fucking with biko and bc. No! This is not a joke. He better b prepared."
A Facebook friend of Mngxitama wrote in response to him, "To be honest, i thought this was a thought provoking read, regardless of the fact it's written by a whitey." To which Mngxitama responded:
u obviously not a bc adherent so u discard the insult and arrogance of the white boy and "follow" the reasoning. I'm black consciousness bru and I know what white arrogance is. Jared will pay for this.
Mngxitama has recently had his first fiction book published, Fools of Melville. He is employed as a policy advisor to the Foundation for Human Rights. Director of the organisation, Yasmin Sooka, wrote to GroundUp, "I would like to place on record that the Foundation for Human Rights is committed to the values of non-racism, non-sexism and non-discrimination enshrined in the Constitution and to building an inclusive society in which the dignity and equality of all citizens is supreme. The Foundation does not condone violence or the incitement to violence and/or the expression of hate speech. We intend to investigate the matter fully and to take appropriate action that may be necessary.".
Sacks refused to comment. Mngxitama had not responded to an email from GroundUp by the time of publication.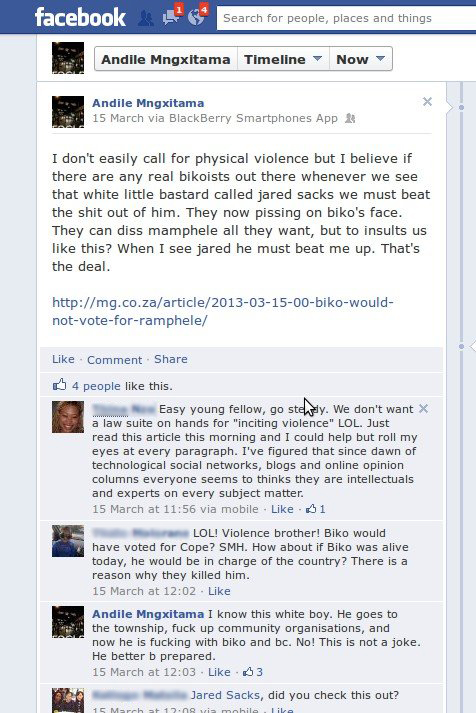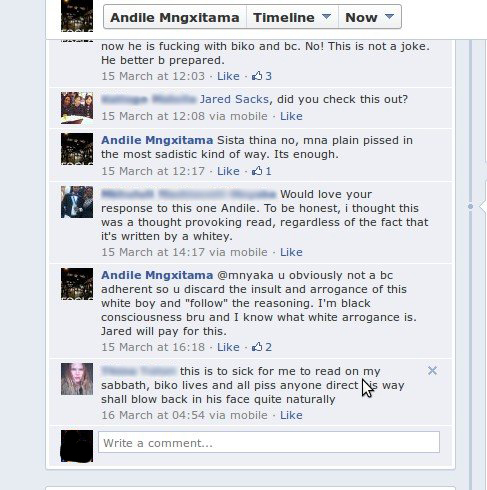 Facebook screen captures of Mngxitama's threats.
© 2016 GroundUp.
This article is licensed under a
Creative Commons Attribution-NoDerivatives 4.0 International License
.