Delft RDP houses falling apart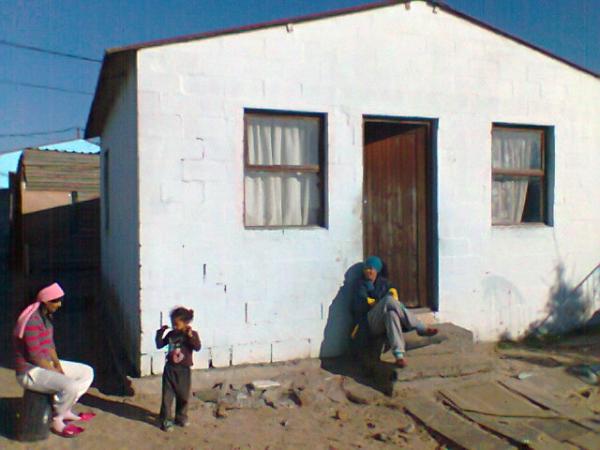 Delft residents are left in the cold this winter as the recent bad weather is causing their houses to fall apart.
Delft is divided into seven sections, Delft South, Voorbrug, Leiden, Eindhoven, Rosendal, The Hague, and the new Symphony section. The entire township is constructed of government RDP houses. Many have been built in a haste using sub-standard materials and cannot withstand the winter weather.
Lucinda Links of Leiden in Delft told GroundUp yesterday, "Our home is falling apart around us. I don't know what to do anymore." She said the plaster had fallen off the walls long ago and large cracks are now visible. "The inside is always wet and cold when it rains. I am afraid for my children's health."
Another resident, Jacqueline Adams from Rosendal, said her RDP house is in a horrible condition, "The foundation is visible above the ground. This has caused the walls to crack and the roof is not level. We are always wet and cold." She blamed the poor building of her house for two of its residents contracting TB.
Aziza Sampson, also from Leiden, said it is because her house is so poorly built she has been sick constantly since she moved in two years ago. "The bricks and cement they used are of terrible quality. The walls are always moist during winter times, and this has caused me to have a lot of trouble with my lungs. Some people in the area have been diagnosed with TB because the houses let in a lot of cold and moisture," Sampson said.
Simonѐ Landers said their roof has been leaking since the ceiling caved in one day. It has continued to do so despite their efforts to fill up the asbestos. "The roof is always leaking, and because of it, I am a frequent visitor at the clinic with my kids."
Dodgy people are suing us. Please support us by contributing to our legal costs and helping us to publish news that matters.
© 2016 GroundUp.
This article is licensed under a
Creative Commons Attribution-NoDerivatives 4.0 International License
.