Dead man left to "cook" in sun for hours
|
Johnnie Isaac and GroundUp staff
News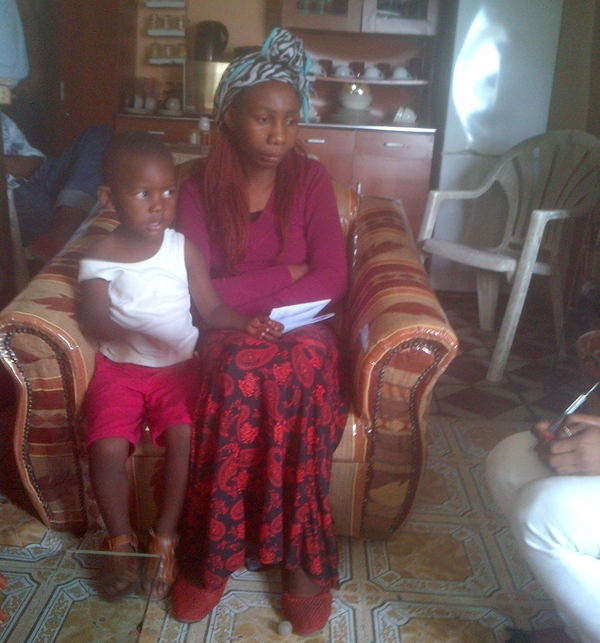 Mahlubandile Mdingi lay dead for seven hours on a street corner in Bardale extension, Mfuleni, before the health department's pathology services took his body away.
The 44-year-old man was shot by a gang on Sunday morning shortly after 5am. He and a friend were walking, on their way to work for ADT, when they were ambushed. Neighbours said the friend ran to grab a hammer from home to fight back, but on his return, he found Mdingi dead with a gunshot wound to the head.
The long time it took for the body to be removed has angered residents and Mdingi's wife. Both residents and police officers on the scene called for emergency services several times. Children as young as four joined community members at the crime scene.
Lumka Mdingi, Mahlubandile's distraught wife, broke down in tears as she spoke about the incident. "We don't understand the whole delay because the heat [from the sun] is cooking him," she said. She said his employers (ADT) provided transport to take his body to the mortuary but were prevented from doing so by the police.
She said her husband and two of his friends walked together as a crew because of the criminal gangs. She said the incident was the third attack on him by robbers. Her three-year-old son, Zamantungwa, will grow up without his father
Mfuleni resident Thembile George criticised the delay. He says it was not safe for the two police officers to wait at the crime scene for so long. "We don't know where these thugs are or what they can do. They can come back and shoot at the police." He also expressed concern that children were exposed to the body.
Furious community leader Advocate Tshayela told GroundUp that he phoned Mothoana Mashabela, Operation Manager for Mfuleni Clinic, to organise an ambulance, but Mashabela refused to do so. "Mr. Mashabela told me that he can't waste his airtime calling an ambulance, we must do it ourselves," said Tshayela.
In response, Mashabela told GroundUp he could not help because he was not at work at the time and the ambulance service is not within his operational area.
Tshayela said that talks have been held with the provincial health department to have an ambulance centre in Mfuleni. But, explained Tshayela, the department says population size and calls for ambulances in the area are too low for that. Tshayela said, "If the department listened to us a problem like this wouldn't have happened."
Mark van der Heever, Deputy Director of Communications for the Western Cape Healrh Department, sent GroundUp a timetable of the events on Sunday morning. Van den Heever says there were several delays. "During 7 to 11 [Emergency Medical Services (EMS)] dealt with 188 calls, which affected the response." At 7:04 EMS received a call to the scene. Between 7 and 11am EMS dealt with 188 calls.
Van den Heever wrote, "Medical personnel need to do the death certification and when there are patients with life threatening cases we see to them first. Death certification is unfortunately not classified as a Priority 1 incident."
At 9:18am an EMS vehicle was sent to the scene, and it arrived at 10:40am. Mdingi was declared dead at 11:25am. The Forensic Pathology Services (FPS) received a call at 11:45am to collect the body. "FPS arrived on scene at 12:40 FPS to collect body after they attended to a Muslim autopsy," wrote Van den Heever.
Dodgy people are suing us. Please support us by contributing to our legal costs and helping us to publish news that matters.
© 2016 GroundUp.
This article is licensed under a
Creative Commons Attribution-NoDerivatives 4.0 International License
.