Daylight robbery at Nyanga school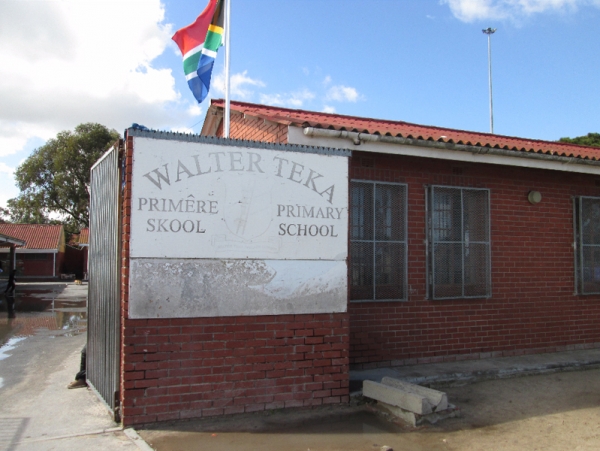 On 20 August at Walter Teka Primary School in Nyanga, an official from the Department of Education in Western Cape became a victim of a crime while he visited the school on official duties. The incident occurred in front of schoolchildren.
The victim was a psychologist from the Department of Education. He was robbed of his cellphone, wallet and car keys.
School principal Nangamso Sihawu said, "The two robbers entered the school pretending to be visiting an employee. But the person they mentioned was off duty."
Sihawu said, they then pointed a gun at the security guard and pushed her inside a security container and demanded her cellphone. "She managed to escape and went to hide in one of the classrooms."
The psychologist for the department was in an official car at the parking lot when he was attacked.
Sihawu said, "He was waiting for the learners to return to classes after lunchtime."
He believes the robbers were targeting the teachers; the department official was at the wrong place at the wrong time.
Sihawu said, "The timing was at lunchtime when all teachers are gathered in the staffroom. That tells me that we teachers were the targets."
The robbers fled on foot after trying to flee with the department's car but failed to start it.
The school principal said it was the first time they have experienced such incident but it has happened before at nearby Iliwa Primary School, a month ago. There, a female teacher was robbed.
He said they received a swift response from Nyanga Police and from Metro South Education District officials. Sihawu said, the two learners who witnessed the robbery, the security guard and psychologist received trauma counseling. Metro South District Circuit Manager Lynn Primo said they have placed the affected official on sick leave.
Dodgy people are suing us. Please support us by contributing to our legal costs and helping us to publish news that matters.
© 2016 GroundUp.
This article is licensed under a
Creative Commons Attribution-NoDerivatives 4.0 International License
.