Csaawu to raise R250 000 or face closure next month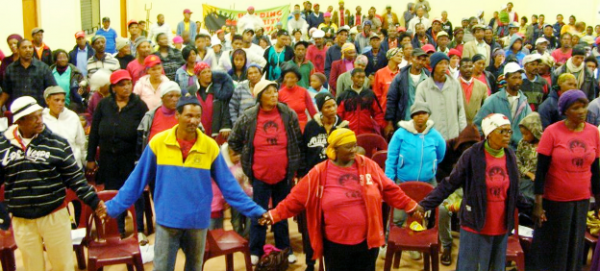 The Commercial Stevedoring Agricultural & Allied Workers Union (Csaawu) has been going door-to-door on farms between Robertson and Ladysmith this week in a bid to raise enough money to keep its doors open.
"We still need to pay about R250,000 to the employers. The members we have visited so far have indicated to us that they are prepared for us to make deductions from R10 to R100 from their monthly salary. This just shows the complete desperation of our members to stop the union from closing down," said Csaawu deputy general secretary Karel Swart.
The Boland farmworker's union launched a website and fundraising campaign called "Keep Csaawu doors open!" last year to try and raise at least R100,000 every month.
This follows two Labour Court judgements in 2014 in which costs were awarded against the farmworkers and the union. This debt amounted to just over half a million rand, forcing the union into bankruptcy.
The cases stem from a wave of protests on farms in the Western Cape during 2012/3. Farm workers were demanding to be paid R150 a day. At the time, many workers were getting around R69 a day. Hundreds of workers were dismissed or locked out, among them at least 100 Csaawu members.
The union failed in its challenges against the employers, and the court ordered both the union and the workers to pay the court costs.
In a bid to avoid bankruptcy, the union filed for leave to appeal in June 2015. However, on 12 August 2015, the Constitutional Court dismissed the union's plea to have the cost orders overturned
Meanwhile, Swart said the union was still in the process of making negotiations around the payments.
"We consulted with our lawyers this week and we were given advice that we don't agree to and are not happy with. Ideally, we would like our legal team to negotiate with the employers for us to pay the money in smaller amounts, but this could also mean that they(employers) can hold this over our heads for the next 20 years," he said.
Swart said the closure of the union would not only be "devastating" for the farmworkers, but also a loss for the poor in the Boland.
"The sheriff of the court was already at our offices twice to put up a notice of closure. It's important to remember that we aren't just fighting to keep the union going, it's about the poor having a voice. If we close, it will have a devastating effect on farmworkers and the poor in the Boland region," he said.
On Sunday 30 August, Csaawu will meet members to decide on the next step.
© 2016 GroundUp.
This article is licensed under a
Creative Commons Attribution-NoDerivatives 4.0 International License
.