Crucial evidence missing from police docket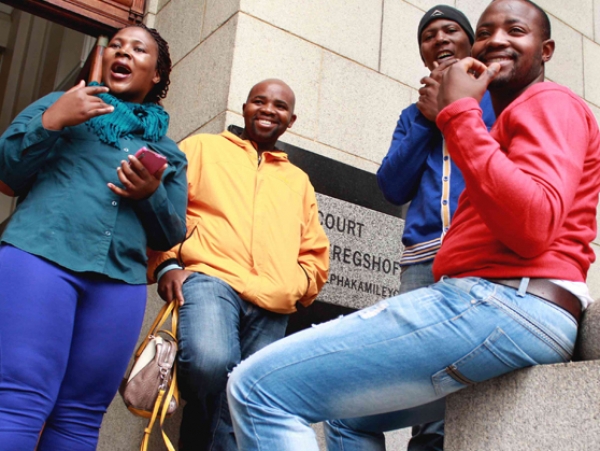 The handwritten notes made by the three police officers who claim they recorded Rowan du Preez's dying declaration "were nowhere to be found" in the investigating docket.
This was revealed during the cross-examination of detective constable Stanford Muthian in the Western Cape High Court on Wednesday, 20 August.
Muthian, who headed the investigation into Du Preez's kidnapping and murder, was grilled by defence attorney William King.
Activist Angy Peter, her husband Isaac Mbadu and their co-accused Azola Dayimani and Christopher Dina, are accused of kidnapping, assaulting and necklacing Du Preez in Bardale in early hours of 13 October 2012.
Du Preez was suspected of stealing the couple's TV from their Mfuleni home.
Following a lengthy trial-within-a-trial, it was submitted as hearsay evidence to the three officers who found him that before Du Preez died, he named "Angy en haar man" as the people responsible.
King questioned the authenticity of the police docket handed to the court after Muthian pointed out that certain pages were missing from the file.
Muthian said he was never aware of the notes made by the officers.
"I don't know what they did with the notes. They didn't tell me about it then, so I couldn't ask for it. Only later I found out that a third officer was on the scene and I made arrangements for her to also make a statement," he said.
It is the defence's case that the couple were framed by police because of Peter pushing for an enquiry into police while she worked for the Social Justice Coalition(SJC).
"There was no fabrication. It wasn't like that," Muthian insisted several times.
King pointed out that Muthian's evidence, where he maintains that he took witness Desiree Jack's statement before arresting Peter and her husband, was contradictory.
"In Jack's evidence-in-chief she said when they got to the police station that morning, you were speaking to a white captain in a room. You came out of the room with a piece of paper and told her you were going to arrest Angy. This, before you took their statements. Is she lying or are you?" he asked.
Muthian maintained that he was notified about Peter's involvement after taking formal statements from Jack and other witnesses.
King said it was likely for police to know who Du Preez was as he was albino and had committed and been convicted of several crimes in the area.
But Muthian maintained he had never heard of Du Preez before the incident.
When asked if he knew about other necklacing cases in the Mfuleni area, Muthian said: "I really can't recall. I will have to look at the stats."
Muthian handed in a set of documents which listed the stations CAS (crime administration system number) registrations for 14 October 2012.
Several technical questions were posed about the system and whether the information could easily be manipulated.
Judge Robert Henney ruled that while the documents would not be included as evidence, Muthian could still use it to rebut allegations that he tampered with the time the docket had been opened.
King argued that the opening of the docket was never in dispute, but instead the contents that could have been fabricated.
"It's clear the documents can be manipulated at any time," he said.
Earlier, King told the court that they were on the cusp of withdrawing from the matter as funding for their representation was uncertain.
King is expected to complete his cross examination when the case resumes on 21 August.
Dodgy people are suing us. Please support us by contributing to our legal costs and helping us to publish news that matters.
© 2016 GroundUp.
This article is licensed under a
Creative Commons Attribution-NoDerivatives 4.0 International License
.