Criminal justice system at fault, Peter's defence tells court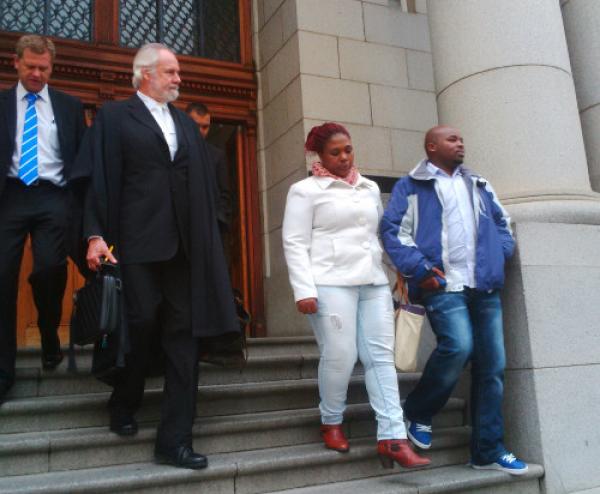 The criminal justice system had failed by releasing Rowan du Preez, the court heard yesterday in the trial of Angy Peter and three others for du Preez's murder.
Peter, a former Social Justice Coalition activist, her husband Isaac Mbadu, Azola Dayimani and Christopher Dina, have all been convicted of the murder of du Preez in 2012.
Presenting his closing arguments in the sentencing hearing in the High Court, advocate William King said the police failed du Preez for not opposing bail when he was charged with housebreaking and theft of Peter's television as well as separate charges of defeating the ends of justice and of robbery.
Judge Robert Henney added that the magistrate who granted du Preez bail had also failed because he was facing three serious charges and should only have been released under exceptional circumstances.
King said Peter and Mbadu had not wanted to charge du Preez for their stolen television. They had wanted the police to act against the police officer who had bought the television, Andile Tshicila.
The two activists had gone out of their way to try to rehabilitate du Preez, he said. King also said that by the age of 22 du Preez had five serious charges against him including a conviction for rape while he was still a teenager, but rehabilitation efforts had never worked. Even his family had failed to rehabilitate him, he said. Peter and Mbadu had dissuaded the community from taking the law into their own hands when du Preez was assaulted by the community.
King said Peter and Mbadu had also been let down by the police on numerous occasions. He said police had failed to act on Tshicila despite having evidence that he had bought the stolen TV from du Preez.
He described Peter and Mbadu as people who came from a background of disappointments and anger and said if they murdered du Preez it was because of their anger after being let down by the authorities.
Peter's neighbour, Nolubabalo Zongola, who is currently looking after the couple's four children, told the court that she is battling to cope with them because of time constraints.
Zongola said her working hours as a security guard gave her very little time to give the children the love they were familiar with from their parents.
Dodgy people are suing us. Please support us by contributing to our legal costs and helping us to publish news that matters.
© 2016 GroundUp.
This article is licensed under a
Creative Commons Attribution-NoDerivatives 4.0 International License
.