Decision expected by end of year on people living on the streets of central Cape Town
Court judgment in eviction hearing reserved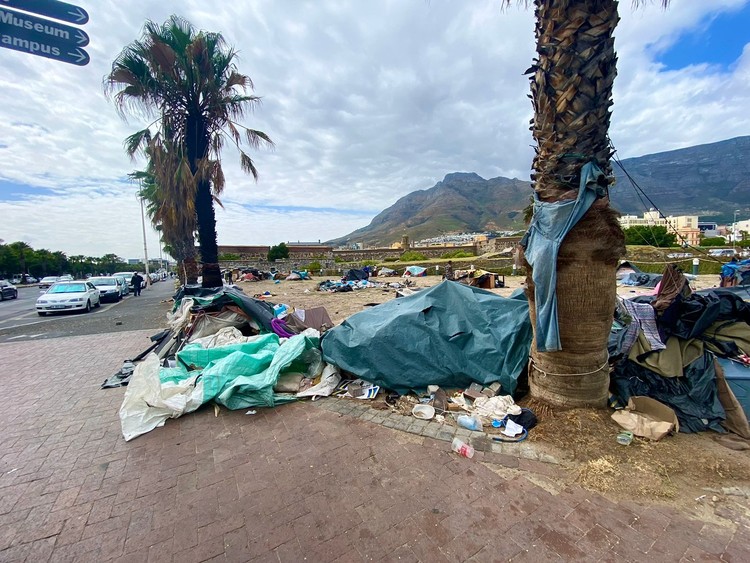 An application to evict homeless people living at seven sites in central Cape Town was heard this week in the Western Cape High Court.
The City says its Safe Space model is a cheaper and more comprehensive intervention than its emergency housing programme.

But the Socio-Economic Rights Institute of South Africa (SERI), representing the people living on the streets, says the Safe Space option is not a reasonable alternative.

Judgment has been reserved to allow for further engagement.
An "unprecedented eviction application" was argued in the Western Cape High Court on Monday and Tuesday.
Earlier this year, the City applied for eviction notices to be served on people at "various unlawful occupations in the Central Business District". The sites include: Buitengracht Street, FW De Klerk Boulevard, Foregate Square, the Taxi Rank and Foreshore, Helen Suzman Boulevard, Strand Street, Foreshore/N1, Virginia Avenue and Mill Street Bridge.
After a last-minute intervention from the Socio-Economic Rights Institute of South Africa (SERI) the occupiers were given legal representation. SERI, in its court papers, said the City had prioritised a policing response over a housing response.
Advocate Jason Brickhill, for SERI, said the alternative accommodation being offered by the City at Culemborg Safe Space is not sufficient.
"What is being offered is short-term emergency shelter. The failure to link that emergency shelter to a housing plan is unreasonable and therefore unconstitutional.
"The state has obligations to act reasonably to people living on the street. They [the City] have proposed a particular plan that falls short of reasonable steps," said Brickhill.
He said there was a misconception that the emergency housing programme was only meant for flooding and other natural disasters' victims. He said the programme also applied to evictions.
He said more engagement was needed between the parties to determine the needs of the respondents, especially families and those living with children.
"The safe space model is not suitable for those extended stays. At most, they are an arrangement for short-term emergency shelter over a period of a certain number of days but not six months," said Brickhill.
City responds
Advocate Karrisha Pillay, for the City, said what was being offered was more comprehensive and more affordable than the City's emergency housing programme.
She said the City had acted reasonably, and after engagement with the homeless people, the City had amended the Safe Spaces rules about lock-out times and how long people can stay.
She said that there was an inconsistency in who SERI was representing because there were three different lists of people living at the seven sites.
Acting Judge Michael Bishop said that more engagement on specific issues might be required before making a decision.
"In order for me to determine whether an eviction is just and equitable I need not just information about the identities of the occupiers. I also need to know the occupiers' response to the City. That could be done by an exchange of papers," he said.
Pillay differed. She said the court would need to find that the City had been unreasonable in its engagement so far in order to request further engagement.
"To ask the City to go out on engagement process number three, absent of finding [that] what has been done to date has been unreasonable or inadequate, is not appropriate," said Pillay.
She said that it was also about recognising the limits of government. By the time a court order was eventually handed down, there could be a whole new group living at the seven sites. "There's a finite pool of resources," she said.
"The Safe Space model is far more cost-effective as an intervention… This is a balancing act in a context of limited resources."
She said that the Safe Space model cost the City R41,000 per person per year.
"The City has made appropriate shifts in what came out of the engagement process. The City considered it and amended two rules. The City did go and engage further based on the invitation from the occupiers."
Acting Judge Bishop asked counsel to meet him in his chambers once proceedings had concluded.
Judgement was reserved and a decision before the end of the year is likely, according to Khululiwe Bhengu, attorney at SERI.
Bhengu told GroundUp that it was very ironic that the matter was being heard on World Homeless Day (10 October). She said the case was unprecedented because evictions usually dealt with those living in abandoned buildings or informal settlements and not people living on the streets.
She said there were a number of reasons why people had not moved to the Safe Spaces.
"We hope that the court will recognise that … and find a solution for alternative accommodation that does not take away the dignity and privacy of the occupiers."
In a social media post, Cape Town Mayor Geordin Hill-Lewis said assistance offered by the City had been rejected by some of the homeless people involved.
"While some have embraced our support, others have persistently declined it. This means we need to seek the court's help as a last resort.
"While we do not relish having to evict, we know that we have done all that we can to help each of those affected off the streets in a sustainable and caring way. No person can reserve a public space for them alone while indefinitely declining offers of help."
© 2023 GroundUp. This article is licensed under a Creative Commons Attribution-NoDerivatives 4.0 International License.
You may republish this article, so long as you credit the authors and GroundUp, and do not change the text. Please include a link back to the original article.
We put an invisible pixel in the article so that we can count traffic to republishers. All analytics tools are solely on our servers. We do not give our logs to any third party. Logs are deleted after two weeks. We do not use any IP address identifying information except to count regional traffic. We are solely interested in counting hits, not tracking users. If you republish, please do not delete the invisible pixel.