Court to decide if Operation Fiela is constitutional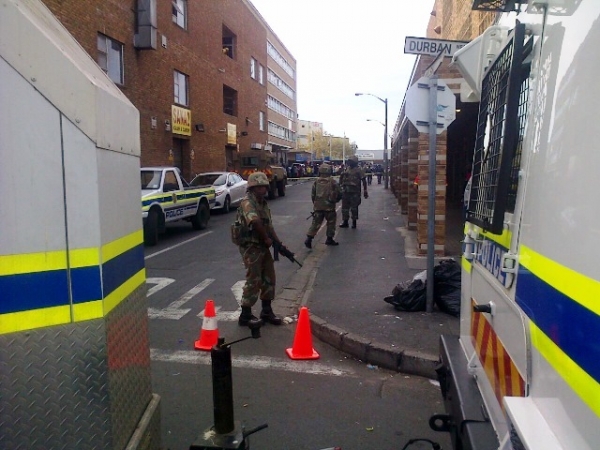 Is Operation Fiela lawful? Judge Jan Hiemstra in the North Gauteng High Court will hear argument today from Lawyers for Human Rights (LHR) that it isn't.
LHR is seeking an order "against the way in which Operation Fiela-Reclaim is being conducted across the country."
Operation Fiela is described by the South African Police Service as "joint raids being carried out by the army, police and Home Affairs officials." Fiela means "sweep" in Sesotho. The operation was launched in April in what the government news service describes as "a multidisciplinary interdepartmental strategy aimed at ridding the country of illegal weapons, drug dens, prostitution rings, undocumented migrants, human trafficking, hijacked and condemned buildings and general lawlessness."
However, evidence is accumulating the Operation Fiela is aimed at undocumented immigrants. On 3 May, a government press statement said that 745 out of 849 people were arrested for being undocumented. On 20 June, 81 out of 86 people at Cape Town taxi station were arrested for being undocumented.
In response to the allegation that Operation Fiela is targeting foreign nationals, a government statement said, ""Law abiding South Africans and foreign nationals have no reason whatsoever to fear Operation Fiela - Reclaim. This is an operation aimed at making our country safer to enable all people who live in our country to enjoy their freedoms in an environment that is free from crime."
LHR has cited eight respondents: Minister in the Presidency, Minister of Home Affairs, Minister of Defense, Minister of the Police, Director General of Home Affairs. National Commissioner of the Police, Provincial Commissioner of the Police for Gauteng and Chief of the South African National Defense Force.
.
David Cote, Head of the Strategic Litigation Unit at Lawyers for Human Rights, told GroundUp, "If you want to enter someone's private home, you need to have a warrant." Currently, under provisions in the SAPS Act, warrants have not been used. Cote emphasized that LHR does not take a stand against combatting crime, but believes that such measures should take place within the confines of the law.
An LHR press release states that the organisation is concerned that Operation Fiela is violating section 14 of the Constitution "that guarantees the right to privacy and not to have one's home searched unless it is authorised and done in accordance with governing legislation. This action may only be conducted with the authorisation of a warrant and only on reasonable grounds. This is fundamental to our constitutional dispensation, the right to dignity and the rule of law."
Dodgy people are suing us. Please support us by contributing to our legal costs and helping us to publish news that matters.
© 2016 GroundUp.
This article is licensed under a
Creative Commons Attribution-NoDerivatives 4.0 International License
.